4-star hotels in Uyuni
---
We arrive Uyuni in early morning form lapaz. When we do check-in at 06:00am all room is full but staff arrange a small room for us to sleep until my room is ready with free of charge. We are very appreciative for this. After we check-out and we took a salt flat day trip. We still can back to hotel to take a shower with free. All staff very helpful and provide a city ma...
---
we stayed twice in this hotel, before and after trip to national park. We love this hotel that all made from salt include wall, ceilling,tables, even bed! Hotel provides decend hot shower and heater which is really important when you travel here in winter. We didnt like the shower pressure in our first stay (water can change from hot to cold constantly), so we mentione...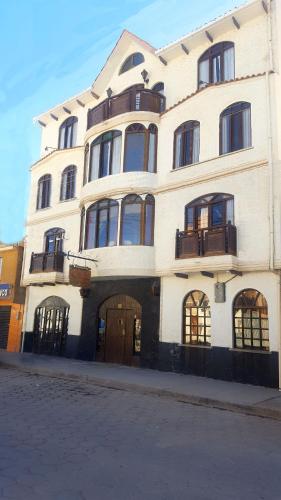 ---
Staff were rude, especially if you didn't speak spanish. They wouldn't let us check in until gone midday despite arriving on an overnight bus at 7am- if this was hotel policy and universally applied we would have accepted it, however we saw other people checking in as soon as they arrived - hours before this time. There were rooms available on the day we arrived as we ...
---
A wonderful little oasis in a freezing cold Uyuni. The room was extremely comfortable mainly thanks to the electrical blanket! Would have struggled without that. Clean toilet and okay breakfast. Great staff who made sure I had a taxi early the next morning to ensure I made it to the airport when a taxi strike would block roads. Highly recommended.
---
Just viewed by other Agoda travelers
---
Traveler impressions of Uyuni
Go to Uyuni for a salt flats excursion but nothing else. Stay in Uyuni itself for as limited a time as possible as there is nothing to do there - it's ridiculously expensive and you will be bored.
---
Discover the neighborhoods of Uyuni
---
More about Uyuni
From opulent luxury hotels to kitschy boutique hotels, you can book your hotel room in Uyuni at the lowest rate guaranteed on Agoda.com. We offer a wide range of hotels to help you find the best place to stay in Uyuni. Many areas, each with a distinctive atmosphere, are just waiting to be discovered across the city. Uyuni has many attractions to explore with its fascinating past, intriguing present and exciting future. There are so many things to do, you may want to stay an extra week or so to experience them all. Save time and money with our customer-friendly booking engine that guarantees you the lowest price on hotels.