Discover the neighborhoods of Yamba
---
4-star hotels in Yamba
---
Pleasant - only issue was that we couldn't see any reference to check out time in the information folder - assumed (incorrectly) it would be midday but a few minutes after ten we had a knock asking "are you staying another night because you are now late to check out". A reminder when we checked in r signage in room stating 10am check out would have avoided mad rush o...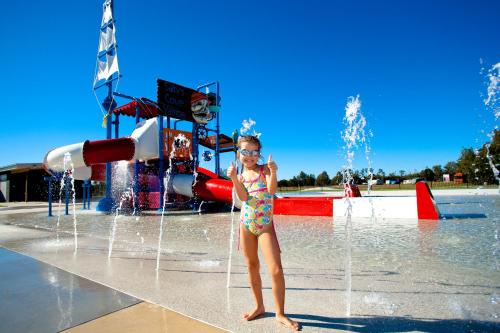 ---
Our family thoroughly enjoyed our stay. There was heaps for the kids to do. Staff were more than accommodating, friendly and helpful. The park was immaculate and there was always lots of staff around to provide assistance when needed. It was a bit off the beaten track but we actually liked this. Self contained cabins contained everything we needed. Kids were safe at al...
---
It's our 2nd time staying with Club Yamba. Absolutly loved villa 5! Fantastic location and very private. Only 1 min drive to the shops or beach. The apartment had everything we needed. Last time we stayed in the boat house which was pure luxury. However I love the location of the villas and the fanastic view. When we come back to Yamba we will be staying here again....
---
This is a very good hostel. The staff is friendly and the vibe at the hostel is great. (Not a party hostel) I liked the rooftop, great place to hang out and meet new people. Also the best tour + surfing lessons. The only bad thing is that wifi only works on ground floor.
---
An excellent motel in a great location with everything you need for a very comfy stay. Immaculately clean, great shower & a nice little balcony among other things . We dined at a wonderful Italian restaurant "The Italian on the Hill" recommended by the lady at the front desk & walking distance from the motel . Everything about this motel was faultless , I couldn't rec...
---
Situated a little bit out of Yamba town centre, but fine if you have a car. Definitely stay again
---
Traveler impressions of Yamba
Very pretty coastal location with a selection of beach areas, and shops. Yamba is the destination not a place en route to somewhere else as it is at the end of the road.
Fishing wonderful. Caravans very welcome, with cabins available. Museum open certain days, worthwhile seeing and paying $3.
---
Explore more travel vacation rentals
Find the Perfect Type of Accommodation
---
More about Yamba
From opulent luxury hotels to kitschy boutique hotels, you can book your hotel room in Yamba at the lowest rate guaranteed on Agoda.com. Guests find many of the 145 hotels in Yamba an attraction in themselves. Many areas, each with a distinctive atmosphere, are just waiting to be discovered across the city. Yamba has many attractions to explore with its fascinating past, intriguing present and exciting future. There are so many things to do, you may want to stay an extra week or so to experience them all. You can depend on Agoda.com to help you find the best bargains on Yamba hotels.