4-star hotels in Managua
---
My stay at the Seminole Plaza was OK.
---
Like a lot of travelers, I was only passing through Managua on my way to other parts of the country. La Pyramide is a very nice little hotel away from the chaos and noise of the airport. A lot of travelers in and out of Managua stay at the hotel right across from the airport for convenience's sake. I was very glad I took the time to research hotels and decided to stay ...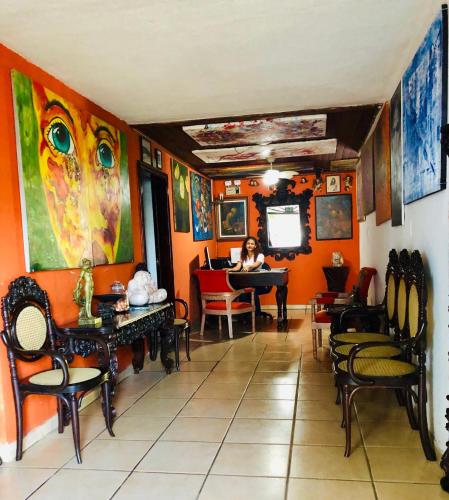 ---
Photos do not reflect the real properties. Building is very old, dark and depressive. Too many furnitures, they are dark and old. Location is not so bad. Neighbourhood is ok but it is far to central locations.
---
Well equipped kitchen. Excellent facility. Very fast Internet speed connection. Wonderful environment. I definitely recommend it !!!!
---
5-star hotels in Managua
---
Will stay there again. Hotel is close to the airport, about one kilometer or less and has free transportation to and from the airport. All of the staff I encountered were bi-lingual and helpful. There are 2 major rental car agencies in the hotel which I found handy rather then renting a car at the airport after arriving on a late night flight.
---
We stayed at Elements for the evening before our flight back to the US and we were very happy with our stay. The hotel is very modern with a great bar and restaurant area that you would picture in NYC or London. We had dinner at the Oxygen restaurant and the food and service was excellent. We were traveling with our 2 year old son and the staff was very accommodating....
---
Traveler impressions of Managua
Managua is a very big city. I didn't find anything particularly special or noteworthy about this place but it is where the planes arrive so you pretty much start here! It is easy to get around using the buses and taxis.
I am a big fan of Nicaragua but Managua is still a dangerous and very unattractive city with little to offer.
Be very safety conscience in Managua. Do not walk around or near the "wrong" neighborhoods. Only take taxis at night.
---
More about Managua
Agoda.com features accommodation options from all over town. From high end international chain hotels to family run guesthouses, demands of all travelers are met. Choose from our selection of over 252 hotels. We offer lots of promotions such as early bird offers and last minute deals. Visitors have no trouble associating Centro Cultural Managua, Augusto C. Sandino International Airport with Managua. Managua has many attractions to explore with its fascinating past, intriguing present and exciting future. Although there's plenty of pleasure to be had simply walking around the city, there are 1 museums and galleries in Managua that deserve some of your time. Save time and money with our customer-friendly booking engine that guarantees you the lowest price on hotels.