Fast facts about Mombasa, Kenya
| | |
| --- | --- |
| Accommodations | 1,166 properties |
| Popular hotel | Leopard Beach Resort and Spa |
| Popular area | Diani Beach |
| Nightly rates from | €7 |
| Airport | Ukunda Airport |
5-star hotels in Mombasa
---
Pros: beautiful property, friendly staff, delicious food, right on the beach, flexible check in/check out, EXCELLENT service. Cons: we went right before the busy season, so there weren't many people there. For us, we didn't mind bc we only wanted to relax, but if you're looking to party rather than relaxation, maybe this isn't the place for you. Overall, we very muc...
---
We had a great time in Mombasa especially the apartment was nice and clean. However as it is a bit far from the nice beach resorts we should have to take a bajaj taxi transport to the hotel in the night which was so crowded and time taking to reach there. We have to remind them daily to put tissue papers and soaps in the toilets. otherwise every thing including the s...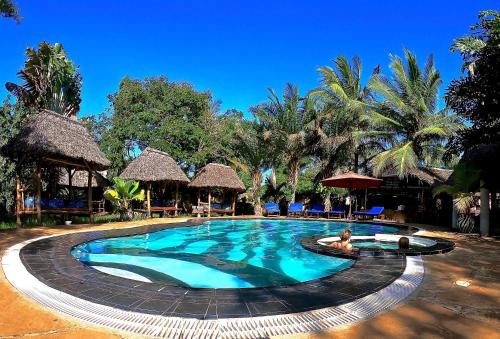 ---
The stay was quite relaxed, although initially couldn't find the hotel as the gate looks very closed and the place deserted at midday. The private rooms are okay, but would hugely benefit from some newer sheets and regular cleaning. There was also an issue during checkout because they charged me something completely different from what Agoda (or in this case, Booking...
---
I didn't get a refurbished room and my friends did - there is a huge difference so make sure to ask. The beach isn't great as it is very tidal and is swarmed with 'beach boys' hassling you. However the hotel set up our safari and it was phenomenal - as a coastal safari base the place is perfect. It's a 2-3 hour drive from the parks but if you're doing a 3-4 day safari ...
---
Excellent. It is expensive but why not and you get real quality. The staff are lovely and helpful; the room is clean, top linen, air con and mosquito proof; food is delicious esp for vegetarians and the extra services for me the tennis courts, squash courts, pools and spa were excellent - just delightful
---
no buffet breakfast and the resturant is small and its slightly far from the main road so i wouldnt advice this for someone who doesnt have a personal car. the hotel should have a variety so that residents dont have to go out to look for food otherwise every other thing is ok
---
We had a short stay at at the Maji Beach hotel for one night as part of our honeymoon, having been on safari at the Maasai Mara for the previous two days. We had a warm and sincere greeting from the friendly staff there with a recurring theme of "Welcome Home". The hotel is very much in a boutique style - a low rise, colonial type building perfectly located backing ont...
---
No issues the staff were very helpful. But the price is slightly high compared to the other hotels in the South coast.
---
Traveler impressions of Mombasa
Mombasa is rich in culture and history, visit the old town and the Fort Jesus and light house. Also you have several nice restaurants and night clubs.
Mombasa city is filled with interesting culture and history of Kenya. The city center is only about an hour from the beach!
---
Mombasa's best hotels with breakfast
---
Explore more travel vacation rentals
More about Mombasa
On the eastern coast of Kenya, the city of Mombasa offers a tropical climate, diverse colonial history, and attractive beaches. Mombasa is a popular tourist destination as well a regional cultural and economic hub, covering Mombasa Island and sprawling onto the mainland over Tudor Creek and Kilindini Harbor.
Moi International Airport
is to the east of the city, next to Port Reitz. A train ride from Nairobi provides access to the city as well and can make for a unique experience. Getting around the city is done with bus-taxis and tuk tuks.
There is plenty to do when in Mombasa, and the majority of the fun can be found on Mombasa Island. Churches, mosques, and temples signal the cultural diversity of the city and reflects on the history of the city and its strategic location. So too does the architecture of the buildings with their Portuguese and Islamic elements. Travelers can step into time when visiting Old Town and
Fort Jesus
. The biodiversity of the area is also an appealing draw with creeks, safaris, islands, and national parks showing off beautiful flora and fauna alongside an abundance of wildlife. The beaches of the north and south coast are excellent respites in between trips with some being better for swimming while others are better for picturesque settings.
Accommodation in Mombasa favors the east coast along the Indian Ocean and
Mombasa Marine Park
. Mombasa Island and its collection of attractions and city services also provides hotels and lodges. Find the most suitable accommodation for you by clicking on our interactive map and exploring Mombasa for hotels and must-see destinations.