Discover the neighborhoods of Qesm Marsa Alam
---
4-star hotels in Qesm Marsa Alam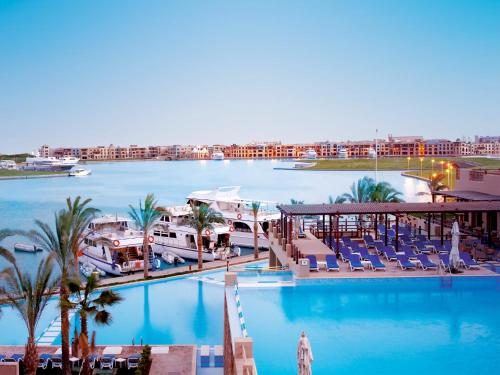 ---
Overall it is worthy hotel for low budget traveller. Room is clean, swimming pools are amazing , staffs are pretty nice and food is way better than I expected. Only problem is the location. I needed to use water taxi(10L.E per person) or free bus to go to Marina where all the bars and restaurants are. Also the beach is a little bit far although there is a shuttle bus ...
---
hey, it was really a pleasure n feel of leisure on my business trip to marsa alam. the best part of the hotel was beach and beach
---
nice service and the best location of the port. but the beach of the Intercon is better to see the coral than Crown.
---
Room was wide about 60 m with nice view. co operative staff, tasty food Many swimming pools The only negative point was that u must cross a highway road to go to the beach, although the security man will help you in this My advice is to book breakfast and dinner as there is no near by restaurants, and choose this at booking time where it costs 120LE as if you pay at h...
---
Great stay at Magic Tulip, great price for everything you get, unlimited food & drink. Staff was super friendly & very welcoming! Would stay again in a heart beat!
---
5-star hotels in Qesm Marsa Alam
---
I chose this hotel it didn't disappoint. We had a great time and already planning a return visit. Some guests had been coming for years and I could see why. The standards of rooms , great food, and discrete but attentive staff made for an excellent holiday. We particularly liked the dive centre at the hotel which was well run and offered house reef diving as well as tr...
---
The hotel with its staff are pleasant . Services provided are good . However , the main restaurant and the QUALITY of food NEED improvement .
---
Everything was good. I'll be back
---
It's a good hotel in red sea coast of egypt.you will get served with seafood, fresh air close to coast and swimming pool. you can join with your friends stay near. you can get sea view from your room with balcony. good see you next time
---
the restaurant staff were slow and had to wait a along time for our food. the room and bathroom was clean and the setting was very beautiful. beach, cornice, shopping and liveaboards are all within walking distance of the hotel.
---
Facilities great, new, clean, food good, enough choice Be careful with alcohol, the one served seems not to be of good quality Staff strange not well educated, slightly rude and offensive, especially at the reception
---
More about Qesm Marsa Alam
Finding the cheapest price for top hotels in Qesm Marsa Alam, Egypt is easy with Agoda.com. With over 76 different establishments, there is a great variety to choose from. Many areas, each with a distinctive atmosphere, are just waiting to be discovered across the city. Qesm Marsa Alam has many attractions to explore with its fascinating past, intriguing present and exciting future. There are so many things to do, you may want to stay an extra week or so to experience them all. Agoda.com offers professional reviews and ratings of hotels in Qesm Marsa Alam so you can enjoy the perfect stay.