Discover the neighborhoods of Bariloche
---
4-star hotels in Bariloche
---
Great hotel. We loved the location. Close enough to town but just outside so as to avoid any noise and the throngs of high school tour groups. Room had a wonderful view of the lake. In addition the room was spacious, clean, and very comfortable. Breakfast in the morning had plenty of options. All of the staff was very helpful and kind. Grocery store and excellent brewe...
---
great hotel which is very central to bariloche. hotel itself is very clean, rooms are spotless and very big. ask for one over looking the lake, a wonderful view to wake up to. pool area is a great added extra, same with spa and gym reception spoke good english and were very helpful, only negative comment is for some reason we were not allowed to eat in the restaurant ...
---
The facility was okay. But, (not the fault of the hotel) the hotel is right next to three bars and that makes it EXTREMELY noisy. The windows vibrate from the bass. I am 29 and thought I could just sleep through it. Not possible. I would recommend to stay else where.
---
Best Hotel for staying close to town, situated at the lake, breakfast is bad quality, internet is very slow! Almost unusable.
---
Great location slightly out of town which helps keep traffic noise down. Staff extremely accommodating and friendly. Excellent cleaning service. Great stay. We extended an extra day it was so relaxing.
---
5-star hotels in Bariloche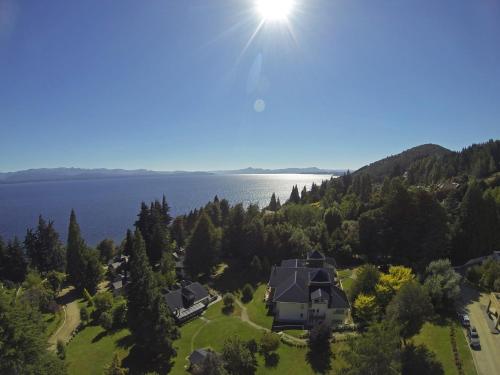 ---
What a joy to arrive at this amazing place. After an action packed few days in Bariloche it was hard to leave this place! It has very comfortable rooms and a wide range of relaxing facilities!!
---
Excellent hotel, excellent service, excellent food and vine!!! Very professional , friendly and helpful stuff!!! Fantastic view from the room to the lake!!! Very good location!!! Highly recommended!!!
---
More about Bariloche
Bariloche supplies the perfect mix of tranquility and entertainment in the exciting city of San Carlos de Bariloche. Give yourself time to explore the area's attractions, such as San Carlos de Bariloche Hospital, and enjoy the vibrant atmosphere. An undeniably popular travel destination, Bariloche offers a memorable escape with its famous sites and fine dining.

Save time and money while booking with Agoda.com, promising the best hotel deals in Bariloche and many more areas in San Carlos de Bariloche. Explore a full list of accommodations and find the perfect place for you. Simply enter your planned dates of stay in our search box to find the best hotel deals in Bariloche.