Discover the neighborhoods of Adana
---
4-star hotels in Adana
---
I was there for one week. Very bad cleaning . Wi-Fi doesn't work. Staff didn't know what happens and couldn't give a good explanation, but they were friendly.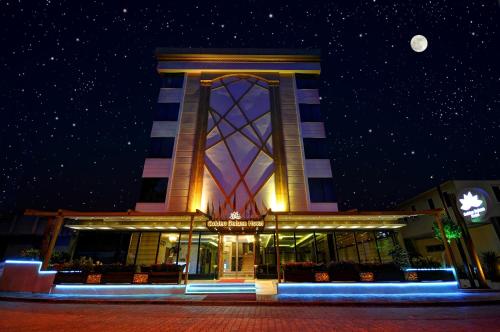 ---
It it a modern hotel that is located in all amenities shops and dining areas. The room was spacious with all needed things including tee/coffee tray for different tastes. The breakfast was very good. The staff are very friendly and helpful. The hotel is very valued for money. I can call it a generous hotel.
---
Accommodation, meals, location, price and staff are all perfect. The most satisfying trip!
---
Excellent. One or two issues on arrival promptly dealt with without any fuss and with an apology.
---
So friendly hotel keepers welcomed me with nice smile. Room was confortable, and we could enjoyed every morning with various breakfast, I really like the bean soup. Next to this hotel, bakery was opened everytime I saw. There are no restaurant nearthe hotel, so you have to go by taxi to enjoy traditional Adana Kebab.
---
5-star hotels in Adana
---
Big room , value for money Great facilities Best hotel in adana
---
best hotel out off all in adana with great secuirty staff
---
I loved this hotel , l would have stayed more than one night, found it occasionally when I needed to stay in adana , but I really got shocked of the service compared to the price, it's a nice choice and I will visit again for shore
---
Explore more travel vacation rentals
More about Adana
Agoda.com offers a selection of the very best hotels in Adana, Turkey to ensure your visit fits your expectations. Whether traveling for business or leisure, Adana is an outstanding city to visit with over 78 hotels to choose from. Gürselpaşa Mahallesi, Resatbey Mh, Mayıs Mahallesi and all other popular areas have a vast choice of hotels to offer. The city is served by 1 airports which means it is accessible from almost every major city in the world. There are so many things to do, you may want to stay an extra week or so to experience them all. Don't delay and book today to get the best hotel deals in Adana!