Fast facts about Aqaba, Jordan
| | |
| --- | --- |
| Accommodations | 170 properties |
| Popular hotel | DoubleTree by Hilton Hotel Aqaba |
| Popular area | Aqaba |
| Nightly rates from | ₹1285 |
| Airport | Aqaba Airport (King Hussein International Airport) |
Discover the neighborhoods of Aqaba
---
4-star hotels in Aqaba
---
We have enjoyed staying at Golden Tulip Aqaba Hotel, the staff was professional and tried to assist us with all our requests on our Business Trip. The wifi signal is strong, the rooms are spacious and the breakfast has all the options for a simple morning meal (even an egg station with a guy who makes custom made fried eggs for you). The coolest thing is the talking pa...
---
The Marina Plaza Hotel Tala Bay is a convenient stop over in Aqaba. It is located very close to the beach and has a great swimming pool and restaurant for families. We did not dive or book any trips but the front desk can take care of all of that for its guests. The rooms were a little out dated and semi-comfortable, but overall we felt the place was overpriced. Howeve...
---
It is good choice as for weekend as for longest time, without loudly tourists groups, near at Aqaba, near at beach.
---
Stayed for 2 nights. We had some trouble with our rental car and the staff did everything they could to help us with this. They even went with me to the garage to get the car fixed. The also were perfect in giving us tips for dinner and where to go snorkeling. Would recommand this hotel to everyone staying in Aqaba
---
the hotel is located in the touristic district of aqaba. the staff was very helpfull. we accidently made a mistake with the booking. the staff helped us to settle this right. the rooms are very big, and very clean. we had two balcony's!
---
Nice breakfast, reasonably priced, not a 4* hotel though, good location, wifi should've been free.
---
5-star hotels in Aqaba
---
Group of 4 50-75yr old travellers, who didn't speak English. The staff was amazing and helped with everything. Room were clean. Buffet breakfast and dinner was remarkable, vast choice and lots of nice food. The most beautiful hotel in Aqaba no doubt.
---
its the oldest 5 stars hotel in Aqaba there are other better hotels within the same area but its cheaper as well.
---
Radisson has kept the standard. It's one of the best properties in Aqaba ... Nice staff.. Good facilities. Areas of improvement can be on quality of food. Restaurant service - breakfast (out door seating) there was no one to attend, we have to personally go and take even the cutleries, salt n pepper, sugar ..etc. the heatwave club was closed but there was no informat...
---
great hotel in aqaba. nice amenities in room (beautiful bath/bedroom) overlooking red sea and aqaba beach. spectacular pool complex very nice/modern. wish the hot tub/jacuzzi were warmer though. excellent base for travel to wadi rum, also easy access to all red sea dive sites. hotel staff were very friendly and helpful, they arranged dive package for me with little eff...
---
This hotel has best location in Aqaba. We were just arrival sunset time and there are beautiful sunset in Aqaba bay!!! We were just run to beach area to spend sunset time even we didn't check in yet, hotel workers smiled and let us do it. It was amazing time to see such a beautiful sunset. Hotel is very nice quality service and setups. We had very nice guide and car fr...
---
My wife and I stayed at the DoubleTree Hilton for one night on a recent visit to Aqaba, we found the hotel very easily and car parking was straight forward. Check in was very efficient, we booked a king room with sea view which was of a good size. The bathroom was clean and stocked with all necessary toiletries and plenty of towels. Bottled water was provided and extr...
---
Overall services are good. Front desk is helpful and friendly. The hotel operator has changed to Oynx but Agoda didn't make the name change. Google didn't show the location of this hotel using the old name.
Simon
, Hong Kong SAR, China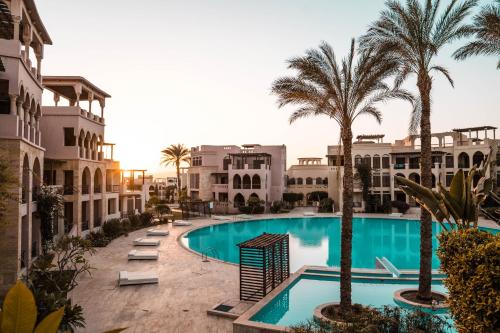 ---
Had a great 2 night stay at the Tala Bay Residences. The room was new, and very clean. The facilities were great, lots of pools, a great beach club with delicious breakfast, shops & a nice beach. It feels very much like a resort. Only downside is that the rooms are a little far from the shops /Beach, so it's a bit of a walk (10-15min). Highly recommended
---
The hotel is very nice and clean, but a lot of hiccups made our stay quite annoying. Upon arrival we had to wait for more than an hour in the lobby to check in, we kept being told to wait "a few minutes more" while people who arrived after us were being checked in. The staff is very nice but not trained to 5 star service: ie they kept getting our orders at the restaura...
---
Traveler impressions of Aqaba
I lived and worked in Aqaba for 5years, I know it well. Aqaba is for relaxing in hotels that have access to the beach (not all do) and for all water sports.
Biggest dissapointment in long time,dirty city, people unfriendly, dangerous looking, not pleasant at all.
Great SCUBA diving and bustling markets and nightlife. A great mix of water-sports and culture to be experienced.
Aqaba is a nice city in Jordan, but have many problems like food, hotels is very expensive, it's clean and small city.
Not really sure what there is to do in Aqaba besides a diving/beach tour organized with your hotel. As a western woman you probably don't want to swim in the public beach as you get enough hassle and cat-calls fully dressed up to your neck.
Aqaba is a great place. I just wish that in the future, there would be cinema where anybody can watch hollywood english films.
---
Aqaba's best hotels with breakfast
---
Explore more travel vacation rentals
More about Aqaba
Travelers looking for a laidback, waterfront experience in Jordan can find what they are looking for in Aqaba. Soaking up the culture of the city or diving in the Red Sea round out the things-to-do list when visiting. Aqaba is easy to reach, being only 20 minutes away from
King Hussein International Airport
. Within the city, taxis and buses provide a convenient means of getting around.
There are a couple noteworthy sites to visit within the city of Aqaba. Aqaba fort is certainly one of them, located next to the
Aqaba Flagpole
. The flagpole is a site in itself, being the world's fifth tallest free standing flagpole. The ruins of Ayla can also be explored here. Next to the fort is the
Aqaba Archaeological Museum
, where heritage items and artifacts - some dating back as far as 4000 BC - are on display. Touring the city and the Red Sea can also be enjoyed during a visit here.
When choosing accommodation, travelers have the option of staying in the desert, along the Red Sea, or within the city. From budget properties to luxurious stays, those looking to be near the sites and conveniences of the city will find plenty to choose from. Find the most suitable accommodation for you by clicking on our interactive map and exploring Aqaba for hotels and must-see destinations.