Discover the neighborhoods of Baden-Baden
---
4-star hotels in Baden-Baden
---
this is the best value for money in baden baden, situated in the very centre of the city. the rooms are well appointed and the bathrooms spacious we had a room with a jacussi which was great the breakfast is outstanding with a huge choice of breads cheeses and sausages, fruit juices and cakes the staf is very helpful
---
5-star hotels in Baden-Baden
---
could not be better. this elegant hotel is perfectly placed in the very heart of baden-baden. allow yourself to be pampered by the attentive staff, and relax in the beautiful spa facility.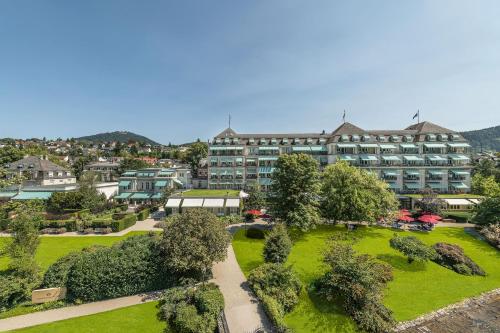 ---
Brenners Park Hotel surpassed all of our expectations and our expectations were high. From the first moment to the last we could not have been looked after better. This is a wonderful hotel with exceptional facilities and staff. We cannot wait to stay there again.
---
Traveler impressions of Baden-Baden
LOCATION OF BADEN-BADEN IS PERFECT YOU CAN VISIT EUROPARK, STRASBOURG, BLACK FOREST AND MANY OTHER CITES
Spa spa and more spa! Quaint little town with friendly people. Friedrichsbad spa is a must visit if you are not nudist phobic.
Spa is legendary. Experiences like a true Roman. Park is lovely. Gourmet food around the corners. Very vacation feeling.
---
Explore more travel vacation rentals
More about Baden-Baden
From opulent luxury hotels to kitschy boutique hotels, you can book your hotel room in Baden-Baden at the lowest rate guaranteed on Agoda.com. With more than 262 hotels spread across the entire city, you are sure to find a property convenient for you. The city is appreciated by visitors for its versatility and multiple points of interests such as Caracalla-Therme, Casino Baden-Baden, Lichtentaler Allee. Enjoy the history and beauty of Baden-Baden by visiting one of 20 monuments around town. Many monuments such as Festspielhaus Baden-Baden are regarded as the city's heritage. There are so many things to do, you may want to stay an extra week or so to experience them all. You can depend on Agoda.com to help you find the best bargains on Baden-Baden hotels.