5-star hotels in Central Coast
---
very good. my children are very happy to live your hotel. If we have time we will come again. the centrel coast is beautiful. my kids like play sea water and watch bird feeding. If the room price is cheaper it will be a nice choice.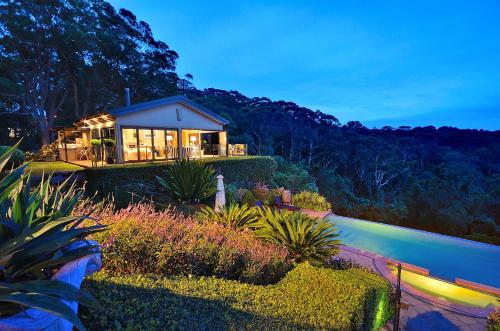 ---
this is advertised as a cabana with its own private infinity pool(and charged accordingly). this is not the case, as in the morning of our stay, the pool was being occupied by friends of the owners of the property. the owners response was to put them down the other end of the pool. she only removed them when reminded it is advertised as a private getaway. this ruined t...
---
Traveler impressions of Central Coast
Nice alternative if you looking for a budget beach holiday especially if you reside in Sydney and don't want to travel far
Perfect area for families with children of all ages as there is a huge variety of water based activities and level bike riding and walking.
The Bouddi National Park was absolutely beautiful. There were breathtaking views from the coastal track and it was well maintained.
The Central Coast has a variety of things to see and do. There is everything from beaches to nature hikes, shopping, spas, etc.
A very quiet little town, easy to get o via the Sydney train system with Gosford Station located right in the middle of the town, and places easily accessed via foot.
Definately beach orientated holiday....everything revolves around the beach.....great or families with kids
Central coast is a nice place to visit, it got great beaches and nice walking track. At the entrance area, you can encounter lots of pelican and they are used to visitors,which you can get quite closer to them, interesting experience.
---
Central Coast's best hotels with breakfast
---
Cons:/ i sent an email to contact them about changing dates., I had booked it for Daturday and I emailed them Wednesday afternoon. They claimed they emailed me that they did change it. 1:/ i did not receive an email. 2:/ they emailed the morning I arrived there, so they apparently emailed Saturday morning that they had changed the dates but I was already up there by S...
---
very good. my children are very happy to live your hotel. If we have time we will come again. the centrel coast is beautiful. my kids like play sea water and watch bird feeding. If the room price is cheaper it will be a nice choice.
---
We arrived Saturday afternoon and was welcome by the friendly staff room was basic but had everything you needed to make you night stay comfortable very clean with a little balcony to sit out and grab some fresh air we were all impressed with the location as we parked the car outside our room and walk straight through to the hotel next door were we had a lovely meal an...
---
We have stayed at many Ibis hotels around Australia and the world and have never been disappointed. The Entrance Hotel is annexed to the RSL, access is direct which is very convenient. The Diggers has larger signage and we drove past not noticing the IBIS signage. An Excellent stay, room very convenient with helpful reception staff.
---
Favourite place to stay on the central coast
---
Dirty plate in the cupboard, didn't get the room with full kitchen bit annoying after buying food to cook. Special shout out to the bearded guy in dining for breakfast, outstanding service and best chocolate milkshake ever!
---
Explore more travel holiday rentals
Find the Perfect Type of Accommodation
---
The Central Coast region of Australia is found in New South Wales, between Sydney and Newcastle. This area is considered something of a playground for the two cities as it offers a range of activities to appeal to all who visit here. There are several cities within the region offering opportunities to find the perfect getaway. Those trying to reach the Central Coast will utilize
Sydney Airport
as a means of reaching the region.
Having your own means of transport will create the greatest ease for traversing the Central Coast, especially for those looking to explore or cross off several destinations. The city of
Gosford
serves as the suburb and commercial center of the region. It offers the delights of the city coupled with an abundance of flora and fauna. From the Ettalong Markets to the
Australian Reptile Park
, a stop here makes for an exciting time. The suburbs of Gosford include destinations such as Wamberal for lovers of water sports and Tumbi Umbi which boasts one of the largest community clubs in the region. There is also Norah Head which will appeal to those traveling to experience culture.
Be sure to check out the interactive map of Central Coast for information on hotel locations, attractions, and must-see destinations.