Discover the neighborhoods of Dalyan
---
4-star hotels in Dalyan
---
There is an abundance of accommodation in Dalyan so we chose Hotel Tezcan because of if it's proximity to the tourist boats and market. However the lady on the front desk was very unhelpful and couldn't get rid of us sooner! The man who checked is in was also unwelcoming! He just wanted to clear admin duties and send us to our rooms. When I queried about the location o...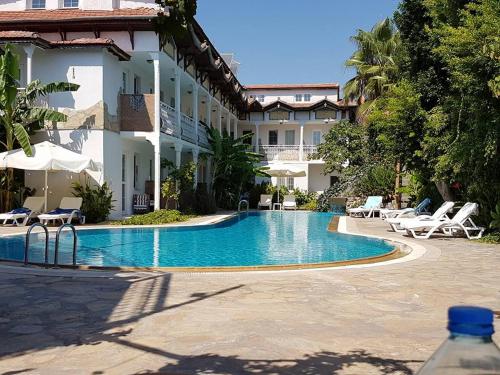 ---
The hotel is a bit far out. Good pool and pool area but the owner was a bit too strange for us.
---
Dalyan's best hotels with breakfast
---
This lovely hotel is set on the outskirts of Dalyan providing a stunning setting with easy access to town. The hotel is comfortable and clean, with rooms arranged in small units around two pools. Spotlessly clean and with friendly staff, the hotel is an oasis for families and couples alike.
---
was last minute booking and its value was ok for 25 Euro per night for this kind of hotel.
---
We enjoyed staying outside of the centre of Dalyan. The pool was one step away from our patio and the room had the full works of safe, kettle, TV and washing line. Breakfast was delicious with freshly baked rolls and homemade jams.
Christina
, United Kingdom
---
Excellent hotel in a stunning location.
---
Stayed with our 2 year old daughter. We enjoyed breakfast on the water front looking at the ancient ruins. Great value, especially if you have a car and can avoid a 10 minute walk downtown.
---
Explore more travel vacation rentals
More about Dalyan
Agoda.com features accommodation options from all over town. From high end international chain hotels to family run guesthouses, demands of all travelers are met. Whether traveling for business or leisure, Dalyan is an outstanding city to visit with over 345 hotels to choose from. Popular areas are Okcular, Dalyan, Gokbel where visitors can enjoy the quintessential experiences of Dalyan. Dalyan has many attractions to explore with its fascinating past, intriguing present and exciting future. Whatever your plans are, do not miss these things to do: Dalyan Kooperatifi. Agoda.com offers professional reviews and ratings of hotels in Dalyan so you can enjoy the perfect stay.