Discover the neighborhoods of Lakes Entrance
---
4-star hotels in Lakes Entrance
---
This place was great, and we regret having only stayed there one night. It's in a beautiful forested area. The cabins are well-secluded and beautifully landscaped. They have a parrot feeding in the morning, and tons of other birds and wildlife live about the area. It was very cozy, with a good fireplace and plenty of wood provided. It was a little bit away from the mai...
---
Read a lot of bad review of the apartment, was planning for the worst. However, stay turn out to be alright. The room was dated but clean. Amenities like bath foam, shampoo etc was provided. Room was set up with extra bed and pull out bed. Request for side by side room but was not provided. Check in and out was easy and staff was friendly. Location was good, though en...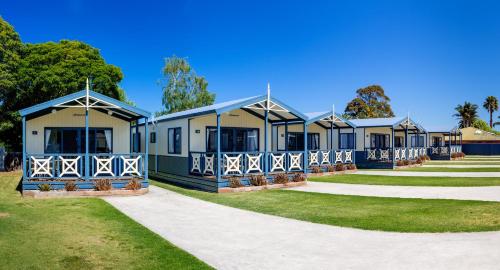 ---
Nothing really special Pools were 3 small ones, good for young children not so good for adults or older children Cabings were Ok clean Check out as in all Australia is 10 am which is very early for holiday traveler People were polite but again the service as in most places in Australia was basic
---
The Lakes apartments are set in a quiet area but conveniently close to all amenities. Each apartment has its own private garage which makes unloading extremely easy. The facilities are superb - lovely separate utility room, & modern, well equipped kitchen. The sitting & dining area is very spacious with comfortable, leather settees. The bedrooms have lovely big comfor...
---
Traveler impressions of Lakes Entrance
It is very relaxing are with lots of beautiful outdoor areas and recreation facilities. The Lonsdale Eco cruise is the best value 3 hour tour to see as much of the lake and area and birdlife and the freshly baked scones are fantastic!
Great place to visit. Beautiful walks along the beach and river. Great shopping at quaint little shops and excellent cafes.
Beautiful scenery and abundant birdlife. Amazing contrast with the surf beach and the lakes behind. More beautiful than we had imagined.
Lakes Entrance is excellent for people who enjoy fishing and boating. If you want to go fishing it would be better if you had a boat to access the many waterways available here.
Very beautiful little beach town, so quiet and relaxing, excellent place for weekened relaxation and family fun esp with kids.
A spectacularly situated coastal community in SE Victoria. Excellent boating and and fishing opportunities.
---
Lakes Entrance's best hotels with breakfast
---
Me and my wife was pleased with the room. It has everything essential and the condition of the room was good and clean. Will definitely go for this motel again if I ever go back to Lakes Entrance.
---
Fantastic location! An additional benefit is that there is a front and back entrance, which makes getting around much easier. Room was clean and the staff were nice. Overall, good value and a nice place to stay overnight.
---
We met family staying at a nearby Lakes Entrance caravan park for Christmas. Our Araluen cottage was a nice break from the crowd. Isolated, peaceful, scenic. The rooms were immaculately presented, and unlike most "country cottages"I have stayed in, everything was tasteful, clean and worked. The owners stocked us up with fresh bacon, tomatoes, farm eggs, cereal and ...
---
Explore more travel holiday rentals
Find the Perfect Type of Accommodation
---
To provide our customers with unbeatable rates at hand-picked hotels, Agoda.com represents a full range of hotels from 5-star resorts to budget-priced properties in Lakes Entrance. With over 112 different establishments, there is a great variety to choose from. Many areas, each with a distinctive atmosphere, are just waiting to be discovered across the city. Lakes Entrance has many attractions to explore with its fascinating past, intriguing present and exciting future. Whatever your plans are, do not miss these things to do: Mulloway Fishing Charters. If you're looking for a room in Lakes Entrance and don't want to pay too much, Agoda.com offers hundreds of fantastic deals which are updated daily.