Discover the neighborhoods of Lloret De Mar
---
4-star hotels in Lloret De Mar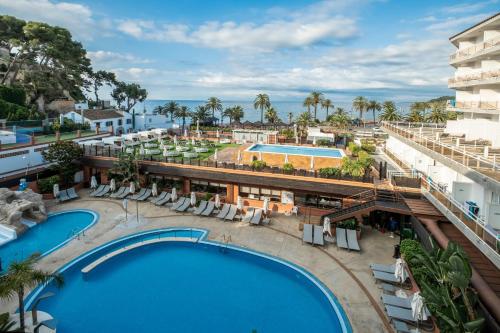 ---
There was no options for another hotel. quite disappointed with the room condition, but would be the best around that area. We would return because of breakfast. Champagin and the bread, etc, everything was super perfect.
---
Hotel très bien, propre et décoré avec du goût. Le personnel est agréable et à l'écoute. Bien situé proche du centre ville, mais un peu de bruit la nuit surtout le week-end. Équipements très satisfaisant et petit déjeuner buffet varié. Je recommande vivement !!!
---
Always nice to have a stop in Hotel Miramar.
---
The hotel faces th beach.But most of rooms don't face the sea. I can recommend halfboard.The buffet dinner was tasty.
---
The hotel is situated near disco clubs so it's very loud at night. In a hotel slept some teenagers from a school trip who were running through the hall at night and knock my door after midnight 'by mistake'. All four nights was hard despite the fact i had earplugs in my ears! Breakfast was good, swimmimg pools usually was in shadow so we went on a beach usually (beach...
---
Was there as part of sporting event. hotel was in great location away from the noise but easy access to town, the hotel was clean, good food , fresh and good selection. Apartments good size and everything you need, beds were ok
---
Food good just outside hotel on left of door. Breakfast very good in Hotel Night Manager very friendly and helped with early morning taxi arranged to have breakfast before 07.00am
---
Way Better than the flea dive blue sea Mont vista Hawaii
---
Explore more travel vacation rentals
More about Lloret De Mar
From opulent luxury hotels to kitschy boutique hotels, you can book your hotel room in Lloret De Mar at the lowest rate guaranteed on Agoda.com. With more than 1847 hotels spread across the entire city, you are sure to find a property convenient for you. The city is appreciated by visitors for its versatility and multiple points of interests such as Club de Golf Angel de Lloret. Lloret De Mar has many attractions to explore with its fascinating past, intriguing present and exciting future. Hit the greens and tee-off at one of 1 golf courses in Lloret De Mar including the famous Club de Golf Angel de Lloret. Book your next trip to Lloret De Mar with Agoda, backed by our low price guarantee.