Discover the neighborhoods of Marmaris
---
5-star hotels in Marmaris
---
This is the best hotel in Turkey where we were, with no doubts. The location is stunning and beaches are wonderful. We will come back for sure.
---
Fantastic views. clean rooms. Good meals. large pools.
---
we like the hotel very much, which starting from friendly staffs including helpful reception and front desk until the kitchen crew members especially the chef(s). The food are fresh, very tasty and tailor made authentic Turkish cuisines. All in all we recommend and will come back to this hotel next time.
---
The position of the hotel is just perfect, 5 minutes from the beach and about 20 minutes walk from the centre. The hotel is fantastic, offering 2 big pools, spa, gym and evening entertainment! The room are quite small and disappointingly we had booked a double room but they gave us a twin room because the hotel was fully booked. However staff was helpful and friendly! ...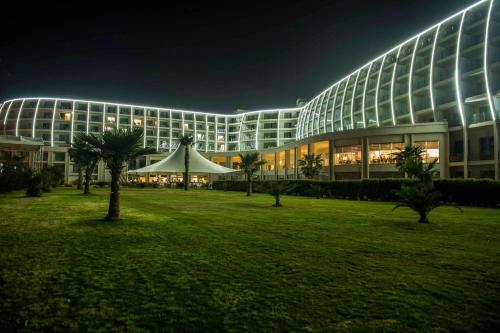 ---
Pros large rooms get a sea view. Clean hotel with well maintained modern facilities on sea front with large pool and plenty of sun beds both on beach and around pool. Food choice good although buffet options may not all be topped up. Cons busy buffet with very limited lunch times snack bar open longer. Beach crowded for this class of hotel. Staff helpful and enthusiast...
---
Traveler impressions of Marmaris
Great area with friendly people. You can go places by foot or a local mini van which are everywhere. Shops on every corner for gifts or something to eat.
great place to stay however marmaris was too corwded so we decided to stay at la perla at icmeler which is 5 minitues from marmaris and it was GREATTTT
nice city, if u like nightlife there is plenty of bars and clubs, but unfortunately all closing at three in the morning, very nice beach road especially after the dark, very good food option is to eat stuffed potatoes on that pedestrian road, and the marina in the night is also very nice place to see.
Good place to stay for 3-5 nights. Relaxing, close to Rhodes, nice hotels, good swimming and watersports.
---
Marmaris's best hotels with breakfast
---
Explore more travel vacation rentals
More about Marmaris
Finding the cheapest price for top hotels in Marmaris, Turkey is easy with Agoda.com. We offer a wide range of hotels to help you find the best place to stay in Marmaris. Visitors have no trouble associating Turunç Beach, Deep Blue Dive Center with Marmaris. Marmaris is the perfect place to unwind with 1 stunning beaches such as Turunç Beach. Whatever your plans are, do not miss these things to do: Deep Blue Dive Center. Save time and money with our customer-friendly booking engine that guarantees you the lowest price on hotels.