Discover the neighborhoods of Queretaro
---
4-star hotels in Queretaro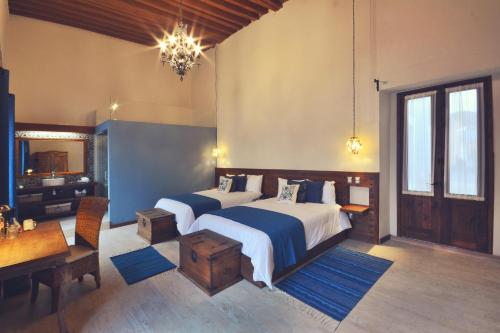 ---
Comfortable bed. Quiet. Helpful staff. Tastefully decorated. Good location. Can walk to historic area.
---
Well, I have to admit I was a little nervous when I saw that it was an eighteenth century remodel and had a "three-star hotel" rating, but with all the rave (five-star) user reviews, I decided to go for it. We were soooooo glad we did! My wife and I stayed there last night. Being Valentine's Day, we wanted something nicer than a regular hotel room, and their att...
---
Very friendly staff. I like the style of their building. Large room, good facilities. Just the towels were a bit too old.
---
Centro 19 is a really good hotel for people who visit Queretaro, whether you're business traveler, solo traveler, or traveler with family, their friendly staff would help you to have a nice experience during your stay in Centro 19. free high speed wifi because of small scale of the hotel getting even more effective. Centro 19 surrounded by reastrunt, cafe and bars, y...
---
generally i had a great time staying at hotel quinta lucca, it is a very pleasant place and all staffs are very friendly. however i encountered one small experience - i got locked in the hotel and couldn't get out. i flew to queretaro, mexico, from london to attend a wedding there. however on the day of the wedding, i got locked in just when i had to leave the hot...
Ngai-ling
, United Kingdom
---
Lovely motel/hotel on fifteen minute walk to Centro Queretero, five minute walk to major traditional market. Spotlessly clean, well maintained, fabulously trained staff, exceptional restaurant which is very popular, quiet, accepts pets in special uncarpeted rooms at no surcharge, very east find and exit from by car, strong signal Wi-Fi.
---
as you may know it is not safe to drink water from the faucet in mexico so it is better to drink bottled water. the hotel provides a bit more than 1 liter per day for two people of bottled water. if you want more bottled water you have to pay. i asked for a jar of drinking water but they said that they had to charge for that as well. people at the front desk ha...
---
very good experience; stylish room; good staff service; simple breakfast; excellent location
---
The hotel is in a great location in the center of the city. The facilities are good with a nice little swimming pool and to jacuzzis on the terrace. The staff were very friendly and helpful and the breakfast delicious. The main issue we had was the room itself. It was clean and the decor fine but the lack of a window and air conditioning meant it got hot and stuffy. Al...
---
5-star hotels in Queretaro
---
The hotel is good, clean and well located. In our case, the only dissapontment was that the pool was very cold and we couldn't use it.
---
Wonderful old house with lots of history. Even had a roof terrace with a jacuzzi. Only downer was the breakfast: Very basic mexican buffet. Definitely needs some upgrading.
---
Great location if you are driving through Mexico. Giant pool. Great breakfast. Big clean rooms. I'd book there again.
---
Traveler impressions of Queretaro
Queretaro is one of my favorite cities in Mexico. Its a nice lovely city with much less traffic than D.
The best things to see are the amazing aqueduct and the converted Augustine convent. There are also a couple of lovely squares and gardens for relaxing and eating in.
A lovely colonial and Aztec city, up into the foothills of the Sierra Gordas, one of the richest and best-educated in Mexico, and easily the cleanest and safest.
---
Queretaro's best hotels with breakfast
---
Explore more travel vacation rentals
More about Queretaro
To provide our customers with unbeatable rates at hand-picked hotels, Agoda.com represents a full range of hotels from 5-star resorts to budget-priced properties in Queretaro. With more than 285 hotels spread across the entire city, you are sure to find a property convenient for you. Many areas, each with a distinctive atmosphere, are just waiting to be discovered across the city. The city is served by 1 airports which means it is accessible from almost every major city in the world. There are so many things to do, you may want to stay an extra week or so to experience them all. Book your next trip to Queretaro with Agoda, backed by our low price guarantee.