11 best hotels in Strasbourg
Our top picks
Lowest price first
Nearest to
Best reviewed
Fast facts about Strasbourg, France
| | |
| --- | --- |
| Accommodations | 698 properties |
| Popular hotel | Hotel Couvent du Franciscain Centre ville |
| Popular area | Strasbourg Downtown |
| Nightly rates from | ₹1724 |
| Airport | Strasbourg Airport |
5-star hotels in Strasbourg
---
The hotel is not new but well maintained. The location is in the city center with main attr...
---
This hotel is very well situated close to all sites. Very quaint area and a beautiful city....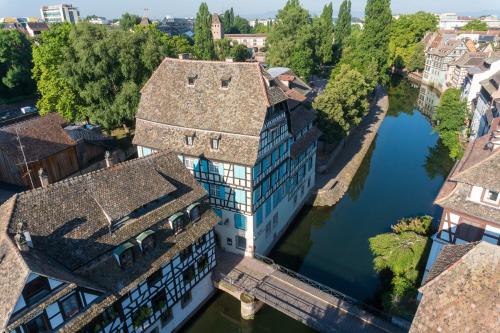 ---
Perfect location both for business and tourism, the staff is very kind indeed and also prof...
---
Traveler impressions of Strasbourg
Strasbourg is a fine destination. They are more green/eco conscious than many of the places we visited.
Strasbourg is a typical mid-size French city: it is beautiful with magnificent buildings, excellent tourist infrastructure, great places to eat, a tremendous cathedral, etc.
Strasbourg is a lovely cultural city with lots of attractions. We enjoyed the light shows and barge ride.
Beautiful place, nice food, nice shopping area. Historical place to visit. One complain, the bus driver cannot speak English.
If you go there by car, be sure to go ahead of time.. The traffic Will kill you. Take the canal Tour, it's a greath Way to see the City
From our hotel, we are within about 10 mins walking distance to the notre dame cathedral and petite france.
I loved this city. I didn't know anything about it before getting there. Unfortunately I only had 2 days, one night in this city.
I love Starasbourg more than Paris. Parisians are snooty and just "un-nice". People in Strasbourg are very nice and helpful.
---
Strasbourg's best hotels with breakfast
---
Frequently asked questions
What's the average price of a hotel in Strasbourg tonight?
The average price for a 3-star resorts in Strasbourg this evening is USD 97. The average price for a 4-star property in Strasbourg tonight is USD 128. The typical price for a 5-star hotel in Strasbourg tonight is USD 149.
What are the best places to stay in Strasbourg for couples?
Places to stay in Strasbourg that are highly scored by couples include The People Strasbourg, Hotel Couvent du Franciscain Centre ville and Hotel Arok.
What hotels in Strasbourg have the best breakfast?
Verified travelers to Strasbourg have given top rated reviews for the breakfast at Hotel Nid de Cigognes Strasbourg Centre Gare, Hotel Arok and Hotel ORIGAMI.
What resorts around Strasbourg are highly rated regarding hygiene?
Propertiesaround Strasbourg which is very highly rated with respect to hygiene include Hotel LEONOR the place to live, The POINT CITY-Center - Place KLEBER and Residence les Cedres.
What are the ideal accommodations found in Strasbourg with free parking?
Accommodations which has complimentary parking in Strasbourg which are exceptionally rated include Appartement Cosy Jardin et Terrasse and le couvent des capucins.
What are the most appropriate wheelchair accessible accommodations found in Strasbourg?
Wheelchair-accessible properties in Strasbourg which are very highly rated include LE LOFT A BULLES (85m2 Jacuzzi Hammam Billiard Bar Douche Sauna), Hotel Arok, and Hotel Arok.
What point of interest should I go to when I'm visiting Strasbourg?
Top destinations in Strasbourg include Cathedrale Notre Dame de Strasbourg, La Petite France, and Parc de l'Orangerie.
What's the best location for shopping in Strasbourg?
Best locations for your shopping spree in Strasbourg are Strasbourg Downtown and Strasbourg Suburbs.
What are some approaching holidays in Strasbourg?
Holidays that are coming up in city_name include Easter Monday on 4/10/2023, Labour Day on 5/1/2023, and Victory Day (Armistice 1945) on 5/8/2023.
How long should I remain in Strasbourg?
In the past 3 months, vacationers remain in Strasbourg for 1 nights on average. The ideal duration for your visit will be determined by what you'd be interested to see and explore while there.
Is quarantine needed for fully vaccinated tourists to enter Strasbourg?
Quarantine is not required for fully vaccinated tourists to enter Strasbourg from outside the country. For updated and detailed information on travel restrictons, please pay a visit to the official websites of the travel authority or government of the country you wish to visit, or go to here.
Explore more travel vacation rentals
More about Strasbourg
Strasbourg is a remarkable city in northeastern France and one of the nine largest. The city serves as not only the capital of the Alsace region, but also the capital of Europe due to the number of European institutions based here. That coupled with a magnificently preserved city center has drawn travelers from around the world to come and experience Strasbourg.
Strasbourg Airport
is the point of entry for both domestic and international travelers.
Sitting near the German border, this French city is ideal for exploration, culture, history, and simple relaxation. Strasbourg is the seat of the
Council of Europe
, the European Parliament, and European Court of Human Rights as well as a few other institutions. There is a World Heritage Site which is the
Grande Île
– the historic city center. It is here where such sights as the Cathédrale Notre Dame, L'Opera, and The Alsatian Museum can be found. Travelers visit Petite France for its photogenic streets and half-timbered townhouses, and the Modern Museum of Contemporary Art is noted for its design as well as its exhibits. There are a number of tours that can be taken to get a full taste of the city, including boat tours and those that focus on the different eras of the city's history. Cultural events are no stranger here and include operas, ballets, and concerts.
Find the most suitable accommodation for you by clicking on our interactive map and exploring Strasbourg for hotels and must-see destinations.