Discover the neighborhoods of Victoria (BC)
---
4-star hotels in Victoria (BC)
---
Breakfast per person 23dollar however we booked 4people together First day at breakfast ,the waiter was kept asking about bill like we are theif and we didn't know that there were some coupons to get from reception which was there fault to inform us during checkin, hotel is booked for 4adults but food is for 2only seriously ?more expensive breakfast than anyone Nev...
---
A fantastic lication and if booked accordingly a wonderful view of Victoria habor. We would stay there any time again
---
This hotel has a history going back to the 1950's and has undergone several renovations. Our room was small, but clean and the beds were comfortable. The room we had was on the s3rd floor, directly over a high-traffic street and it was quite noisy. Although the room was clean and odor-free, the hallways smelled quite musty. There were insufficient parking spaces during...
---
Lots of stairs, they do warn you, no elevator or TV. Have WiFi and a wonderful breakfast. The lounge area and dining area spacious and well appointed with lots of period furniture. Very Quiet and minutes from downtown. The rooms we had was small compared to a standard hotel room, but we were only there for one night. The castle is right behind the Craigmyle. The hotel ...
---
We enjoyed our stay at the Fairmont Empress Hotel. As this is an older hotel, it met our expectations. We normally stay at much more modern hotels/resorts but heard so much about the Fairmont Empress we had to stay at least once.
---
Very pleasant staff at the first meeting, helpful and friendly. The room was spacious and very nice amenities with a bath and shower and two sinks in a bathroom about the same size as the room we had at the Empress the previous stay in Victoria. We stayed in the Erickson wing that I think is the nicest and best value in my experience in Canada. I stayed here 10 years a...
---
Our room overlooked the water and right next to the Fairmont.Room was luxury and the white robes were appreciated in Winter.A very classy venue that made you feel important.Loved the history of 120 years.Service from Indy was fantastic in restaurant and everyone else.If you stay anywhere else you will regret.
---
Excellent place for the whole family. Good restaurant with huge menu for adults and children. Lovely pool and jacuzzi. If travelling by bus, you need to walk 15 minutes to the hotel along the Street in front of the Parliament Building or take a taxi. They have a shuttle to areas close to the Hotel. You only give a tip, excellent service. Vancouver to Victoria, it is...
---
5-star hotels in Victoria (BC)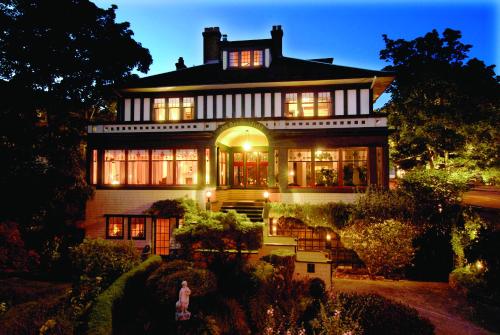 ---
The owners of this B&B are so kind and hospitable. From the moment we walked in the door until the moment we left it felt like home. The room we stayed it was the hideaway, which was small, but really all we needed. Next time we will go one room up for the jacuzzi. Great quiet location and within walking distance of the town center!
---
It was a wonderful place to relax at after busy days at a trade show. May and Debbie made sure we had everything we needed. The breakfasts were amazing. Very friendly guests made the overall visit a great experience. Thanks so much.
---
We had a delightful 2 nights stay at Fairholme Manor in Oct. Sylvia and Ross were wonderful hosts and went out of their way to make us feel welcome and comfortable. We requested for a portable heater at 2am as the room was chilly and Ross got us the heater and stayed on to ensure it was working. Breakfast was really wholesome (granola, fruits) and interesting concoct...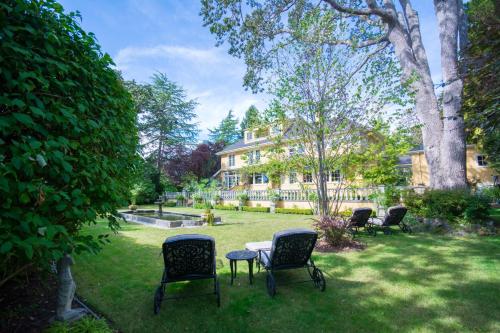 ---
this is a small and brilliant bed and breakfast. the quaint and beautiful italian oriental-ism house was a very welcoming warm hideaway from the sometimes cloudy fall of victoria. the owner and staff were very very warm, welcoming, and helpful. walking distance to the best of downtown victoria, and short driving distance to all the rest. the other guests were ...
---
Traveler impressions of Victoria (BC)
Victoria is a vibrant and welcoming city with many areas that are pleasnt to walk, the Parliament Buildings and waterfront as well as the BC Royal Museum being the most interesting.
If you're visiting Victoria for the first time head down to the harbour and check out the tourist information centre.
Butchart gardens is very beautiful. Food at restaurant in China town was great. Buildings on Parliament street are beautiful.
BUTCHART GARDENS is a must-see attraction. Allow at least half day to full day to enjoy the beauty of nature, and be amazed by its wonderful sights.
Victoria is quite nice, but you can see the major attractions in a day. If you have a car, it is a good base for seeing the southern part of Vancouver Island.
The Beacon Hill Park is beautiful, and the sights such as the legislative building and Empress Hotel are great, and the Royal BC Museum is impressive.
Don't miss The Butchart Gardens - Just beautiful. We used the Gray Line bus service - no complaints efficient and friendly service.
---
Victoria (BC)'s best hotels with breakfast
---
Explore more travel vacation rentals
More about Victoria (BC)
This capital city of British Columbia is set near the southern tip of Vancouver Island, and is unsurprisingly nicknamed the Garden City, being that it's home to the beautiful
Butchart Gardens
. Ferries provide a means of access from Tsawwassen to Swartz Bay, and so too does
Victoria International Airport
.
Victoria offers much to do and plenty to explore. The greenery of the city provides peaceful escapes, and the highlight of them all would be Butchart Gardens. Built in a former limestone quarry, it would be a must to catch a firework show during the summer. The Abkhazi Gardens and
Beacon Hill Park
provide more natural beauty and opportunities for recreation and leisure. From the Inner Harbor to Chinatown, there is plenty of culture and architecture to take in. Victoria Bug Zoo and Miniature World are both fun and family-friendly stops, and
Craigdarroch Castle
is another architectural beauty built in 1890. Wine tasting, whale watching, and cycling down Galloping Goose Trail add to what make Victoria such an exciting place that should be seen at least once.
Be sure to check out the interactive map of Victoria for information on hotel locations, attractions, and must-see destinations.