Discover the neighborhoods of Weed (CA)
---
Best hotels & accommodations in Weed (CA)
Quality Inn and Suites Weed
"Weed, CA was our stop for the day after leaving Yosemite. We've stayed at our Quality Inn and Suites so took a chance that our experience at this location would be good. It was. We arrived two hours before check-in and also asked for a room one the ground floor. The front desk clerk was able to change the room to one on the ground floor. She said the room wasn't ready and to check back in a hour. We did that and all was ready to go. The rooms are pretty basic but they are clean and the bed isn't too hard. For breakfast, you had a choice of scrambled eggs, toast, sausage, etc. We took advantage of that the first morning. The second morning, however, there was a bus load of people who all showed up at the same time in a room that was too small to accommodate everyone. We didn't do breakfast that morning. The front desk clerk did say, the crowd would move quickly. Overall, I would stay at the Quality Inn again. One thing - Our room (I think it was room 145) was next to some kind of machine room on the bottom floor. We could hear the whining of machinery. It was bothersome but we turned up the TV to drown it out and put earplugs in our ears to sleep."
Show more
Hi-Lo Motel, Cafe and RV Park
"Quiet place even though it is on a busy highway. Good restaurant next door. Clean. Tub in bathroom. TV channels not so great. Good wi-fi. "
Show more
Townhouse Motel
"So the staff was really nice and the room is also quite nice for a short stay. (you here a truck pass by every now and then, but this is like normal when you stay in a motel). The view at mt shasta is supposed to be great, too bad we had like a really foggy morning. we left early and went to crater lake which is quite close to weed. You can get a good breakfast at the bakery next door! I would recommend the motel for people who are on their way "road-tripping". Good luck and enjoy!"
Show more
Cheapest hotels in Weed (CA)
Just booked
Just viewed by other Agoda travelers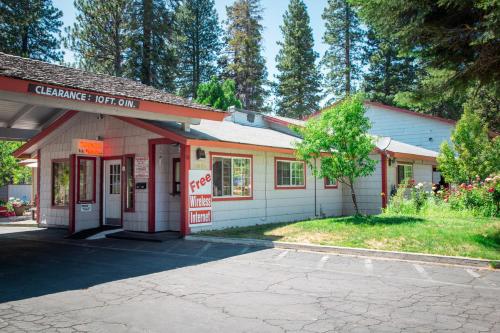 Traveler impressions of Weed (CA)
So the town was really nice for a short stay. (trucks pass by every now and then, its like a typical drive thru town).
---
Explore more travel vacation rentals
More about Weed (CA)
From opulent luxury hotels to kitschy boutique hotels, you can book your hotel room in Weed (CA) at the lowest rate guaranteed on Agoda.com. Choose from our selection of over 8 hotels. We offer lots of promotions such as early bird offers and last minute deals. Many areas, each with a distinctive atmosphere, are just waiting to be discovered across the city. Weed (CA) has many attractions to explore with its fascinating past, intriguing present and exciting future. There are so many things to do, you may want to stay an extra week or so to experience them all. If you're looking for a room in Weed (CA) and don't want to pay too much, Agoda.com offers hundreds of fantastic deals which are updated daily.