5-star hotels in Copacabana
---
Great, grat location for the New Year's evening, the fireworks were just in front of the hotel. Very kind, helpful and friendly staff, always ready to help you with anything. Gorgeous view of Copacabana and the surrounding beauties from the top of the hotel. Opulent and delicious breakfast. Most landmarks, grocery stores and gift shops are near by. Definitely will rec...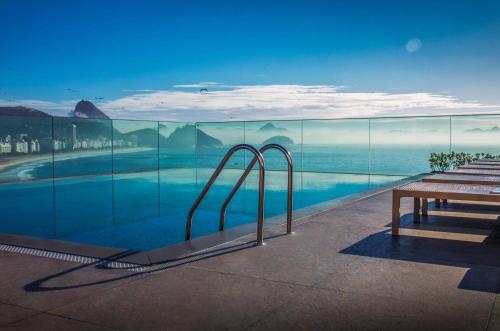 ---
Everything was perfect. The staff is incredibly nice and welcoming. It's perfectly located at the end of Copacabana Beach and, thus, close to Ipanema Beach. So you get to enjoy both beaches within short walking distance. The rooms are really clean and modern. Highly recommend!
---
Don't think twice about going to Rio, we never felt threatened or in any danger, on the contrary the people were the sweetest, most helpful you could hope to encounter. By booking with Agoda we saved a fortune compared with the hotels own website or travel agent prices and breakfast was included. (With others it would have been £50 per day for the two of us.) Cop...
---
Nice clean hotel, if you get a sea view room then you have a great view on Copacabana beach!!
---
Find the Perfect Type of Accommodation
---
More about Copacabana
Copacabana is home to some of Rio's fanciest and most popular accommodation options, but there are also lots of small, cheap, clean hotels around Flamengo and Catete. Like other beaches in the city, Copacabana is clean, and seems to attract some of the world's most beautiful people – who come to see and be seen. Surfing is popular, and locals have developed a unique way of riding the waves called pegar jacaré (meaning 'to grab an alligator'). The iconic promenade is instantly recognizable by its black and white geometric wave pavement design, and there are historic forts to be seen at both ends of the beach.

The first mile of Copacabana, Leme is less touristy than its more famous cousin. The neighborhood takes its name from a nearby rock formation whose shape is similar to the helm of a ship. Local families gather here to relax and play beach soccer or volleyball.

A huge New Year's Eve fireworks display attracts two million people to Copacabana every year, and revelers dress in white for good luck. The beach is also the venue for enormous free concerts by artists such as the Rolling Stones. Copacabana's nightlife is legendary, and the streets are packed with bars, nightclubs and restaurants. For maximum safety, visitors are advised not to visit the beach late at night.