Discover the regions of Cape Verde
---
4-star hotels in Cape Verde
---
20 minutes to the city center Santa Maria. 5 minutes to the beach besides the construction work. Nice staff. No free WiFi. Sometimes to less sun beds at the beach. No drinks or food at the beach avaiable.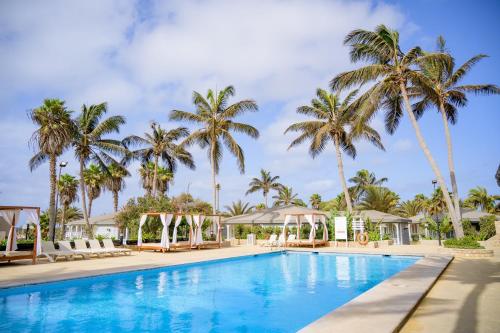 ---
Hotel: (-) - poor cleanliness in the bedroom / wc - few restaurants for so many people - poor night shows (never start on-time) - don't have a pool free of kids (adults only) - rules of the pools and beach are not followed and no one from the hotel monitors or does anything (+) - staff (from restaurants, bars, ...) - reasonable food - location - beach People This h...
---
5-star hotels in Cape Verde
---
Самый лучший отель в Санта-Марии! Просторные красивые номера, качественная система кондиционирования, прекрасные завтраки в ресторане отеля и очень качественные ужины в ресторане "Баунти" на берегу. Внимательный и ответственный обслуживающий персонал, шикарный песчаный пляж, качественная система безопасности.
---
More about Cape Verde
Planning a trip to Africa? Perhaps you'd like to visit some of the continent's most popular travel destinations, like Cape Verde. Agoda.com understands that traveler want to get the best deal. That's why we offer you the best online rates at 426 hotels nationwide. Consisting of 2 regions, each with its own unique appeal, the country offers visitors plenty of different areas to explore. You can find the perfect hotel at the lowest rate for stays in cities such as Mindelo, Praia, Santa Maria. With our best price guarantee, we are determined to offer you the best hotels at the best prices.