5-star hotels in Guatemala
---
It was a pleasant stay. Got a really big room for just me only. Literally need to pay for anything extra.
---
I cannot speak highly enough of this place. The staff, the building, the food, the ambience all perfection. The only negative was the terrible wifi and depressing oprah music in the dining area. I will definitely be back. Beautiful.
---
the hotel is very quiet and romantic!! the views are gorgeous!!! all the staff was too friendly and eficcient. the dinner is very good, with natural ingredients.
---
Stayed with a family group for just a night. It's a lovely welcoming place with beautiful gardens, comfortable and large rooms, very nice bathrooms and an amazing breakfast buffet.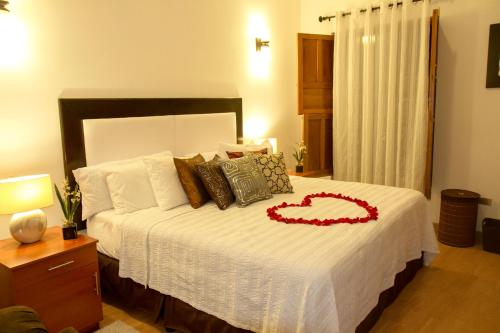 ---
The hotel has a very good location. It is on the island Flores close to restaurants and everything you need. It is very quite and big apartment. The apartment also has a washing machine and dryer, which was very helpful during traveling. 2 big TV, 2 AC. Fully equipped kichten. The breakfast was ok. The staff was very friendly, but with lacking English. The only negativ...
---
The villas are nice but the price is too high. A bit outside of Antigua but in walking distance.
---
Pleasantly surprised but this hotel, clean, reasonably priced and the staff efficient. Only down side is the ground floor bar is way too loud to be able to have a decent conversation
---
friendly staff, good location, and food delicious.
---
Our master suite room had the AC broke, the Call center says that the room only had air, we call to the reception and they only says that they are gona check, but the answer the next day was that the room is big and AC is too small. All the 3 days the master suite was very hot and with a smell. The manager send me and email only saying sorry. We pay 400 USD per nig...
---
More about Guatemala
Planning a trip to Central America and Caribbean? Perhaps you'd like to visit some of the continent's most popular travel destinations, like Guatemala. Agoda.com understands that traveler want to get the best deal. That's why we offer you the best online rates at 672 hotels nationwide. We have every main region covered, including Peten, Solola, Guatemala, with lots of promotions such as early bird offers and last minute deals. The country offers 49 unique cities to discover such as Guatemala City, Antigua Guatemala, Flores. Sweet deals are just a click away when you use Agoda.com to book your next trip to Guatemala.