4-star hotels in London
---
I stayed YHA hostel for 6 days in the first week of may. check in process was quick and was I'm happy with my room. it's clean, with lockers provided ( but need to bring own padlock or rent from YHA) . washroom is clean and hot shower is provided which is great! it is cleaned daily as well. Everyone was nice and accomodating. There are plenty utensils and kitchen appli...
---
Safestay is a great choice for hostelling in London. I stayed in the 8 bed mixed dorm with ensuite bathroom. It was a good size, with lockers underneath every set of bunks and a personal light. The facilities stayed fairly clean, even with a full room. I didn't take advantage of much of the amenities here (bar, food, common area) but they seemed comfortable and nice. T...
---
I stayed here for three nights by myself at the end of my holiday in the U.K. (my boyfriend had to leave before I did, so I had four nights to myself - I would have stayed all four nights here but the first night they had no vacancies) and I'm so glad I made the decision to stay here! Location was convenient. It's a quick walk from Swiss Cottage (Jubilee Line) tube st...
---
This time, I wanted to find out nice hostel in London. I did use first time this hostel. As I did operation after, I was really worried about . But this hostel wa great that they reserved lower room and just 4 bed room and shower room was big and shower condition was very great! They were also leave message on the bed for this bed was reserved for Miss. ...... It wa...
---
Really nice building and hostel with almost everything in it! The room was really spacious, quite clean and nice, with window for fresh air and 3 washbasins, common bathrooms all around the floor.. Each bed has a socket, 2 usb plugs and its own light. There is also a common area with couches where you can rest and relax. They organise free walking tours,and they hav...
---
This hostel is one of the best hostel I have visited before, in top 5. Most of all I like the location. it is located in the Kensington area. So it feels very safety while I was staying even though I come back the room lately. The Earl's court Metro is very close to the hostel. It takes just in 5 minutes. And if you like to walk or to run. It takes just in 30 min. to ...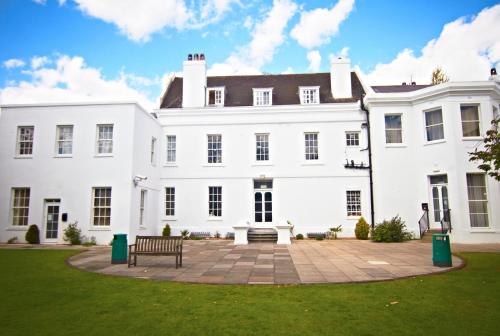 ---
Takes a while to find this place (Clue: Aim for Lewisham Medical Centre on bus route, Old Rd and the hostel is right behind there) but you'll be glad you did. Beautful building and facilities and right beside a lovely park and a community library in a similar listed building. Friendly area.
---
We booked a twin room for 2 adults and 2 kids (10 year old), and specified it at the time of booking. When we arrived the hotel manager offered to "upgrade" us to a larger room, which has a double bed and unusable sofa bed. Although we appreciated the gesture, we couldn't use the sofa bed as it couldn't open and the mattress was bad. We asked another hotel staff if we ...
---
It's quite cheap to get such a single room with bathroom that's near London. However, it is not really safe to come back to the accommodation at night if you are a solo female traveler. Besides, the free Wi-Fi provided is limited!!! You can only get 60mb free Wi-Fi for 7 days!! If you want more, you need to pay for it! It is really inconvenient as 60mb is only enough f...
---
Find the Perfect Type of Accommodation
---
>

>

>

>