4-star hotels in Santiago
---
Great location in the middle of Santiago. Walking distance to literally hundreds of restaurants and bars. Close to metro and bus stops.
---
This property is just next door to the subway. THe front desk can help you connect to whichever line to you need./ Close to many museums.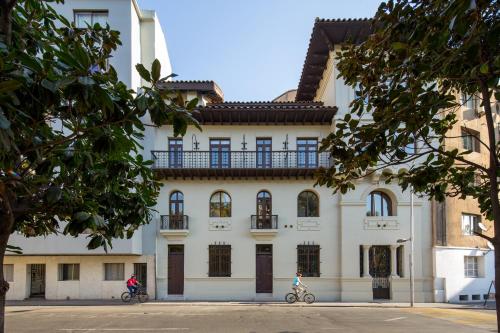 ---
Amazing service, good buffet breakfast and lovely location, right next to all the historic places of Santiago! Loved the experience completely :-)
---
Fine in every respect except for the absence of hot water in the bathroom, which was very disappointing
---
we were passing through santiago so were looking for a reasonably priced hotel in the city centre and were not expecting any extras. we were not disappointed the hotel rooms are fairly basic especially the bathrooms. staff accommodated our very early departure with some cheese sandwiches for breakfast!
---
Everything was organised for our check-in even though we arrived late. The chap on the desk had our keys ready for us. The apartments are next door to a large supermarket which is very useful. Our apartment had a hob and oven but no cooking pots to use in the oven. The office staff who look after our apartment were all very friendly with good English and eager to help....
---
well appointed and nicely decorated . beds fantastic ( maybe because we really tired after a long flight ) .. now for the negative , the apartment is very difficult to find , it must of taken us 15 min to hunt it down ... the management needs training , they rude arrogant rrrrrr , it was a let down ... breakfast included my arse it was a plate delivered the night befor...
---
Chile is expensive for tourists. I can't believe what I had to pay for this accommodation but it's the price you have to pay for being a tourist here. The staff was very helpful giving directions to the tourist areas. Chile is also known for it's high robbery and theft rate. Be careful here. The staff did offer some assistance after I was robbed at Santa Lucia. T...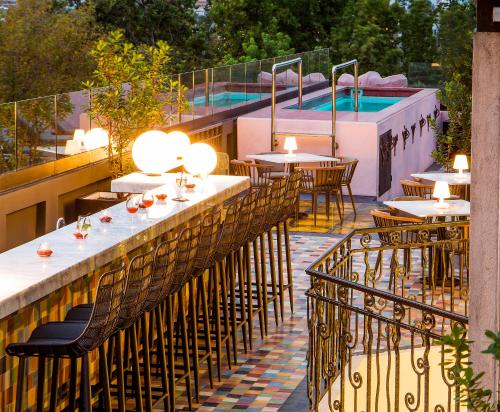 ---
It wasn't until we actually stayed at the Luciano K that we appreciated how well situated it was for the activities we enjoyed in Santiago. It was conveniently located near one of the the Turistik Hop on-Hop off bus offices/stations, which worked for us because we had limited time. It is also near a wonderful artsy bohemian-like neighborhood with artisanal crafts, mu...
---
5-star hotels in Santiago
---
I had an unexpected stop over in Santiago because of the strike in Argentina. I booked the hotel at the Airport quickly and was very happy with my choice. The staff spoke perfect English, the room is very nice and styled well with nice antique furniture and a writing desk. It's located in a quiet area and just around the corner are some pretty little streets with qua...
---
checking-in was very courteous from the very start since i came up in the morning from a morning flight arrival and have made use of the hour waiting, since the room is still being prepared, by letting me use the business center facility in the lobby for my internet needs and get use to the place and the surrounding communities. even booking or reservation for my arra...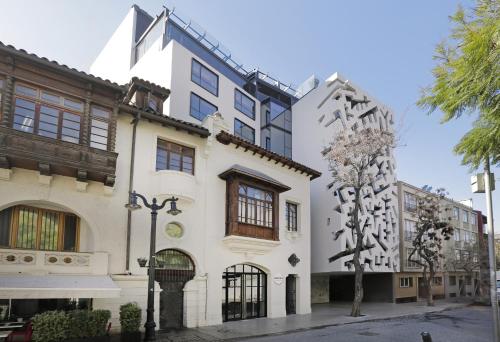 ---
The street in front of the hotel came alive in the evening. We had the best seafood at Casa Lastarria, half a block walk from the hotel. It is also a short walk to the Funicular and Condola ride at San Cristóbal.
---
Find the Perfect Type of Accommodation
---
More about Santiago
Santiago is one of Santiago's most visited destinations. In this part of town, there are several impressive landmarks to visit such as Museo del Huaso, Palacio Cousiño, Fantasilandia. Santiago is good for sightseeing and has a lot to offer travelers.

Plan your next trip in Santiago or any other area in Santiago with agoda.com, guaranteeing the best possible rate available. Be spoiled for choice as agoda.com offers a wide variety of accommodations ranging from the family friendly CasAltura Hostel Boutique to the business oriented Hotel Galerias. Simply enter your planned dates of stay in our search box to find the best hotel deals in Santiago.