10 best hotels in Banjarmasin
Our top picks
Lowest price first
Nearest to
Best reviewed
See all
TreePark Hotel Banjarmasin
Banjarmasin City Center,Banjarmasin - View on map
"is a good and clean hotel with friendly staffs. even though some couldnt communicate in English but still try to help as they can. I stayed in different hotels in Banjarmasin before but treepark give a better experience compare with other hotels."
Show more
See all
Best Western Kindai Hotel
Banjarmasin City Center,Banjarmasin - View on map
"Realy high standart service, nice staff and helpfully, the best hotel in Banjarmasin and special fasilities are free shuttle to mall and praying subuh at sabilal. Nice"
Show more
See all
Mercure Banjarmasin Hotel
Banjarmasin City Center,Banjarmasin - View on map
"One of the best hotels I have stayed at in Banjarmasin. Very modern, clean, good service. The restaurant serves very good a la carte food (only tried Indonesian menu), although breakfast was a little disappointing. The cakes in the lobby cafe were surprisingly really really good! Free wifi in rooms is a bonus. Connected to the main shopping mall. Would be the choice of hotel to stay at in Banjarmasin."
Show more
See all
G'Sign Hotel Banjarmasin
Banjarmasin City Center,Banjarmasin - View on map
"Though I booked only the cheapest room type (Strait Times Room), far beyond my expectation, I got the quality of real 4-star hotel. Bed was so comfy. Room was large & clean. Lighting was good, not too dark nor too bright. Even carpets on the corridor of each floor were so soft & thick. Fitness center was also amazing with high-end facilities. Swimming pool was small & a little bit creepy with Bekantan monkeys' statue, but was ok. Probably this is the most value-for-money hotel so far in Banjarmasin. With this price (average price of budget hotel), you can get much higher quality than what you pay. "
Show more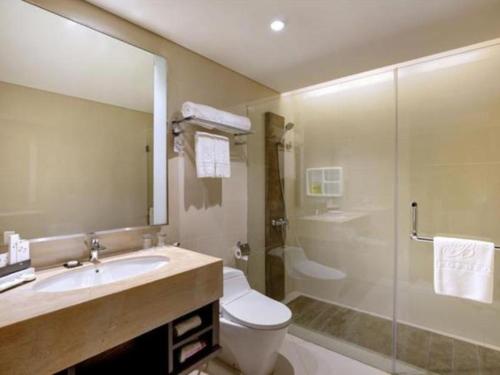 See all
Swiss-Belhotel Borneo Banjarmasin
Banjarmasin City Center,Banjarmasin - View on map
"I think swissbel hotel borneo is the best hotel I've ever stayed in Banjarmasin. friendly staff, good location where is near by Sudimampir market "
Show more
See all
Aston Banua Banjarmasin Hotel & Convention Center
Banjarmasin,Banjarmasin - View on map
"We were on family vacation in Banjarmasin, Hotel was brand new with little messy surrounding the hotel but that not a big deal for us. Room was great since we booked 2 rooms connecting each other. AC was great, Wifi also super fast.. Service was also excellent from the housekeeping to the front desk. Food was good with lot of choices. One thing need to concern is about location ( far from the downtown ). After all everything just great. Aston always become our family hotel everywhere we go. Keep up the good work."
Show more
See all
Golden Tulip Galaxy Hotel Banjarmasin
Banjarmasin City Center,Banjarmasin - View on map
"Golden Tulip Galaxy is the new hotel in Banjarmasin. The hotel is really nice and the room is comfortable, just the washbin location in the room is a bit strange. The breakfast is standard tough, but the room service is superb and good value. Great stay in Banjarmasin."
Show more
See all
Favehotel Ahmad Yani Banjarmasin
Banjarmasin City Center,Banjarmasin - View on map
"Good location, walking distance to Duta Mall Banjarmasin. Breakfasts menu was good with some variety; rice, pasta, fresh fruit, and salad. Helpful staff, VERY comfortable bed and bolster pillow. Have a nice shower good water pressure. Drainage in the shower is also good."
Show more
See all
pyramid suites Hotel
Banjarmasin City Center,Banjarmasin - View on map
"I spend bussines trip here. i dont realize that it is 5 star hotel since the price is not really expensive. Breakfast is really delicious with various menu. the facilities are wonderful but the air conditioner not really cool for our room. Swiming pool also good. they have jacuzzi but i wonder why is only place in Man area. If ladies allow for use it, i think still not comfortable because the place is in man area for change costume. We'd love to go back if fix it. but overall amazing."
Show more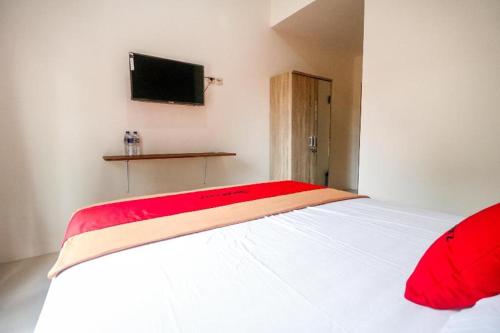 See all
RedDoorz near Jalan Ahmad Yani Banjarmasin
Banjarmasin City Center,Banjarmasin - View on map
"this hotel is awesome , designed for both business and leisure travel . based on the central of banjarmasin and prime area . this property really provide the comnfort living for any other type of traveller . cheap price and good quality . Thankyou Jamal for the good service upon my stay . "
Show more
Fast facts about Banjarmasin, Indonesia
| | |
| --- | --- |
| Accommodations | 181 properties |
| Popular hotel | TreePark Hotel Banjarmasin |
| Popular area | Banjarmasin City Center |
| Nightly rates from | NZ$9 |
| Airport | Syamsudin Noor International Airport |
Discover the neighborhoods of Banjarmasin
---
Traveler impressions of Banjarmasin
Floating Markets on Barito River as well as Martapura River are the only natural floating market on earth.
VERY NICE CALM CITY FULL OF GREEN FORESTS, BAJARMASIN CITY IS ONLY ONE STREET CALLED JALAN AHMAD YANI AND THIS STREET IS ALMOST 200 KM LONG
A small city, so you can go around it in 1 day. Don't forget to go to Martapura, if you love stone jewelry.
Look and visit for a short while will give you first impression such as Moslem religion city which is many Moslem religion and the Arabic descent living here, but the city is very balanced with the entertainment in the city itself.
Very close to Banjarmasin, there is a city called Martapura which is special and well known as the natural stone producer : amethyst stone, agate stone, and diamond.
7 Sights Mandatory in Banjarmasin, Banjarmasin is the capital of South Kalimantan province. The regular city earned the nickname City of a Thousand Rivers.
city with easy access to anywhere and low price for shopping and many restaurant in the city. very good to spend time with family.
there is nothing you can find in this city. this city is more suitable for a worker who have job here.
I like the restaurant, name is 'sedap malam'.. It's Chinese food, the price is good. I like orange juice, the taste is different.
pasar terapung is the best sightseeing area in banjarmasin since you cant find it in any other place.
---
Banjarmasin's best hotels with breakfast
---
Explore more travel vacation rentals
More about Banjarmasin
Located in Indonesia's South Kalimantan Province, Banjarmasin is a great city for anyone looking to understand more of Indonesia's history and culture. The history of this city dates back to very ancient times and spans several kingdoms, and the evidence of this illustrious history is still easy to see even today.
Banjarmasin is served by
Syamsuddin Noor Airport
, which operates flights from the neighboring major cities including Jakarta, and is located around 26 kilometers just outside of the city.
Of course, travelers to Banjarmasin will hardly be short of something to see or do around this city. The architecture alone is a testament to its rich and long history, showing the distinct difference between the traditional ways of building to that of the colonial Dutch style. One great example of the city's architectural heritage can be seen by exploring the many places of worship, starting with the ancient Masjid Sultan Suriansyah, which, at over 300 years old, is the oldest mosque in the whole region, and ending with the more modern
Masjid Raya Sabilal Muhtadin
, which is one of the largest mosques in the country.
Life in Banjarmasin is centered around the river, and it's quite interesting to witness the river-based economy in action as merchants gather their wares into their boats every morning.
Muara Kuin Floating Market
is one of the main markets within the city center. Since the floating markets get started very early in the morning, it's recommended to be ready by dawn to get the most out of the experience. Hotels near the floating markets are varied and offer choices between more modern luxury accommodations to traditional homestays, so there's going to be something for every type of traveler.
Find out where all the remaining hotels, attractions, and must-see destinations of Banjarmasin are located by exploring the interactive map on this page.