10 best hotels in Bentota
Our top picks
Lowest price first
Nearest to
Best reviewed
See all
Whispering Palms Hotel
Induruwa,Bentota - View on map
"The hotel is brand new and boasts the most beautiful rooms with large comfortable beds, huge bathroom with rain shower, powder room for the ladies, and a large balcony looking directly over the ocean where one can enjoy a lovely sunset. Designed with a keen eye for detail by the European owners and managers, the Whispering Palms Hotel was a boutique hotel that ticked every box. The restaurant was amazing and offered a huge variety of exquisite meals to the quality that you would expect from any 5 star restaurant around the world. Not only was this 'fine dining' but they also offered breakfast 'to order' at any time of day – nothing we have ever seen before and an absolute delight to wake up when you want, and have a fresh cooked breakfast as opposed to a buffet. The hotel has a great bar looking past the pool and over the ocean, which was a great place to spend a lazy afternoon relaxing and sipping on some local cocktails! After living in Dubai for 8 years and travelling to many countries, it is rare to find a hotel that offers the quality of service, food and accommodation that we are used to, however we found that at the Whispering Palm Hotel. The staff were outstanding, very friendly and an absolute credit to the hotel - All in all one of the best hotel experiences we could have asked for and we would not even bother looking for another hotel next time we go to Sri Lanka. "
Show more
See all
Riu Sri Lanka All Inclusive
Ahungalla,Bentota - View on map
"Every thing was great I like evening thing in this hotel Food is available 24 h . The swimming pool was amazing. There are 3 big swimming pool + one for the kids I recommend this hotel to best staying in bentota. The price is perfect comparing for what you will get "
Show more
See all
Temple Tree Resort & Spa
Induruwa,Bentota - View on map
"We stayed here for three nights at the end of our two week trip around Sri Lanka. We got 58%off with Agoda. If we had paid full price we would have been slightly disappointed. The only thing this place is missing is a gym. The pool and beach right on your door step is picture perfect. Bentota is a quick and cheap Tuk Tuk drive away if you need anything from a store, otherwise there are only massage places and other resorts close by. This is perfect if you want to wake up, eat breakfast and relax by the pool/beach. You charge everything to your room so no cash is carried around. We ate every meal at the restaurant and were pleased with the selection and pricing - only a lil more expensive than other western restaurants in Sri Lanka. The staff were fantastic and even surprised us with a chocolate cake as a congratulations gift as we were celebrating our anniversary. I would stay here again without hesitation. It looked like the most modern and clean resort on this stretch sand "
Show more
Avg price per night
$ 128
See all
Vivanta by Taj - Bentota
Bentota,Bentota - View on map
"We had one of the best vacation at Vivanta by Taj earlier this week. Beautiful property , very good location , view from the rooms facing sea was awesome. Probably one of the best hotels in Bentota. Choice of restaurants but if you want to go out , you can walk to good local restaurants such as Golden Grill, Malli's and Amal . It would be good if Hotel can introduce some activities to make it more interesting for longer stay."
Show more
See all
Heritance Ahungalla
Ahungalla,Bentota - View on map
"After 6 busy and interesting days in Sri Lanka, we couldn't find more beautiful hotel than Heritance Ahungalla. The room have been cleaned twice a day. At the reception desk works very capable staff whome are always available. If you ever stay in this hotel please ask for mr Dinusha Kularathne. He made for us surprise in the room (flowers for wife and fruit basket). He makes a great effort to accomplish any request we had. In general this is the best hotel we ever stayed in, don't skip it if you ever come in Sri Lanka. "
Show more
Avg price per night
$ 237
See all
The Habitat Kosgoda by Asia Leisure
Kosgoda,Bentota - View on map
"Excellent hotel with excellent service and thumbs up to the entire team thank you for making our stay a memorable one and would definitely recommend this hotel to everyone traveling to Bentota "
Show more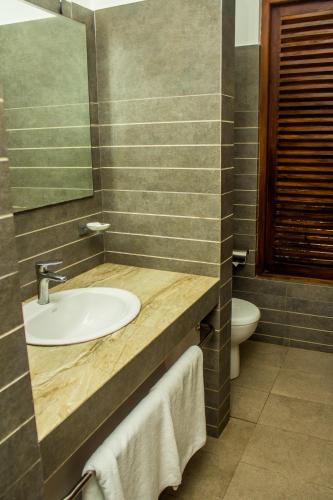 See all
Serendib Beach Hotel
Induruwa,Bentota - View on map
"Awesome pool, spacious and furnished bedroom, clean washroom and large private balcony, really enjoyed with my spouse and two kids. Buffet can be improved with better choices of starters, soups, salads, main courses and desserts. "
Show more
See all
Centara Ceysands Resort & Spa Sri Lanka
Bentota,Bentota - View on map
"Enjoyed our last night in Sri Lanka. After touring from Colombo, Sirigiya, Kandy, Galle and final destination Bentota. Our room boy Sugath was very thorough and made sure the room was clean and of a high standard. We had a riverview deluxe, so you could enjoy watching the water sports whilst relaxing on the balcony. Location couldn't be better. A quick boat trip across river and away from the hustler and bustle. We enjoyed the Mediterranean buffet dinner night. Price was 3000LKR per person, which I thought was reasonably priced. Everynight there is a different option, Sri Lankan, BBQ, Western, Asian etc.. There were 2 other restaurants for dinner as well, Thai or Al la carte. There are daily activities for everyone, if you want to participate. Didn't use the spa facilities, but the prices are higher than you would expect to pay in Australia or Indonesia. Pool area may seem overcrowded to some, but you'll expect that when it's so hot. Overall we would of loved to have stayed one more night"
Show more
Avg price per night
$ 225
See all
Saman Villas
Induruwa,Bentota - View on map
"This hotel richly deserves its status as the best hotel in Sri Lanka. Everything is near-perfect: the excellent location; the friendly, helpful and efficient staff; the excellent accommodation and the high-quality restaurant. Luxury in every sense. "
Show more
Avg price per night
$ 739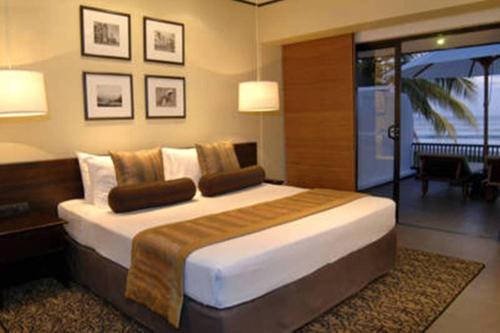 See all
Ekho Surf
Bentota,Bentota - View on map
"Bentota beach is the location of a lot of luxury hotels in Sri Lanka. The beach itself is relatively quite. The Surf Hotel is unusual in the area in that it is very open at the front and all rooms have views of the sea from the balconies. Staff, food, quality of rooms are all excellent. Only thing some people might find annoying is occasional train that passes hotel which can be loud - many hotels in this area will have this to contend with as train line is very close to coast at this point - didn't bother us as air con tends to drown out the noise."
Show more
Fast facts about Bentota, Sri Lanka
| | |
| --- | --- |
| Accommodations | 447 properties |
| Popular hotel | Riu Sri Lanka All Inclusive |
| Popular area | Bentota |
| Nightly rates from | NZ$10 |
Discover the neighborhoods of Bentota
---
Traveler impressions of Bentota
Bentota beach is very beautiful and with calm waters good for swimming. The waters are much calmer than in other beaches on the west and south coast, making it easier to swim but not giving any opportunities for surfing or body boarding.
all the enjoyment is in the water, good place to see a see forest and have a good fish theraphy massage.
Although we were only able to do a day trip to Bentota as most of the properties were full. The location would be ideal for a 3-5 days' stay and there is plenty to do in terms of night life dining and activities on the beach and water.
A rather small city. Bentota river safari is one of the main attraction. Beach is exceptionally clean.
There are many upscale resorts. You'll probably spend the most time in the resort so choose a comfortable one.
There are few eating options in the area itself, we ate at Luccullus reataurant/hotel a cheap place just across the railway walkover from the Avani, the food was quite good and recommend this place as a budget option, we also had a meal at The Malus Restaurant, walk towards the railway walk over and keep going, it's upstairs above some souvenir shops just on the other side of the tracks, food is first class but fairly expensive, same as you would pay at home, you have to keep in mind that most places charge you at least 10% on the bill and some mostly more upmarket places another 12% as well, there's not a lot of options out of the hotel and what's there is mostly expensive seafood places, snacks, roti's and samosas are everywhere and very cheap to keep you going, so hard for budget travellers, hard to find places in Sri Lanka to do laundry out of the hotel, I couldn't find any in Bentota.
friendly people. nearby chopping centers. places to visit specially the fort and the museum the jewellery factory and fishermen village but when you took their picture dont give them the amount of the money they ask for just pay them half of what they ask.
Being a tourist hot spot for a long time, Bentota has always been a frequent item in tour itineraries.
The beach would be beautiful but sadly is totally dominated by 5 star resorts. There are no cafes or facilities.
City was nice and the people were kind and nice even thou they are very poor... Vivanta by taj hotel is your distention.
Poor area! Very few bars and restaurants around. Not much of attractions or activities. Expansive food (x2 compare to Negombo).
Bentota is unfriendly and not cosy at all- Hikkaduwa a few km away was relly good! People were sneeking around us and one man followed us after our ATM visit.
my advice : do not stay there. a few resto (russian or very expensice in resorts only), did not see any tourists, did not see the beach (nothing on the beach anyway)
Met a young guide called ansh who was great - honets and his prices fair. He looked after us and made our stay a great time.
Bentota is place which should no0t be missed if you are in srilanka tour as it is one of the best beaches and during weekends it has good night clubs as well.
Bentota itself doesn't have a village/town of attraction as such. Bentota is about hte beaches, and staying within the perimeters of the hotel that you are staying in.
we didnt go into bentota but from previous experience with similar small towns they are all noisy and mad with traffic.
A quaint and small beach town ... lovely old railway station and nice to see local playing football
located 100 km from colombo towards south,easy accessibility via express high way,nice beach lot of activity fro young children like boating,swimming,sea scooter,surfing mainly family relaxing zone.
City Bentota is not beautiful, there are some other beaches adjacent to this area, you can see all the attractions from one place.
It is weird that in a place filled with foreigners, that there is so little to do. The souvenir shops are very hard to find.
private beaches, close to hikkaduwa where you can scuba dive and a lot of other sports activities like boat riding
Prefer the countryside, maybe 3 km inland, less tourists and more interesting things, very nice local people.
Nice places to get Sri Lankan antiques but one should bargain well to get something that is worth the money.
Beaches are beautiful wear sunscreen and stay hydrated. Herbal gardens some advice would be to ask exactly how much donation they want for the demonstration massage beforehand and watch out for wondering hands when massaging especially as a woman and say what is off limits it is very informative
omar
, United Arab Emirates
If you are a fan of architecture, there are some places in bentota designed by famous architect, Geoffrey Bawa.
There are nice hotels in this area. Beaches are nice. City areas are not very well developed, but you will find shopping areas and food courts around.
Beaches, relaxation and Spa, Turtle Farms, sightseeing and a tour around, nothing much for shopping.
Abdulrahman
, Saudi Arabia
This is a sleepy town,it gets very quiet after dark,there is no night life or restaurants of good standard,it is ideal for relaxing and getting some rest and ideal place to get away from the daily chores to relax for a couple of days with a nice long evening walk on the lovely sandy beach after dinner but no action for the younger traveller.
---
Bentota's best hotels with breakfast
---
Explore more travel vacation rentals
Other popular destinations in Sri Lanka
---
More about Bentota
Bentota is a small city located in the Galle District of Sri Lanka. The city is best accessed by bus from Colombo or Galle, as the nearest airport is over two hours away by car.
Bentota is a coastal city, and the main attraction is arguably
Bentota Beach
, which offers a beautiful and clean beach with a very clear and calm sea perfect for several days of swimming, diving, snorkeling, or just soaking up the sun. There are several hotels ranging from luxury beach resorts to modest guesthouses, located just steps from the sea.
The
Bentota River Safari
which goes along Bentota River and lagoon is a popular activity among visitors to this area. The safari takes visitors on a cruise along the river, where you get a chance to see reptiles and other creatures, or enjoy water sports such as jet skiing. Most hotels will help their guests arrange these tours and activities, and planning as early as possible is advised.
Bentota is home to beautiful botanical gardens and nature reserves, two of which were built by two highly respected landscape architects who also happened to be brothers. A few hours of walking among the beautiful landscaping of Brief Garden or
Lunuganga
would certainly be time well spent.
Find out where even more of the hotels, attractions, and must-see destinations of Bentota are located by exploring the interactive map on this page.