4-star hotels in Guildford
---
Favourite hotel when in Guildford. Comfortable room. Quite a big room for a standard and a family room. Nice view of autumn trees from the window. Friendly staffs. Free parking. A walking distance to a nearby bus stop and Tesco.
---
The restaurant was full for their Sunday Roast lunch but we managed to enjoy dinner there. The rooms were alright but hot water for the showers were slow. Breakfast was basic with only bread and cereal. Parking was available. Hotel was convenient to walk to the town centre and other attractions
---
We stayed in the William Shakespeare's room and it was fantastic - we had our own kitchenette, a separate lounge/dining-room and a large bedroom. The decor of the hotel is very characteristic, and the location is the best possible location in Guildford. We were very satisfied and we know where to stay when in Guildford.
---
a walk of more than 15 minutes to railway station. yet room was clean and spacious. we arrived early at about 10 and were asked to check in only at 2.
---
There was no lift and we were given a room two flights up. When I complained the receptionist said she'd offered to get someone to carry our bags up - but I hadn't realised how far it would be and had declined the offer. The bed was too hard. Every way I turned it hurt my bones. Would I go back? Don't know. I think I'd check out offers on other Guildford hotels first.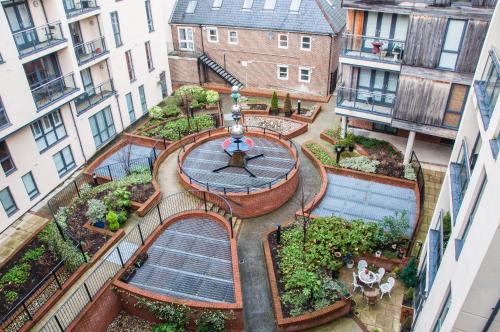 ---
Despite a confusing start (we were unaware that we must call the apartment's staff at least half an hour early to get our keys), there were basically no issues with regards to our stay. With the amount of money we paid for the apartment, we are satisfied that the apartment catered to all our needs. The biggest advantage is definitely its location - just a 2 minute walk...
---
Liked it so much, booked to return! It was a great hotel, and service from all staff was excellent. The rooms were beautifully clean and well appointed, and all areas well decorated and stylish. There was free wi fi in the rooms which was great. Location good for exploring shops in Guildford and the surrounding area. Also not far from train station - only 50 minu...
---
Only disappointment was the room had not been dusted or cleaned properly to a standard that would match the high quality decor , general service and first rate breakfast
---
More about Guildford
To provide our customers with unbeatable rates at hand-picked hotels, Agoda.com represents a full range of hotels from 5-star resorts to budget-priced properties in Guildford. Whether traveling for business or leisure, Guildford is an outstanding city to visit with over 68 hotels to choose from. Many areas, each with a distinctive atmosphere, are just waiting to be discovered across the city. Guildford has many attractions to explore with its fascinating past, intriguing present and exciting future. If you wish to pray or contemplate amazing architecture, 3 places of worship await you. If you're looking for a room in Guildford and don't want to pay too much, Agoda.com offers hundreds of fantastic deals which are updated daily.