Discover the neighborhoods of Ichinoseki
---
Best hotels & accommodations in Ichinoseki
Cheapest hotels in Ichinoseki
Atto Business Hotel Ichinoseki
"It's about 15~20 min walk from the railway station, and there is a 24 hours Lawson convenient store with ATM right across the street. The room is very cozy, the facilities are moderate and the breakfast is simple western style buffet but good enough for travelers. The staff are very nice, the only defect is they don't speak English...As I need the accommodation certificate for Japanese Embassy to validate my multiple entry visa for next trip, the language did cause some little trouble, but the staff called some translation service to help the communication for the special request, finally I got everything I needed fast and smooth. If you're a solo-traveler with basic sense for general hotel rules, even if you don't speak Japanese, I think Atto Business Hotel is still a good choice - if you don't mind a little walk."
Show more
Kaziya Bekkan Ramatkor Yamaneko Yado
"this hotel were one of the best place i've ever had. me & my friends were came early to put our luggages, and take a walk around geibikei. the staff were very helpfull and has so many infos about tourism place around there. we talk much about Indonesia and Japan, such a great memory. we also had koucha (welcome drink) which is so tasty ! the staff were very kind, helped us to use microwave. the hotel was very clean and i love the japanese ambience! the slippers, yukata, futton, the room, etc. we really had a good stay ! location were nice, there was a river and a hill behind the hotel. and also a playground park! we tought there is no konbini around geibikei, because it didnt showed on google map. but, it was wrong, there were family mart and many shops. we were sorry, we didnt had opportunity to say good bye while check out, because it was 5.30 am and we had to catch our train at 6 am. hope will meet again! thank you kaziya bekkan ramatkor yado! really really a good place for stay!"
Show more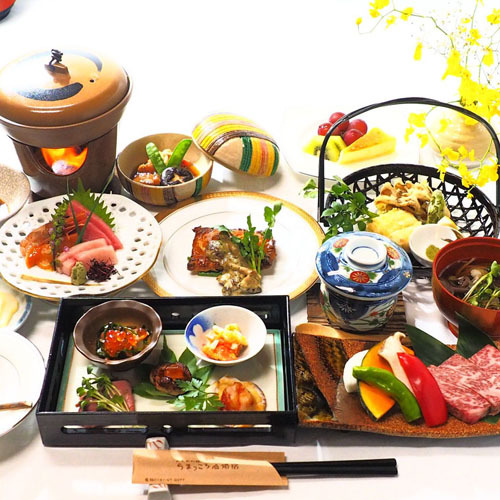 Kajiya Annex Ramakkoro Yamanekoyado
"Over expectation , Nice ryokan , charming traditional. Nice owner , polite and service mind. Cleanliness place and room (normal room size is match with our family , 3 person). Room have private bathroom and bathtub , separate toilet (toilet has a little bit smell). Recommend place for you all , if this place available , you have to book immediately. (Aging and long time ago ryokan , you have to understand traditional style.) Remark : We do not dine in the ryokan , so can not describe."
Show more
Toyoko Inn Ichinoseki Ekimae
"the lady staff at front desk is very helpful, service-minded. located just across the street to Ichinoseki station. Free BF, it is good start for the day. Lawson's shop is just two minute walking. overall- perfect."
Show more
Kura Hotel Ichinoseki
"Just 5 minutes walk away from Ichinoseki station, the hotel is very easy to find along the main street. Well located with a supermarket (Marue), Lawson convenience store, and a couple of restaurants nearby. The library is also just behind it. The lobby is very inviting and there is a common bathhouse/onsen available. The room was spacious and clean with comfortable beds. There is a variety of vending machines available on certain floors too."
Show more
Just booked
More about Ichinoseki
To provide our customers with unbeatable rates at hand-picked hotels, Agoda.com represents a full range of hotels from 5-star resorts to budget-priced properties in Ichinoseki. Whether traveling for business or leisure, Ichinoseki is an outstanding city to visit with over 21 hotels to choose from. Many areas, each with a distinctive atmosphere, are just waiting to be discovered across the city. Ichinoseki has many attractions to explore with its fascinating past, intriguing present and exciting future. There are so many things to do, you may want to stay an extra week or so to experience them all. You can depend on Agoda.com to help you find the best bargains on Ichinoseki hotels.