10 best hotels in Jaipur
Our top picks
Lowest price first
Nearest to
Best reviewed
See all
Shahpura House
Bani Park,Jaipur - View on map
"We were on a golden triangle tour and booked this place randomly. I would say this is the best place you can find in Jaipur. The ambience of this place is breathtaking. From the first greeting till the last moment the staff were very pleasant and always smiling. We were suppose to stay just for a night and then decided to extend the stay but we were not lucky since the place was sold out. Jithendra was very helpful, he was the person to great us and took us on the tour around the place. The rooms were neat and tidy nothing to complain at all. Food pricing were average and was great. The breakfast was a combination of indian and western cuisine. Breakfast was average we expected a little more variety but most of the places in india dont actually serve a great breakfast platter. We were asking about a taxi person about this place and all he said was 'Shahpura House is Shahpura House' Overall we had a great time and i would visit again next time im in Jaipur. "
Show more
Avg price per night
$ 108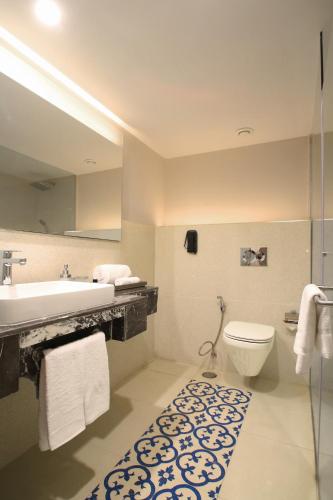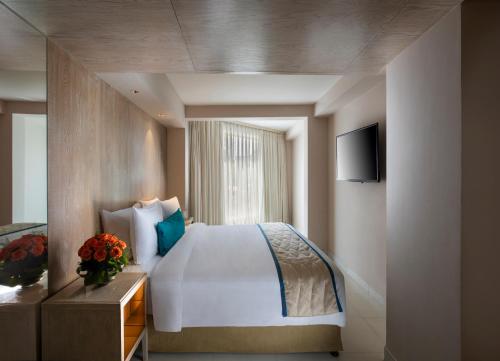 See all
Sarovar Premiere Jaipur
Jyothi Nagar,Jaipur - View on map
"Excellent hotel, wanna give a 5 star but they had a critical mistake! The hotel itself is new and clean, staffs are helpful and polite. Room is clean, and there internet is stable and fast. For their shower, hot water is running fast even late night. However, they have a critical mistake during my visit. After I check-in, I go to the room, I successfully unlock the door, but someone is sleeping in there! Try to imagine the possibility of someone get into your room, when you are away"
Show more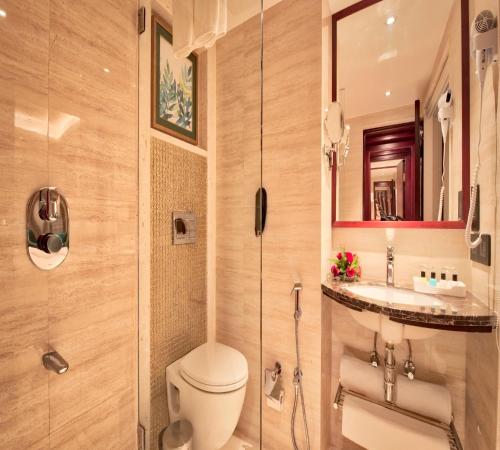 See all
Golden Tulip Essentials Jaipur
Jalupura,Jaipur - View on map
"Wow, what a lovely hotel we were lucky enough to stay at! Extremely clean, lovely helpful staff, good food and best location in Jaipur right on MI Road.. walking distance or a short tuk tuk driver away! I have stayed at many hotels in Jaipur and this was definitely one of the best and will be returning here on my next trip :) Thank you to all the lovely staff for a great stay!"
Show more
See all
Royal Orchid Central Jaipur, Bani Park
Sindhi Camp,Jaipur - View on map
"Visited this awesome property for the 4th time and they always up the standard of there service and product quality. The warmth we felt was over the top and the hotel team members made our stay unforgettable, as I will be leaving Jaipur forever so I picked this hotel for my final few nights and they treated me the way I was expecting or I must say it was more than my expectations. The food and beverage team did superb job to please our pallet and carried out our demands. Special thanks to the chef incharge at the morning breakfast he made the best stuffed paratha I ever had in my life and the service team went ahead and provided us with out of the buffet options, And yes the lime soda which I got on the last night was mind blowing, everyone should try that. The housekeeping is doing magic service it seems like that to me, coz every time when we leave our room (mostly in pathetic condition) we get the room ready in crisp condition when we get back. "
Show more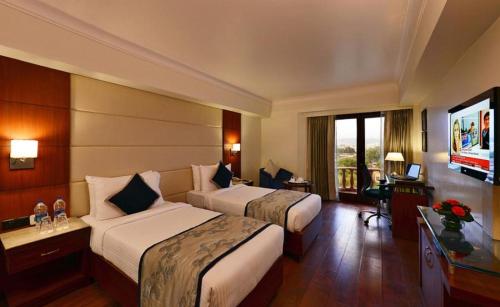 See all
Lords Plaza Jaipur
Ashok Nagar,Jaipur - View on map
"It was a pleasant stay and convenient for the purpose of our trip to Jaipur to attend the Jaipur Lit Festival. We had stayed at the same Hotel in January 2013 and this time found the quality of the food to be better."
Show more
See all
Fort Chandragupt Hotel
Sindhi Camp,Jaipur - View on map
"it's a quite unique hotel with very friendly & helpful staff indeed & the rooms as well as the whole complex is well maintained & clean. there's a major road in front & a bus terminal just adjacent which makes it pretty loud once you're outside but then again: in that price-range & location you cannot expect an oasis of quietness (where in india can you?)... I thought it was great value for money!"
Show more
See all
Hotel Park Prime
Ashok Nagar,Jaipur - View on map
"it was our favorite hotel of our entire india stay. we were truly suprised by the amenities and beauty with relation to the low price we payed. i would absolutely recommend the hotel to any travelers to jaipur whether on business or pleasure."
Show more
See all
The Fern - An Ecotel Hotel, Jaipur
Jaipur Airport,Jaipur - View on map
"Your facilities for the accommodation is marvelous, food wee super se upar se upar, Hospitality was best in best. Overall excellent. I recommend to book in AGODA.COM because discount is 50% minimum n facilities 100%. Thank you AGODA, Hotel FERN both. Thank you AGODA & Hotel FERN, Jaipur"
Show more
See all
Vesta International
Gopalbari,Jaipur - View on map
"Right near to Jaipur train station (the trains can be heard at times but aren't too much of a disturbance) the hotel is in a good location walking distance to MI road. Hotel is gorgeous throughout- very modern, extremely clean (a rarity in India unfortunately) and the staff are helpful. Rooms have satellite TV and bathrooms with showers. The pool and gym are good, if a bit small, and the pool tends to be shady for much of the day. Breakfast is good, a mix of continental and Indian. Wifi is very expensive though, 100Rs an hour, as is laundry. Enjoyed our stay here very much, as we have been backpacking and needed a treat!"
Show more
See all
Golden Tulip Hotel Jaipur
Jalupura,Jaipur - View on map
"The hotel is situated in the heart of the Pink City, within striking distance of shops, eateries & major sight-seeing options. The approach isn't the greatest, but once within the hotel premises, it's all much better. A welcoming lobby, a cheerful restaurant, a cute patisserie/cafe & a bar/lounge greet you as you walk in. The receptionists were reasonably efficient, though always unsmiling. Our room on the 4th floor (Super Deluxe) was a bit of a disappointment. Though good sized, it was oddly shaped due to the structure of the hotel. There was absolutely no view, wallpaper was coming off at places, the AC stayed at a constant temperature irrespective of how you tried to manipulate it, & the bathroom door was positioned in a groove altogether too small for it. Since we were there only a night, none of this bothered us much, but the hotel would do well to look into these small issues. We didn't eat a the hotel but had a look at the onsite dining options, & they all seemed quite good. You would quite certainly be able to find better similarly priced hotels in Jaipur, but would be hard pressed to find one in a better location."
Show more
Fast facts about Jaipur, India
| | |
| --- | --- |
| Accommodations | 2,566 properties |
| Popular hotel | Vesta International |
| Popular area | Jaipur Airport |
| Nightly rates from | NZ$8 |
| Airport | Jaipur International Airport |
| Reasons to visit | Sightseeing, Culture, Shopping |
Jaipur's best hotels with breakfast
---
Explore more travel vacation rentals
More about Jaipur
Jaipur is the Rajasthan capital and one of India's greatest cities. The city is a great mix of pre and postmodern India, offering visitors a great mix of history and culture. Jaipur is known for its fairs and festivals, shopping, magnificent temples, beautiful monuments and lush gardens. Many Jaipur hotels are strategically placed near the best attractions, including Central and North Jaipur.
The city is served by
Jaipur Airport
, located 13 kilometers north of the city center.
For a panoramic view of Jaipur and to see why it's affectionately nicknamed The Pink City, head to
Nahargarh Fort
.
The old town of Jaipur is where Indian bazaars sell exquisite jewels, embroidered fabrics, and hand-crafted leathers. In March, the annual Elephant Festival takes over the city. Elephants are elaborately decorated from head to toe and paraded down into the city center where games and elephant polo matches take place. Of course those wanting to take part in the elephant festivities during other times of the year can head to the
Elefantastic Elephant Farm
. Galtaji, Jaipur's oldest holy temple, is made up of several smaller temples set among natural springs overlooking the ancient city.
Jaipur offers some of the best intercontinental cuisine and because it was once the royal city, it's home to many of India's most noteworthy restaurants. Traditional fare is highly recommended, including the regional favorites Dall Batti and Churma.
Find out where the hotels, attractions, and other must-see destinations of Jaipur are located by exploring the interactive map on this page.