10 best hotels in Koh Lanta
Our top picks
Lowest price first
Nearest to
Best reviewed
See all
Long Beach Chalet (SHA Extra Plus)
Pra Ae Beach,Koh Lanta - View on map
"Long Beach Chalet is the place to stay if you're in Koh Lanta. Not only is it very reasonably priced, the bungalow is spacious, comfortable and clean with good AC and strong wifi. There is a balcony in each bungalow and there is also some resting space at the bottom of each one with a hammock. The owners speak fluent english and go out of their way to help you. They organised transfers for us, we orginally booked a bungalow for three people in advanced but a few weeks before we flew out to Koh Lanta, we had an extra visitor and they went out of their way to organise extra beds in the bungalow as by then the place was fully booked. They made everything very easy for us, booked our day trips and organised hired vehicles for us. Breakfast was very good, a generous selection was available at their restaurant, The Three Mums, with friendly service. One of the mums came to speak to us in the mornings when we were having breakfast and made us some coconut pancakes on the side, they were nice! There is a small but clean pool in the centre of the bungalows with sun chairs. And a few miniutes walk and you see a nice stretch of beach with white fine sands, beach bars and massages! Going into the main strip of koh lanta where all the main shops were was also very easy. Public taxis are very affordable and are available and is a short 5-10 minute ride away. We were very happy with our stay and would highly recommend this place to people. I loved Koh Lanta a lot, I will definitely come back to the Long Beach Chalet the next time I visit Koh Lanta. Many thanks"
Show more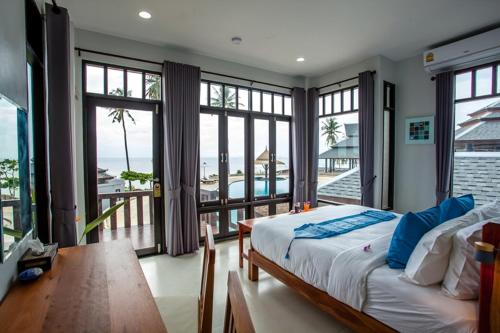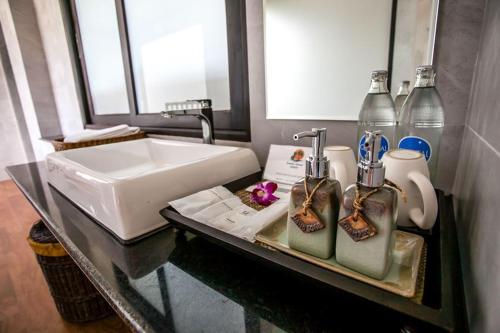 See all
Lanta Corner Resort
Baan Klong Khong,Koh Lanta - View on map
"The staff were so helpful giving us advice on where to eat, which snorkel tour to take, providing a free shuttle to the closest town, giving us a cot for our 6 year old at no extra charge. Our daughter loved the pool and being able to use the unicorn and flamingo floaties. Bring sunscreen and mosquito repellent! The buffet breakfast was amazing. A mix of western and Thai breakfast choices. We enjoyed crossing the little creek to the north and getting 300 bhat massages at the local bar. The resort is a bit outside of town so it's nice and quiet but you can't just walk to town to check out shops and restaurants. Also Tuk Tuks are a lot more expensive at night and on average more so than in Chiang Mai and Bangkok. Getting to the resort from the Krabi Airport we just hopped on a minivan taxi for 400 bhat/person. Our daughter was free. It took about 2 hours to get there with all the stops to drop off other travelers. We loved our time in Koh Lanta and wished we could stay longer!"
Show more
See all
Nakara Longbeach Resort (SHA Extra Plus)
Pra Ae Beach,Koh Lanta - View on map
"Very happy with Nakara Longreach Resort, we chose this resort on recommendation from friends who had stayed a couple weeks prior. The resort is going through some updates so there is a bit of construction but its not too loud or inconvenient. We booked a Superior suite but were immediately upgrade to a Deluxe which was closer to the beach and right in front of the pool (very nice and clean), perfect for us. Rooms are clean, there are some lizards and bugs around but thats a given due to the location near the beach and the vegetation around the island. Staff was really friendly and helpful, especially the front desk ladies helping us book tours and transfers. We also rented a motorbike for a day from the front desk, relatively inexpensive and almost required if you want to travel around Koh Lanta. We just needed to leave a piece of ID as repost before we returned the keys. The only thing that wasn't amazing was the breakfast buffet, it was okay -- only had an omelette/egg station 1 out of the 4 breakfasts we had and everything else was subpar. The sunset is very beautiful from long beach! I would definitely recommend staying here and if I find myself back in Koh Lanta, I will be a returning customer!"
Show more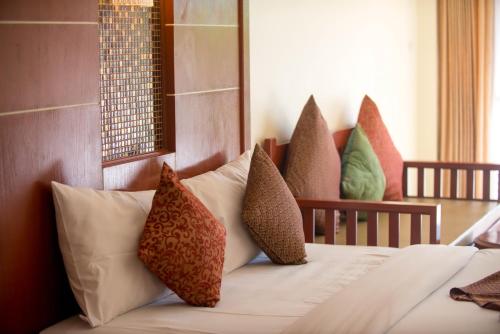 See all
Lanta Casuarina Beach Resort (SHA Extra Plus)
Pra Ae Beach,Koh Lanta - View on map
"My very first trip to Krabi- Koh Lanta and I was keen to get off on the right foot. I spent a lot of time searching for a good place to stay in Koh Lanta and aft a lot reading & research…Lanta Casuarina was a no mistake & the PERFECT choice! I was delighted with the warm hospitality, excellent breakfast and accommodation provided by Lanta Casuarina. My room was very clean, spacious,and very comfortable. The bathroom was modern and the shower was fantastic (warm water was always available in the shower area)but we did experience a little problem with the shower on the second dya which was fixed aft a phone call. Located in a great area & right on the beach where you can never miss the sunset! I would hihly recommend this hotel for anyone traveling to Koh Lanta . "
Show more
See all
Pimalai Resort & Spa (SHA Extra Plus)
Ba Kan Tiang Bay,Koh Lanta - View on map
"Pimalai was the fifth and final stop on our last trip to Koh Lanta. The resort arranged to pick us up for our check in. The location is distant from everything, but that is part of its charm. Despite being low season, the resort was virtually fully operational, although some construction was going on. The room was fabulous, with a stunning view. Price paid just over 5000 baht. Everything was perfect in the room with all details covered…from screens on the patio doors to welcome cookies and fruit. The property is magnificent. Both pools are idyllic. The food was great and breakfast was huge. The staff were friendly and accommodating. This is high-end luxury that we have never seen so well executed in Thailand. It is very difficult to get Thai staff to maintain these standards, so we give the management a tremendous amount of credit. The complimentary trip back tot the airport was also excellent, using a combination of van and speed boat. We have no complaints about this resort and think it is an excellent value and a truly "must-do" in Koh Lanta. We will return. "
Show more
Avg price per night
$ 491
See all
Coco Lanta Resort (SHA Extra Plus)
Baan Klong Khong,Koh Lanta - View on map
"Coco Lanta is definitely a place to go while you're in Koh Lanta. Well honestly, there's not much to do here in Koh Lanta (compared to Aonang). If you wanted to find a peaceful surrounding while try to live as a local, then you will love this place! I highly recommended a stall outside CocoLanta (opposite the main road, beside a tattoo shop), Lay Sod. This stall is the main thing I miss about Koh Lanta! The food is SUPERB! The chef speaks poor english but still understandable. Every morning, I went outside and chill at the hammock, it feels like the best moment ever. You have to try! "
Show more
See all
Twin Lotus Resort and Spa - Adult Only (SHA Extra Plus)
Klong Dao Beach,Koh Lanta - View on map
"The Twin Lotus is a new, modern hotel in reduced but always pleasant design at Klong Dao Beach in Koh Lanta. We paid half of the regular price for a Deluxe Garden Villa and the room was well worth the money but I would not pay the double though. The bungalow style villas are spacious and tidy, the room service is discrete and effective, the staff is very friendly and always keen to help. Late check out wasn't a problem at all, although we only left at 3 pm. Downsides are that the level of English of the personnel is quite basic though and the service is not as attentive as I would expect for a five star hotel. The breakfast buffet was rich but with hardly any variety. Filling up bath room utensils like sanitary bags or complimentary tooth paste etc. did not happen, neither the laundry bags. On its webpage the hotel advertises a child free environment ('Please note: Twin Lotus Koh Lanta welcomes guests aged 18 years and over.') but there were lots of families with small children anyhow. As the hotel was not fully booked in late March/early April it did not bother us too much, but if you come in the main season and expect a calm environment you may be disappointed. The hotel bar closed far too early (around 9:30-10 pm), sometimes even before the restaurant, which is a pity if one would like to spend the evening chillaxing with a drink. The Beach Deluxe Villas may be more comfortable due to the fresh wind from the seaside. All in all, I would recommend the hotel, it is definitely one of the most luxurious ones on that beach, especially for the price we paid. We had a very relaxing and enjoyable time! "
Show more
Avg price per night
$ 191
See all
Vacation Village Phra Nang Lanta (SHA Extra Plus)
Ba Kan Tiang Bay,Koh Lanta - View on map
"Hotel is set on arguably the best bay in Koh Lanta, and is true beachfront. Rooms are comfortable with all basic amenities and have nice verandah's sit out on and watch the waves tumble in or the various small boats coming and going thru out the day. Next door to the Hotel is the "Why Not Bar". The band starts at 9.30pm and is great for a couple of lazy night caps... not so great if you like to go to bed early. The only negative of this hotel or the area is that there seems to be a competition amongst the beach front hotels on playing music all day. At the Phra Nang it starts at 7.00 in the morning and depending who is on duty will determine how loud it is. "
Show more
See all
Lanta Cha Da Beach Resort and Spa (SHA Extra Plus)
Klong Dao Beach,Koh Lanta - View on map
"Pros: Incredibly caring staff! Gave us a free upgrade to the Villa with private pool. (Travelling during low peak season). Out of our 6 days in Koh Lanta, we got 4 days of Sun & this Hotel has private access to Klong Dao Beach! The resort is FULL of massive swimming pools. Great for swimming around and drinking by the side of the pool. Staff is very caring & sweet. Rooms are clean, comfortable and well equipped with DVD player and 42 inch lcd screens. Con: Wifi is not free. Try to get your room near their restaurant to enjoy free wifi. (Bigger pools are also opposite the main restaurant). Do not ask hotel staff for taxi to Krabi. Overpriced and non negotiable. Head down to the town and ask any one of the many tour booking agents. They'll give you the best price (2300-2500 baht to airport/Krabi town). It is 15 minutes walk from the closest markets (It has a small shabby market next doors but the main restaurants and shops are quite a fair distance away). My advice, get a bike for rental (got one at 160 baht per day for 5 days). Tuk tuk to main shops charge 100 baht (Which is a rip off but you cant negotiate cuz they have their charges written.). A pleasant walk down to the beach road 5 minutes away avoiding stray dogs and voila!! tuk tuk price is now 50 baht to the shops. "
Show more
Avg price per night
$ 168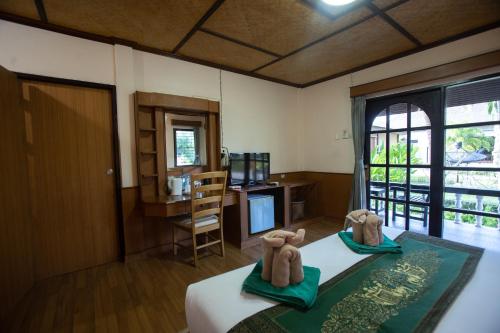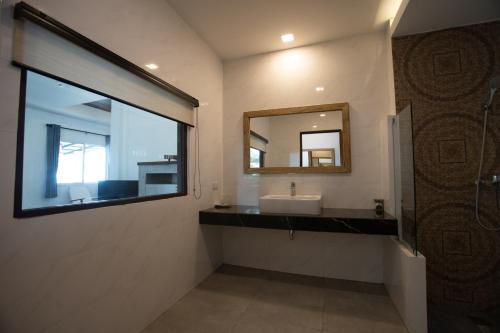 See all
Southern Lanta Resort (SHA Extra Plus)
Klong Dao Beach,Koh Lanta - View on map
"Just close to the beach and with 2 pools in this hotel. Lot of rerstaurants, massage on the beach. You have a choice for enjoy and relaxing. Accomodations are like an individual home, so cute and with fan and cleaning all morning. Just perfect staff and the personel very nice, smiling and propose at you a lot of things. They are at the reception the booking for excursions. If I come back to Koh Lanta, Im come back at Southern lanta Resort. :) "
Show more
Avg price per night
$ 117
Fast facts about Koh Lanta, Thailand
| | |
| --- | --- |
| Accommodations | 919 properties |
| Popular hotel | Vacation Village Phra Nang Lanta (SHA Extra Plus) |
| Popular area | Pra Ae Beach |
| Nightly rates from | NZ$8 |
| Reasons to visit | Beaches, Restaurants, Romance |
5-star hotels in Koh Lanta
---
Pimalai was the fifth and final stop on our last trip to Koh Lanta. The resort arranged to...
---
We really enjoyed our stay in the Rawi Koh Lanta. Koh Lanta itself was our favourite place ...
---
This was our second stay at the Layana, and it didn't disappoint! From the moment of our ar...
christopher
, United Kingdom
---
Pros: Incredibly caring staff! Gave us a free upgrade to the Villa with private pool. (Tra...
---
Traveler impressions of Koh Lanta
Most beautiful place in Thailand, not for partiers or nightlife but for people who want to enjoy the beautiful surrounding and relax.
Koh Rok ( Rok Island ) is very very beautiful , you can join 1 day tour go to visit it. Only THB 1300 u can get everything at this trip , just go to take a look .
Nice town, busy, lots of dining, pubs/bars, easy to get around. Relaxing atmosphere- a person can make it as busy or as relaxing as one wants
It was a stunning end to our holiday after the busy time we had on Phuket . We explored Lanta on scooters which was great .
If you're looking for a relaxed spot for sun, sand and diving / snorkeling that hasn't been over developed / hyped then Koh Lanta is ideal.
Quite and beautiful island and not far - can be access by car from mainland. Easy to get halal food and the food is fantastic.
Koh Lanta is an amazing place, perfect for relaxing. Totally different than anywhere else in Thailand.
Koh Lanta is a very great place to visit. Nice visit to Old Lanta, great beaches on new Lanta side.
The overall experience is really bad. I had booked an air-cond van from Krabi Town to Koh Lanta Hotel.
Koh Lanta is a nice quiet place compared to other islands in Thailand. Very recommendable for families with kids.
Good for couples & relaxation. Trying to find 'I Love Lanta' t-shirt but none is available. Nothing much to do here.
this island is getting busier, but it's still really laid back. Driving around it is still possible, and is good value.
Diving is much too expensive, comparable to the Maldives but offering less to see underwater. Only the entrance fee in the national park for diving is roundabout 25 USD!!!
We love koh Lanta because it is peaceful and good if you want a relaxing time away from work and worries.
I'm a scuba diver, I've made three trips to Koh Lanta in a year, and I'll go back, the combination of the peaceful evenings and beauty beneath the waves is incomparable, I fear for it ever becoming as popular as Phuket and ruining it.
Very relaxed and not as developed as other areas of Thailand. Do take a trip over to the old town for something different.
After a roundtrip in Thailand we fell absolutely in love with Koh Lanta and next time I visit Thailand this will be my destination.
We went in low season, lots of things closed. Not a lot going on. A long way to travel for not a lot of excitement.
I love Koh Lanta. I hope the bridge to to the mainland will change nothing, as I sincerely hope that the island will stay as it is and not become the next Phuket.
Marthe Lillefjare
, Norway
If you want to go to the island with car or motorbike the ferry queue is quite short. There is very nice beach in Lanta National Park, but if you want to go on the hiking trail in the jungle, better leave your vehicle near ticket booth up hill, because the trail ends there.
Just perfect!!!! We love Koh Lanta, this place is quite enough to perfect and have enough of the shop and nightlife to feel your not on a deserted island.
We loved koh lanta it's a quite Island but has enough to do and see. The beaches are clean and not over crowed with loads of jet skis.
Great island that is not as hectic or as scarred as the other more famous islands (Samui, Phuket etc).
Koh lanta is partially underestimated island. It does not have white sand and beauty perfectness of Phi Phi (which is only 1 H 20 min by ferry) but it still has nice beaches, hotels for different taste and wide choise of activities at relatively low prices.
for peacefull,don't need pub bar u can find food in cheap price form small local vendor all Lanta island.
it the best place for family vacation. very relax and quiet. i have been here 5 time and i will come again.
muhammad firdzaus
, Malaysia
Koh Lanta is a nice place to just hang out or doing nothing, away from the hustle and bustle of Krabi.
Koh Lanta..... What a beautiful island! My partner and I love Koh Lanta so much we extended our stay, and will be returning next week after doing our visa run to malaysia! We fell in love with koh lanta.
Koh Lanta is an island full of beautiful beaches. It is not as busy as the more popular islands, so is perfect for a real getaway.
Koh Lanta is a very nice region in the south of Thailand. It is not overloaded by tourists yet and there is almost no nightlife, therefore it is very good for people and families who simply like to relax.
---
Koh Lanta's best hotels with breakfast
---
Explore more travel vacation rentals
More about Koh Lanta
Less developed than other beach areas of Thailand, Koh Lanta is a series of islands dotted with hotels and resorts. Visitors to Lanta enjoy crystal ocean waters, powdery sands, and swaying palms that typify Thailand's most sought-after beaches. The Koh Lanta Yai area boasts the most popular beaches of Klong Dao and Klong Nin. Klong Dao Beach is a three-kilometer stretch of sand with calm shallow waters and is generally not crowded thanks to its size.
Klong Nin Beach
tends to be a bit rockier, but the waters here are calm and clear. Water sports are in abundance with the likes of diving and snorkeling.
When looking to break away from the beach, visitors to the island can visit Khao Mai Kaew Caves and even take an elephant ride to reach it. Lanta's
Old Town
provides an experience of the cultural diversity with Chinese merchants, an ancient Sea Gypsy community, and original Thai fishing families. Flower lovers will certainly enjoy a stop at the orchid nursery farm. Snorkeling and diving, fishing, and trekking are other popular activities.
The nearest airports to Koh Lanta are Krabi, Trang, and Phuket with speedboat and car ferries providing access to the island. Once on the island, pickup trucks and motorcycles are the most common ways to get around.
Be sure to check out the interactive map of Koh Lanta for information on hotel locations, attractions, and must-see destinations.