4-star hotels in Konya
---
Excellent, stylish hotel. The location was great. My room was very stylish, clean, peaceful and well equipped. The staff was fantastic, very friendly and helpful. I warmly recommend this hotel.
---
We loved it.Nice suite and good service, in a city as good as Konya, its a dream place to go to, if anyone is interested in Rumi. Staff were good and the shops closest to the hotel were very well priced for most things. Also the walk to Mevlana Museum was literally 2 minutes.
---
Good location, comfortable room, friendly staffs.
---
It locate near the park with a short walk we can reach Mevlana museum. We walk around city center then back to hotel, this take about 30 - 40 mins. The reception is good and welcome but they speak little of English. Breakfast has variety of choices. Room is clean but very small. They have fruits in the room, too.
---
Overall, this hotel is alright for stay. However, one lady staff, calls Hafize Uygun, made us feel racism discrimination. The facilities of my room went wrong and can NOT use, and the room smell was so bad, but She was NOT help to change the room for us even I knew there are few available rooms, and her attitude was extremely rude. After few mins debates, another staff...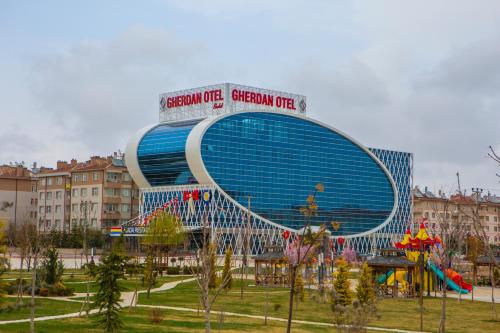 ---
We enjoy the staff professionalism. I recommend it every time. Amine Jelloul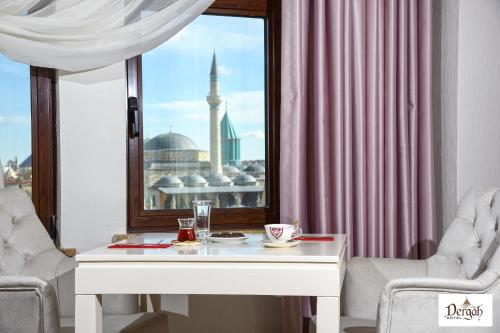 ---
It is a very sweet experience to stay at Dergah Hotel
---
5-star hotels in Konya
---
The only negative about this hotel was the location... needed a taxi to get to shops and restuarants. The hotel however is great, friendly staff throughout the hotel. Reception staff really helpful. Rooms are nice and big and comfortable. Really good breakfast with a huge selection. Great place to stay.
---
Excellent facilities. However on your app it read that this was a CENTRAL KONYA Hotel. It was in fact many miles from the CBD.
---
Location is good to find while travelling through west of Turkey to east of Turkey. Konya is center Location on motorway.
---
I arrived the hotel expecting my 2 rooms to be matching what I have booked without any additional requirements. The reception staff keep on saying untruth and insisting that the room is a s booked even after I have proven them from online, then they start escaping from me. My family are waiting and kids upset in the corridors. Suddenly, when I raised my voice, they gav...
---
We have only sleeped one night in the hotel.Hotel has good reception and looks like any 5 star hotel, but in fact a price was more 2 star. Rooms are huge and clean. Breakfast was good, however european guest would miss sausages and scrambled eggs. We haven't used other hotel facilities because of our short stay, I suppose the hotel has not enough parking space.
---
We were a group of seven booking 5 rooms at this hotel. You expect from a 5 star hotel staff to be able to speak English minimally. Except for a couple of employees the rest neither spoke nor understood a word of English. The transparent glass partition between the bedroom and the bathroom deprived you of privacy. The hallways were dark. On the plus side, the breakfast...
---
Discover the neighborhoods of Konya
---
Find the Perfect Type of Accommodation
---
More about Konya
Agoda.com features accommodation options from all over town. From high end international chain hotels to family run guesthouses, demands of all travelers are met. Choose from our selection of over 101 hotels. We offer lots of promotions such as early bird offers and last minute deals. Many areas, each with a distinctive atmosphere, are just waiting to be discovered across the city. Konya has many attractions to explore with its fascinating past, intriguing present and exciting future. There are so many things to do, you may want to stay an extra week or so to experience them all. Book your next trip to Konya with Agoda, backed by our low price guarantee.