10 best hotels in Kota Bharu
Our top picks
Lowest price first
Nearest to
Best reviewed
Fast facts about Kota Bharu, Malaysia
| | |
| --- | --- |
| Accommodations | 719 properties |
| Popular hotel | H Elite Design Hotel |
| Popular area | Kota Bharu City Centre |
| Nightly rates from | NZ$7 |
| Airport | Kota Bharu Airport |
5-star hotels in Kota Bharu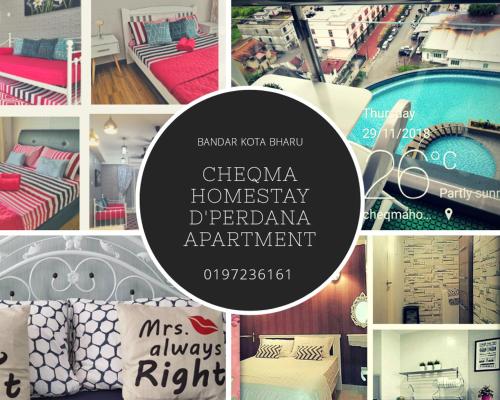 ---
me n my husband stayed here with our 2 year old son and another 2 junior friends. i love th...
---
Very nice and privacy place! Love the view and the design of the house..Just a small issue ...
---
Pros - location near to main attractions, overlooking the river. The house is exactly as pe...
---
My family have comfortable stay although it was for a night. There were not many high rise ...
---
Nice decorations with a lots of flowers.
---
Traveler impressions of Kota Bharu
If you like peace, this will be the best city to visit, they are not in hurry for everything. You can get anything you want even though this a muslim state.
The conservative city of Kota Bharu is the capital of the state of Kelantan. Kelantan is part of a federation where an Islamic majority party is in power for many years.
a descent city with nice people. For a tourist, there's nothing much to see. However, since its quite near to Siam, its a good pit-stop to continue your journey to north
It is a place to learn and know about the Malay tradition and culture. Uniquely, the local Chinese are able to speak the Kelantanese dialect quite well.
you can go to Pantai Cahaya Bulan (beaches) to have a beutiful scenery and play kites and it tooks about 15-20mins via car from airport.
Its a lovely place to visit and shop. Being on business trip I was able to witness the diversity of the place especially at night.
This city were claim as a islamic state mean that some restriction that you should follow. you may go to internet to get some information.
A conservative state. Food are generally good but need look for clean food. Hotels are generally overprice.
An emerging city caught in a transition between tradition and modernity. A city with strong Islamic influences and very traditional dwellers.
Kota Bahru was a Islamic State, no alcohor can be found over here in the evening you have nothing much to do.
Never dispointed to visit for second time if you plan your visit, stay near to interesting place and to taste many food stalls around Kota Bharu itself.
If you are searching for a 'peace of mind' in terms of sight seeing, shopping or foods, then Kota Bharu is the place.
so far everything is good in kota bahru, only the taxi fare is quite expensive. from kota bahru to aiport they charge about RM30, they only take about 10 minutes drive.
Kota Bahru is a very quiet city and the people there are very friendly. The food is very delicious and Nasi Kerabu is a must try and also the teh ais madu near Kedai Buloh in Warung Pak Mat is superb.
Very local, great for nature and to know more about the Traditional life and nice finger food all over the place.
The RITZ Boutique Restaurant cook delicious lamb dishes. At Pantai Chahaya Bulan malay stall serve Special Teh Tarik with honey.
is a dull city. A transit point to go to the Islands. The main attraction is City Khadija Fruit Markey and the nearby Batik shops but that is it.
Food Heaven! Yes, there are plenty of restaurants/cafes/stalls serving delicious traditional Kelantanese treats.
Variety of cuisines ranging from Malay,Chinese,Indian and Siamese food. You need to know exact location for good food especially for breakfast!!!!
Travel a bit further and there is beaches Travel a bit further and you able to buy freshly made cracker
Pls do not visit this city during the month of Ramadhan if u are a non-muslim. There are nearly 0 shops open during day time even the fast food restaurants.
Very quiet town with absolutely no nightlife. Quite scary to walk around alone at night and there were sounds which sounded like gunshots being fired.
a peaceful place. place to visit : Wat Phothikyan Phut Thak Tham, Wat Photivihan Food must try : Khao Jam
Many cultural and historical building and tourist point around the city area. Taste the famous and delicious Kelantan food like Nasi Kerabu, Nasi Dagang and etc at Kota Bharu.
I kind of like the town, people are friendly but their dialect is different and at times hard to understand, eventhough I understand the malay language.
Food - nasi air, laksam, nasi dagang, etc. Shopping - Pasar Siti Khadijah (go upstairs! Look for stairs near entrances), Bazar Buluh.
Culture and history were different with other country. Nice shopping with many attraction with unique design for batik and songket.
Its basically a city with local products in markets and local food. Other than that, its disappointing.
Kota Bharu is a more conservative town in Malaysia. On of the things that ladies will absolutely love is the amazing "batik" cloth which Kelanatan really excels at.
This place is full of trees and flower. if you like nature definately must come. Not only having good time in Kota Bahru but also drive into Thailand in just 30 minutes.
---
Kota Bharu's best hotels with breakfast
---
Explore more travel vacation rentals
More about Kota Bharu
Kota Bharu is a city on Malaysia's east coast, serving as the capital of the state of Kelantan. This conservative Islamic state isn't usually where people flock for vacations, but those who do visit this city will find that it's full of interesting architecture, shopping, and entertainment options.
The city is served by
Kota Bharu – Petra Airport
, which is located in Pengkalan Chepa. The airport operates flights from the major cities of Kuala Lumpur and Penang, making it easy to connect Kota Bharu with the rest of Malaysia. Hotels near the airport are conveniently located in Pengkalan Chepa, and range in size and price from budget options to luxury accommodations. The city is also accessed by rail, bus, or taxi from the rest of the surrounding cities.
There's a lot to see in Kota Bharu, as the city is home to many museums, day and night markets, beaches, and even some Buddhist temples. There are many hotels near the
Muzium Negeri Kelantan
, which is the state museum and is highly recommended for those interested in learning about the history and culture of the region.
Those interested in learning even more about the history of this region will appreciate a day trip to
Pedang Merdeka
, a memorial site that is also home to a great deal of museums that are all concentrated in the area.
Find out where the hotels, attractions, and must-see destinations of Kota Bharu are located by exploring the interactive map on this page.