4-star hotels in Mainz
---
The hotel was probably one of the best I have been to. It was very clean with incredibly friendly staff who cared for their clients. The location has a tram that goes directly to mainz central station which is ideal. I recommend anyone wanting to be near the mainz area to go to this hotel.
---
my wife and i travel a lot to amsterdam, together or alone, and always stay at the westcord city centre amsterdam hotel. its location is perfect for us because it's close to the centarl train station and to shopping/dining. it's a bit expensive but i although i always look for alternatives, i stiill book this hotel...
---
Great choice for whatever reason you are staying at Mainz. Just outside west exit of the Hauptbahnhof. The free bus pass allows you to go anywhere. Spacious room that was clean too. Only downfalls were wifi was slow, and the key cards didnt work every day.
---
Excellent hotel conveniently located in front of Mainz Hbf. Rooms are up to date, modern style, with all amenities you would find at any Marriott hotel. Highly recommend for the business traveler.
---
Stayed here with some friends who we were meeting for the Midnight Oil gig at the Zitadelle. The rooms were excellent with great AC and very clean (but wasn't sure about the window from the room into the bath!). The breakfast was superb too and cannot recommend this hotel highly enough. If I ever get back to Mainz its the only place I will stay.
---
Very helpful front desk. Large airy room with great bed. Wonderful breakfast buffet. Easy walk to train station and just off bus routes. Easy access to historic sites and Saturday markets in Mainz.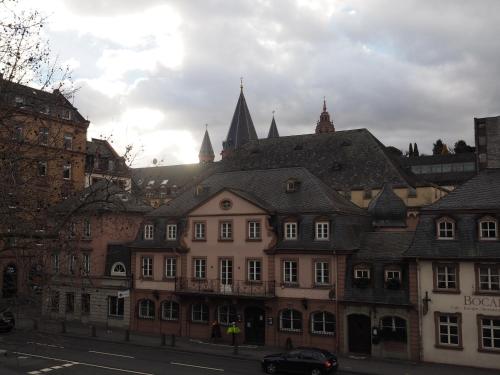 ---
One of the travelers in our group had no hot water for morning shower on the upper floor.
---
Just viewed by other Agoda travelers
---
Traveler impressions of Mainz
Frankfurt is ugly so we choose Mainz. Unfortunately we had to cover three nights in Germany and spending this time in Mainz and Mainz only was not a good idea.
Take a Rhine Rover boat, run by KD. But if you take a train to Bingen first, it is cheaper and you get 20% off when you show your train ticket.
come here just for the river cruise. In my opinion, the government and authorities can do more to develop it.
---
Discover the neighborhoods of Mainz
---
More about Mainz
Agoda.com features accommodation options from all over town. From high end international chain hotels to family run guesthouses, demands of all travelers are met. With over 101 different establishments, there is a great variety to choose from. Visitors have no trouble associating Mainz Cathedral, Dom & Diözesanmuseum with Mainz. Shopaholics will be delighted with more than 3 shops to discover including Gutenberg Buchhandlung. If you wish to pray or contemplate amazing architecture, 7 places of worship await you. Book your next trip to Mainz with Agoda, backed by our low price guarantee.