10 best hotels in Pekanbaru
Our top picks
Lowest price first
Nearest to
Best reviewed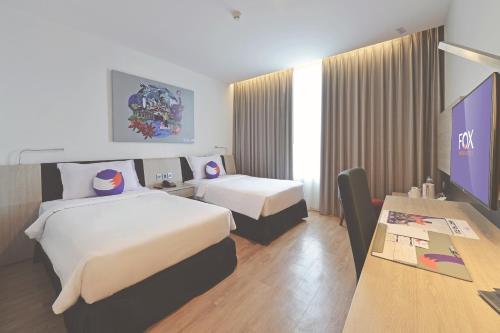 See all
FOX Hotel Pekanbaru
Pekanbaru City Center,Pekanbaru - View on map
"Located just near the fort in city(near to Ciputra Mall) ,the hotel is clean and provides u great hospitalityThe staffs were very helpful.The hotel provides u almost every facilities from good rooms to amazing spa! The rooftop pool of hotel was great. Overall experience was awesome. I'll recommend this hotel to every couple and families. You wont regret,just be there. However, im disappointed with F&B staff didnt know how to explained why rooftop bar is not available at that night. Trying to satisfy my appetite at 2nd floor restaurant, i was not pleased by satffs. Im the only customer at the night & have to wait my food too long. For the next trip at Pekanbaru, I'll reconsider to dinner at this restaurant/bar."
Show more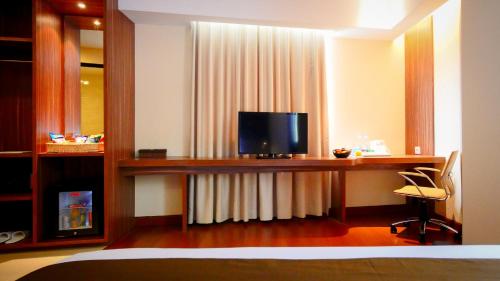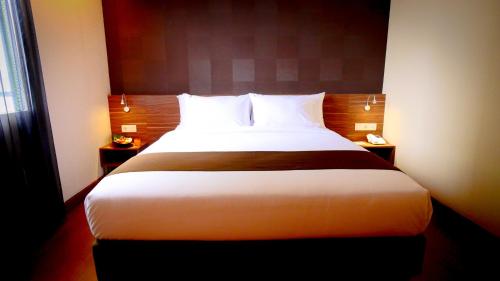 See all
PRIME PARK Hotel Pekanbaru
Simpang Tiga,Pekanbaru - View on map
"Book a room, call the hotel your Flight ETA ( estimated Time of Arrival) and request an Airport pick up. once you are in debarkation lobby , you will see someone from the hotel holding a paper with your name."
Show more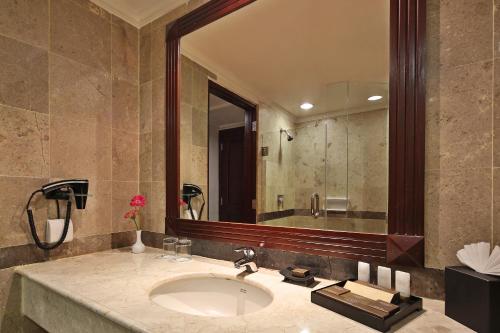 See all
Aryaduta Pekanbaru
Pekanbaru City Center,Pekanbaru - View on map
"The Aryaduta Pekanbaru Hotel is centrally located in the heart of the city on the main road with a great view. The facilities are complete with fully furnished carpeted floors and corridors. The staff is very warm and helpful. The reataurant on the ground floor helped us to choose some vegetarian dishes from the main menus. The chef is friendly and helped to explain each dish. The checkout was simple and easy. The only negative thing which I can mention is that we did not get an airport pickup even it was requested through Agoda's bookings and no communication was made to us on the same."
Show more
See all
See all
Grand Jatra Pekanbaru Hotel
Pekanbaru City Center,Pekanbaru - View on map
"Grand Jatra is a nice and convenient hotel in Pekanbaru. I only stayed one night, but service was prompt and helpful. The room was comfortable with good internet provided. "
Show more
See all
Hotel Dafam Pekanbaru
Pekanbaru City Center,Pekanbaru - View on map
"Its my second experience here. What i like here is the large window for a very affordable room. At another hotel in pekanbaru, with same price u'll only got small room with small window. But not here. Nice to stay here."
Show more
See all
Swiss-Belinn SKA Pekanbaru
Tampan,Pekanbaru - View on map
"Good services,good location,safe,,,what more do you ask?This is the best hotel I have ever stayed in Pekanbaru being a frequent visitor.Next to SKA mall,decent massage next door.Taxi and grab available easily..Food is good,however higher than normal..looking at the ambience and also comfort and of course cleanliness...Highly reconmmended.."
Show more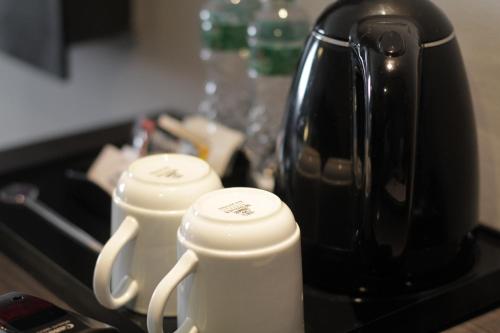 See all
Tjokro Hotel Pekanbaru
Pekanbaru City Center,Pekanbaru - View on map
"This one was good 3 star hotel, the value was for 3 star service quality, the real publish rate actually overrated but then reasonable after discount. Even though this hotel was quite new but not everything clean and in good condition, there was small leak stain in my ceiling and wall room, the bathroom linen looks dirty and has some stain that seems they didn't wash them well. The bathroom amenities is not enough for me, there was no hand soap and small amount of toilet paper, but it's okay because I did prepare it my own instead of asking more amenities, it is need to be prepared when we visiting this kind of town. Breakfast was good and average, quite nice in meal choice, for 3 star hotel it is good breakfast. The staff was neat handed, amiable, and polite, good hospitality service. Actually I expect more from Grand Tjokro group since I had great stay in this hotel group at Yogyakarta which was 4 star, but overall for 3 star Grand Tjokro Pekanbaru was okay and good to stay during business trip, for pleasure and vacation I think you need to upgrade. I wish Grand Tjokro continuing to maintain and develop this hotel and make it better to be great hotel service."
Show more
See all
The Premiere Hotel
Pekanbaru City Center,Pekanbaru - View on map
"the premiere hotel pekanbaru offers an outdoor pool, a spa, and a 24-hour restaurant. the hotel provides two-way shuttles from sultan syarif kasim ii airport, a 15-minute drive away. featuring large windows, rooms at premiere pekanbaru hotel come with a king koil bed and a flat-screen tv. a safety deposit box and free coffee/tea making facilities are also provided. private bathrooms have either a bathtub or a shower. guests can enjoy the hotel's karaoke facilities, or browse items in the gift shop. other facilities include a business centre and a 24-hour reception. wi-fi is free in public areas. open 24 hours, the café serves local and international dishes. room service is also available 24 hours."
Show more
See all
Grand Zuri Pekanbaru Hotel
Pekanbaru City Center,Pekanbaru - View on map
"We are very happy that we made a choice to stay in Grand Zuri Pekanbaru Hotel. It is a strategic place, easy to find Muslim food and there are two shopping complex nearby. The staff and reception are very helpful and friendly. Only one bad experience. Be careful when you go for hotel massaging. The massaging lady tends to force you to pay a big tip. She does not want to accept 10,000 rupiah as tips and ended up taking 60,000 rupiah as tips which I found it to be ridiculous and massage was not done satisfactorily. "
Show more
Fast facts about Pekanbaru, Indonesia
| | |
| --- | --- |
| Accommodations | 302 properties |
| Popular hotel | PRIME PARK Hotel Pekanbaru |
| Popular area | Pekanbaru City Center |
| Nightly rates from | NZ$7 |
| Airport | Sultan Syarif Kasim II International Airport |
Discover the neighborhoods of Pekanbaru
---
5-star hotels in Pekanbaru
---
Traveler impressions of Pekanbaru
We did go somewhere interesting like the place where they make songket. I would go there again if I want to buy a few pieces of songket.
Good place for transit after business trip in Riau Province. Many restaurant surrounding with variety food and reasonable price.
Johan Arifkaja Adi
, Indonesia
It is good area for Transit after having business trip in Riau. Variety of Food in surrounding restaurant.
Johan Arifkaja Adi
, Indonesia
whenever travel to Pekanbaru, you must try the local food and spas. there are plenty of Shopping Malls where you can easily kill your time and grab some nice & cheap stuffs.
Pekanbaru is a new growing city. There are many places to see especially the food. Hope you can enjoy Pekanbaru.
not a good place for vacations, just go here for a business reason, nothing interesting in the city because there are nothing here, very not recommended.
Pekanbaru is more for relaxation.those who like entertainment or night club don't waste time to go there.
pekanbaru is city for Riau and its not a big city and not many acctraction in pekanbaru no beach no maountain but it very popular with nitelife
Heavy equipment industry are emerging here. It's like a new city that really progressive for growth. Oh, nice airport anyway.
This is business city with many business activities, and there is still limitations of tourist attraction
Majority of Pekanbaru city population were Minang origin, Malay origin were living outskirt of City. Most of chinese origin control its economy.
WAN MOHD ZULHAFIZIE
, Malaysia
when you arrived at Sultan Syarif Qasim II International Airport if your not local here, airport staff that dress in blue would want to push your baggage, its doesn't come free as they expect tipping, make sure you have small change for tipping if not, is alright to push the trolley your self.
You will found a lot of culture here. It consist Minang, Malays and Chinese origin. All of them are friendly and live peacefully.
WAN MOHD ZULHAFIZIE
, Malaysia
Many good food in Pekanbaru and surrounding cities there, especially if you like to enjoy Chinese food.
Pekanbaru is a developing city. There is not much attractions in Pekanbaru since it is a city where bussinesman resides.
Muhammad Futhra
, Indonesia
Visit the shopping centre such as Mall Pekanbaru, Mall SKA, Mall Ciputra, Citra Plaza, Senapelan Plaza, Sukaramai Plaza
karena perjalanan bisnis jadi dipekanbaru hanya melihat situasi kota tetapi cukup bagus,karena akses sangat mudah,
This is still a developing city with nothing new for the developed city dweller to explore. But it is a good place for food and to relax, as well as a springboard for the other parts of Riau and Jambi.
Ernest Kwoon Yong
, Singapore
Visit Pekanbaru in winter season, in summer the weather is hot and there is forest fire issue in summer
This city is poor for attractive tourists area, AFAIK there is only one Waterboom, Mosque, and Art Centre.
Its a small town muslim populated and good security, great place to explore but have to travel to remote areasvia rental of private trasportation.
You should go sightseeing to the city center, the buildings in that place is real landmark of the city.
Pekan Baru is a nice place for those who want to have a relax vacation. This place did not have much tourist attraction,the place that I like the most is Muara Takus, the old buddhist temple which was built during the era of Srivijaya.
The weather is quite hot. But there is no traffic. Because Pekanbaru is developing city, it is very for investation there.
Durian is a must during your visit here! You may try the whole fruit or the pancake, ice cream, etc. Beware of the hot-humid temperature.
Pekanbaru is a developing city, not yet Kuala Lumpur but better than Alor Setar & Kota Bharu. The city is clean, people are friendly and unlike Jakarta, you feel safe when walking about Pekanbaru.
Nurul Rahainah Binti
, Malaysia
Compared to the time I visited this city some four years ago, Pekanbaru now is more developed, with more new buildings all over the city, a good sign of progress.
---
Pekanbaru's best hotels with breakfast
---
Explore more travel vacation rentals
More about Pekanbaru
Pekanbaru is the capital of Indonesia's Riau Province in Sumatra, serving as an economic center by heading up the country's oil production.
Getting into the city is made easier by the regional and some international flights that are served by
Sultan Syarif Kasim II Airport
. Hotels near the airport are centrally located in the city center, within easy reach of most attractions and landmarks.
Pekanbaru is often considered one of the cleanest cities in this country, and some of the unique and modern architecture is definitely characteristic of its status as a growing city that's still finding its identity. However, there's still a lot to see and do in this city, such as the
Riau Fantasi Water and Theme Park
, where visitors can take part in cultural and amusement activities. The park is a popular venue for live shows and other public entertainment, making it the perfect place from which to experience a lot of the local culture.
Pasar Bawah Traditional Market
is a favorite destination among visitors to Pekanbaru, offering a chance to explore handcrafted and traditional fares for purchase. Visiting this market is a great way to interact with the locals while experiencing some of the atmosphere of this city, maybe even taking away a few trinkets with which to remember one's trip to Pekanbaru.
Find out where even more of the hotels, attractions, and must-see destinations of Pekanbaru are located by exploring the interactive map on this page.