4-star hotels in Portoroz
---
The hotel is old-fashioned but the room is very large. The staff is friendly and the breakfast is also copious. The hotel is just on Obala, the boulevard along the sea. There is a bus stop in front of the hotel, which leads to Piran frequently. The hotel is located at the edge of Portoroz but everything in town center is reachable on foot. Very convenient. You have to ...
---
The stay was excellent. The receptionist helped us in so many ways: we wanted to leave a day early to catch a boat trip and he arranged that with no problems. There was no parking left for my car and he arranged a special parking for us. And they also provided us with a lunch "take-away" on the last day when we left before the breakfast. All in all, great service, high...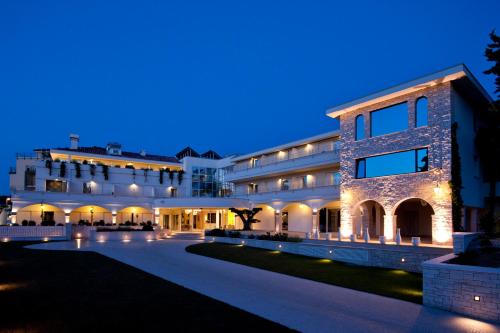 ---
The hotel is great, everything looks brand new. The room was really nice with a big terrace. The staff very helpful and makes the guest feel like at home. It's located in a quiet area and only few minutes on foot to the marina. The hotel has also a parking place free of charge. I wanted to go somewhere for dinner and the director drove me to a restaurant.
---
Spent 4 days. There was no clear explanation where is reception nor anybody for helping us. So we asked people around and finally met a guest of the hotel to help us.
---
5-star hotels in Portoroz
---
The hotel is overall quite nice. However a renovation is definitely needed to justify the price that the hotel is charging for the rooms. The amenities were quite poor, the breakfast selection was appalling. However, the secluded hotel beach was a definite plus, compared to the other hotels on the strip GHB definitely has the best beach. So if you don't mind overpaying...
---
Lovely breakfast. Room was comfortable, bathroom a bit on the small side. A bit disappointing to pay extra for parking. Pool a good plus to this hotel. Portoroz suitable for young children.
---
Traveler impressions of Portoroz
Portoroz is a beautiful place. It is just along the coast of the Mediterranean Sea so just imagine how beautiful the scenery is.
---
Discover the neighborhoods of Portoroz
---
More about Portoroz
To provide our customers with unbeatable rates at hand-picked hotels, Agoda.com represents a full range of hotels from 5-star resorts to budget-priced properties in Portoroz. We offer a wide range of hotels to help you find the best place to stay in Portoroz. Popular areas are Portoroz where visitors can enjoy the quintessential experiences of Portoroz. Portoroz has many attractions to explore with its fascinating past, intriguing present and exciting future. Whatever your plans are, do not miss these things to do: Spinaker, Jonathan Yachting. Save time and money with our customer-friendly booking engine that guarantees you the lowest price on hotels.