Discover the neighborhoods of Tongyeong-si
---
Best hotels & accommodations in Tongyeong-si
Cheapest hotels in Tongyeong-si
5-star hotels in Tongyeong-si
Just booked
Just viewed by other Agoda travelers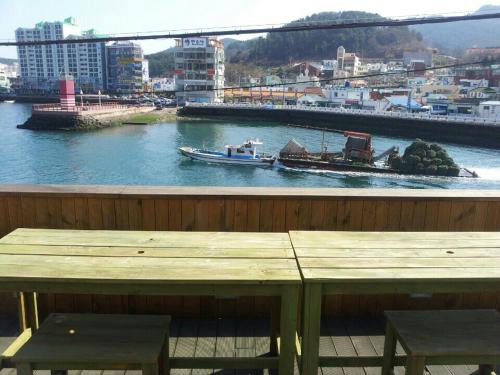 Tongyeong-si's best hotels with breakfast
Breakfast option
Tongyeong Anchovy Tourist Hotel
"We had an enjoyable stay at Benikea Anchovy Hotel. The room was very spacious and the beds very comfortable. Hotel staff were friendly and helpful. Location was perfect, facing the harbour and within walking distance to several tourist spots and the town market. Many eateries in the neighbourhood. This was our 3rd visit to South Korea and Benikea Anchovy Hotel is definitely one of the best hotel stays we had in the country. We highly recommend this hotel to those visiting Tongyeong."
Show more
Breakfast option
Mireuk Mireuk Beer Hostel
"Nice, clean, and comfortable room. We were greeted with a welcome beer after we settled into our room. The ground floor is set up nicely with a stylish and unique seating area where food and drinks are available to enjoy. French press coffee is provided for guests in the morning. The shared bathroom was very clean and well kept and the shower was hot with great water pressure. We would definitely stay here again."
Show more
Breakfast option
Breakfast option
Breakfast option
Tongyeong Tourist Hotel
"Not only does it have a great view but it definitely cater to big groups! Breakfast is a bit small but you can grab all the food you want down in the city which takes 5 minutes to get there by feet."
Show more
Breakfast option
Breakfast option
Episode Guesthouse
"After reading the reviews of other travelers we had high expectations of our stay at Episode Guesthouse run by Jeroen. It did, however, exceed our expectations! Jeroen is very friendly and a great host to hang out with. He will make sure you feel comfortable and have a more than pleasant stay at his Guesthouse. We would highly recommend staying here, also because this is a perfect base to explore the nearby islands which are scattered around Tongyeong. We did the hike on Saryang-do, which was an absolute highlight during this trip."
Show more
Breakfast option
Yours Guesthouse in Tongyeong
"I had a really pleasant stay at Yours Guesthouse. Price was affordable, room was clean. I went there during winter and the floor heating was really good. Owner was really friendly and helpful in recommending places of interest and restaurant to us. Owner could speak basic english but we were conversing in Korean most of the time. 10 minutes walk away from the cable car up Mireuksan (the view at the peak of the mountain was breathtaking) Breakfast provided includes fruits, eggs, milk, toast and cereal. There were jams and peanut butter spread for the toast. Would definitely stay at Your Guesthouse if I ever visit Tongyeong again."
Show more
Breakfast option
More about Tongyeong-si
The historic port city of Tongyeong is located in the South Korean province of South Gyeongsang. The city is accessible via the expressway linking Busan and Geoje, making it a lot easier for buses and cars to reach the city.
Tongyeong is a great placefor taking a few days off and just relaxing by the coastline, taking in the views and enjoying the local cuisine. It's also home to the
Geobukseon Turtle Ship Replica
, which is a remake of the naval ship that was used to defend the country from a Japanese invasion. The ship is now a tourist attraction, along with the
Nammangsan Sculpture Park
and the historic port. The city is also famous for a special Korean-style sushi, as well as offering many other local cuisines to sample between days spent exploring the landmarks and public parks.
Find out where the rest of Tongyeong's hotels, attractions, and must-see destinations are located by exploring the interactive map on this page.