Discover the neighborhoods of Nanning
---
Best hotels & accommodations in Nanning
Cheapest hotels in Nanning
5-star hotels in Nanning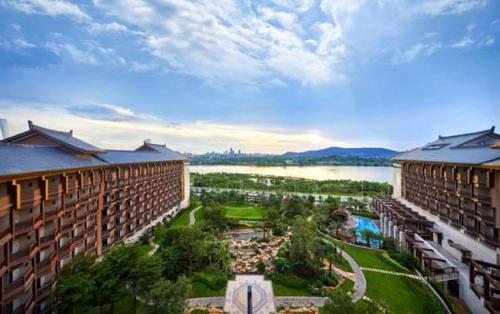 Nanning Red Forest Hotel
"It was a memorable experience in Nanning when I was there on 16-25 Oct 2010, because I chose the right hotel via Agoda. Honestly I didn't have any idea about Best Western Premier Nanning Red Forest Hotel when I saw it in Agoda, but it's mentioned it's near the exhibition/convention hall, where I participated at one CAEXPO exhibition there. Thus, I just took a risk when I booked this hotel. When I reached the hotel, it's beyond my expectation. Best Western Premier Nanning Red Forest Hotel was a luxurious hotel with spacious room. And the very good thing is its location, as it's located on the opposite of the exhibition/convention hall."
Show more
Golden Bauhinia International Hotel Nanning
"excellent!! Only complaint is that I could not obtain any of the pillows they suggested. Pillows on bed were much to large and firm for me. Enjoyed that housekeeping could clean my room mostly in the afternoons when I was away from the hotel. Wonderful lighting inside room accommodations. Perhaps not enough drawers to place clothing but was not much of a problem overall."
Show more
Ming Du Lakeside Hotel Nanning
"The staff is doing their best, but the level of English is poor. This said, I went to a 5-stars American hotel in Nanning and the level of English there was also equally poor!"
Show more
Just booked
Just viewed by other Agoda travelers
Traveler impressions of Nanning
The area is very hard to get taxi. The local tour is not very friendly. There seems quite a feel attractions but due to local tour is not very friendly hence not manage to get many sightseeing and the local tour charges is very expensive.
To shop for local food, dried food and others, the market around train station is good place to shop.
I found few people speaking English here. But everyone was friendly and it was an interesting place.
Nanning is a great city to visit. A variety of different places to eat. Chinese, western and other Asian foods are available.
Currently many roads affected by building of underground railway, diversions and long delays possible.
As with all Chinese cities lot of people. Plenty of restaurants in all price ranges located all over the city, restaurants and hotels around station area best avoided as better quality can be found a short distance away.
Fantastic - Clean City and very modern. Unexpectedly the progress of building this city is very good.
The food is very delicious and Nanning folks are friendly. The public toilets are clean. Shopping is cheap.
Didnt get much help in Nanning for sight seeing as English was a major issue. There were no brochures in English even the International Travel Agent could not help with tours.
---
Nanning's best hotels with breakfast
Explore more travel vacation rentals
Find the Perfect Type of Accommodation
---
More about Nanning
Nanning is known as the Green City due to its pleasant climate that nurtures evergreen trees and fragrant flowers. It makes a great base for exploration as it neighbors Guangzhou, borders Vietnam, and is close to Hong Kong and Macau. The region is a thriving commercial and communication center as it opens China to Southeast Asia and is served by Nanning Wuxu International Airport. The agricultural sector here also supplies the whole of Guangxi.
Opportunities in Nanning are aplenty for both the business and leisure traveler. As a regional capital with a booming import and export market, business travelers have ample resources at their disposal, including excellent accommodation choices within the city center. Those traveling for work also get to enjoy the same splendors the leisure traveler does, including a number of parks and gardens,
museums
, and natural attractions. Detian Waterfall, Nanhu Lake Park, and Mt. Qingxiu are three of the city's must-see destinations. Exploring the local cultures will also be a treat as there are 30 ethnic minority groups residing in the region. Nightclubs, bars, and coffee houses offer respite during breaks away from the itinerary, and all is made that much more convenient thanks to an easily accessible transportation center.
Find the most suitable accommodation for you by clicking on our interactive map and exploring Nanning for hotels and must-see destinations.