4-star hotels in Ballina
---
Easy stay in Ballina, THE HOTEL SUITED MY NEEDS AS I WAS IN TOWN FOR BUSINESS ... FAST INTERNET, FOOD ON SITE WAS EXCELLENT .... HAD ALL NEEDED AND ACCOMMODATING STAFF.
---
It has been a pleasant stay...staff at reception was very helpful and friendly....room and facilities were clean......only thing was pillows were a bit hard....not a big deal....overall it was very good!.....good location .....quiet area.....you can have a good sleep and restaurants just close by......lastly....it might be good to change their hotel sign to "Best West...
---
Grandview was a wonderful surprise in Ballina. The apartment was clean, modern and had a lovely view over the beach. Management were very warm and welcoming. Highly recommended.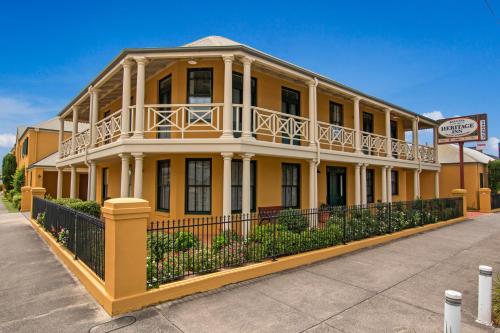 ---
Was pretty clean. Only 1x bottle of body wash which isnt enough when you want to use the spa bath. They also dont supply conditioner for your hair so I was lucky I brought some just in case. Staff weren't very friendly and didn'toffer recommendations as we'd never beento Ballina before, except the pool guy who said good morning. Bed was quite comfortable. They charg...
---
Only a stopover in Ballina enroute to Brisbane but loved this little motel. The decor was lovely, very well appointed and would definitely stay there again.
---
the facilities were excellent and hosts Sandi and Martin were absolutely charming and went above and beyond helping us. The little touches like the decanter of Port together with great coffee was lovely. Martin even took us to the airport. Thank you so much for a lovely couple of days relaxing and enjoying Ballina.
---
Traveler impressions of Ballina
They have a fence at Lighthouse Beach where my husband and I left an engraved padlock. It is all the rage in France on bridges, where couples leave a padlock and throw away the key, so their love is forever.
Its a country town on the coast that feels like it never emerged from the 60's/70's. There's a blandness about the place I find quite claustrophobic.
Two hour drive from the Gold Coast very easy, many beaches to choose from, lots of cafes. A short drive to surrounding attractions, Macadamian Castle, Ballina golf course, main street offers fashion shops,coffee shops, everything for the traveller.
---
Discover the neighborhoods of Ballina
---
More about Ballina
Agoda.com features accommodation options from all over town. From high end international chain hotels to family run guesthouses, demands of all travelers are met. With over 69 different establishments, there is a great variety to choose from. East Ballina, Uralba, Ballina and all other popular areas have a vast choice of hotels to offer. Ballina has many attractions to explore with its fascinating past, intriguing present and exciting future. There are so many things to do, you may want to stay an extra week or so to experience them all. Save time and money with our customer-friendly booking engine that guarantees you the lowest price on hotels.