Fast facts about Blue Mountains, Australia
| | |
| --- | --- |
| Accommodations | 519 properties |
| Popular hotel | Sky Rider Motor Inn |
| Popular area | Katoomba |
| Nightly rates from | R148 |
5-star hotels in Blue Mountains
---
Lilianfels Resort and Spa has given me and my friends an unforgettable Blue Mountains experience. After a long trip with the train from Sydney CBD, the friendly staff and the comfortable room gave us a space to rest. The victorian design also makes Lilianfels feels homey. I love how the curtains drop from the ceiling, covering some part of the bed, it gives some kind o...
---
Great Hotel for a special occasion, but don't get sucked in by a the all inclusive tag, my bill came to $500 extra at the end of the weekend, my fault for not reading the small print I suppose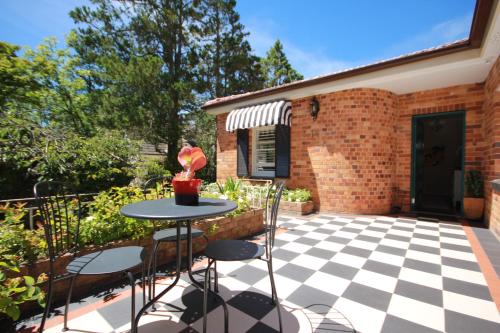 ---
Perfect for winter or summer with all the mod cons one would need. Beautiful interiors, plush beds and pillows. I cannot wait to stay again
---
Traveler impressions of Blue Mountains
The Blue Mountains are not impressive from size as compared to other mountains but they are very amazing in there own right.
The Blue Mountains is made up of many hamlets and plenty of bush. Be prepare to walk and explore. There are many hidden gems away from the shops and quick tourist stops.
Great for the bush walker, sightseeing, relaxing. A very beautiful and unique part of the world. A varied range of actives for all ages and fitness levels.
Katoomba is the main city in the blue mountains, it historically is a great place to explore, but as a city now, it lacks a lot of things, one of the biggest is people, the place is empty.
All of the towns in this area have historical and natural significance. Transport is easy, with hop on hop off bus and tram availability .
If you love scenery and bush walking, don't forget to pop by blue mountains for lots of breath taking views!
Rain (follow by Mists) can come at any time, and if so you can't have any activities. But if the skies are clear you should go to cahills lookout, Wentworth falls lookout & govetts leap lookout.
There is much to see and do here. How long you stay and what you do will depend on your interests, fitness and willingness to explore.
A very good area to view a different aspect of Australian life. Breath taking views from some of the lookouts.
Check out the three sisters, echo point, katoomba falls and scenic world, they are well worth the effort
A breathtakingly beautiful part of the world with many things to see and do during the day. At night, just sleep to recover.
Approx $8 train trip from Sydney Central Station to Katoomba Train Station. Red hop-on hop-off Explorer bus for $25 per day stops at major attractions.
Leura retains the focus as the place to shop and to check out the dining - however don't neglect Katoomba for a nice selection of cafes too.
The tour buses will give an initial introduction to the area and are recommended to start with. Scenic World at Katoomba and the Three Sisters are a must.
We enjoyed our stay here as we visited the Jenolan Caves, Scenic World, and basically enjoying the sights and sounds of nature!
Try the yellow Deli restaurant at kabooma. This restaurant food is unique with good baramandi and chicken meal.
Chin Hock James
, Singapore
Blue Mountains have superb view of the Three Sisters and the valley area. The choice of food is, however, quite limited.
Man Chung
, Hong Kong SAR, China
The Blue Mountains offers fantastic scenery - is a great place to head to if you want to relax and escape the hustle and bustle of Sydney.
One of the best places in the world. Glorious lookouts down onto majestic mountains. Exciting walks. Rare because everything takes place at the top of the mountains rather than from lower down.
enjoy the Mountain atmosphere, natural and fresh, different from city, quiet and friendly here, the life become slow and enjoyable.
Don't expect fancy shopping. This is a romantic getaway type place, or place for young families to go exploring.
several ares to visit with great scenery driving is no problem plenty of restaurants cafes several old places to visit loved the Carington
There is a lot to see and do (organised tours and walks), the architecture is beautifully historic and the shopping is quaint.
Only go if you like sight seeing. Alot of trees and nice scenery if you like photography this a good place
bush walking in the blue mountain national park is great. We really enjoyed it. But it was foggy sometimes.
Great for long or short walks with stupendous views. If it rains visit the Luella Toy Museum (young and old will like it).
Opening hours of most places are very short. Common Ground Cafe and high tea at Lilianfels are excellent! A slower pace of life.
Remember to check the weather before going to Blue Mountain. The first day I traveled there, it was foggy with 6 degree.
YUET
, Hong Kong SAR, China
The cable cars are worth to take especially the Sky Railway. Also the best way to travel around is to drive, taking those explorer bus might waste a lot of time.
Blue mountains have much history, magnificent rock formations, history of early settlers, local fauna and our native gum trees.
---
Blue Mountains's best hotels with breakfast
---
Explore more travel vacation rentals
More about Blue Mountains
The Blue Mountains is a region to the west of Sydney, showcasing majestic scenery and aboriginal culture. There are a number of towns and national parks within the area that cater to the traveler and offer breathtaking views. The lower cities are more an extension of Sydney's urban area, but those up higher have a more mountain way of life. Due to its close proximity to the city, the region is easily accessible by car.
The attractions of the Blue Mountains are easy to find as it is every square inch of land in the area. But there are some specific sites and areas that should be visited. Katoomba is the largest and most visited town of the region, and it hosts Echo Point, Scenic World, and shopping. Mount Victoria is the highest point in the mountains, and Medlow Bath has the Hydro-Majestic and views along the
Megalong Valley
. These destinations are found up in the mountains. Within the lower areas are Springwood, the second largest community after Katoomba, and Glenbrook, an excellent destination for those who want a quiet getaway with access to bushwalks and swimming holes. Other than the towns, top attractions include the
Zig Zag Railway
, the Giant Stairway, the Three Sisters, and
Wentworth Falls
.
Accommodation in the Blue Mountains range from camping to resorts. A large selection is available in Katoomba and Blackheath, and many more are scattered throughout the area with most being within the vicinity of at least one of the region's attractions. Find the most suitable accommodation for you by clicking on our interactive map and exploring the Blue Mountains for hotels and must-see destinations.