Fast facts about Essaouira, Morocco
| | |
| --- | --- |
| Accommodations | 472 properties |
| Popular hotel | Hotel Des Iles |
| Popular area | Essaouira City Center |
| Nightly rates from | R246 |
| Airport | Essaouira-Mogador Airport |
Discover the neighborhoods of Essaouira
---
4-star hotels in Essaouira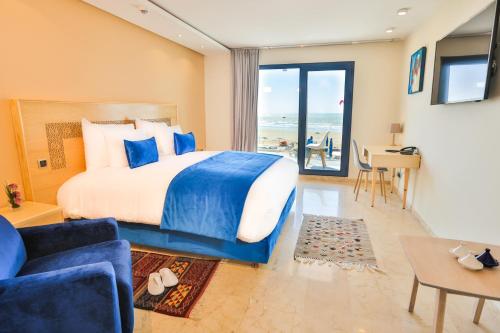 ---
The only things that let this hotel down was that the air con was broken and it was over there New Years so they could not get anyone out to fix it. In all fairness they did give us a fan but when its 35 degrees at night it was hot. The breakfast got very boring after the 3rd day (we stayed here for 6 nights) Overall I would very highly recommend this hotel, and the st...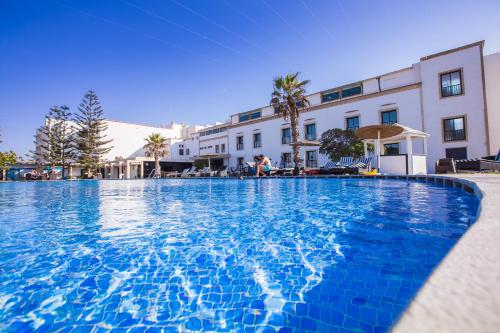 ---
Booked in for 3 nights, solo traveller, to chill. Reasonably priced (lower end cost for hotel with big pool!). Decor a bit dated but comfortable. Stayed on one of bungalows, and spent days relaxing by pool. Paid €8 one day for breakfast - buffet with breads, crepes, fruits, salads, coffee. Location is perfect. Directly on the beach and next to medina. Staff incredibly ...
Stephanie
, United Kingdom
---
5-star hotels in Essaouira
---
The hotel has lots of staff always willing to help! The exterior is of a high standard, clean & contemporary, the rooms were clean however the upkeep like bubbling walls & dirty cushions on the balcony did let it down slightly. Shuttle to the medina daily every hour is helpful, small area to purchase memorabilia & a few homely restaurants. Tax charges at the end of the...
---
This was the most expensive hotel of my holiday and the only one that had no wifi in the room. It is indeed a luxury hotel with great beds, good shower and tastefully decorated room. I found the reception desk to be brusque and in some ways unhelpful. She was going to charge me for the room but I had already paid through Agoda. There is a huge outdoor pool but wi...
---
We had booked a beautiful suite with sea view. However, upon arrival, we were disappointed to be allocated a room with a view of the medina walls and a sight to someone's underwear laundry. The room looked totally different from what we had booked and the hotel insisted that this was the room that was allocated through the booking site (we booked via agoda and hotel re...
---
Palatial rooms with beautiful decoration. It would be a lovely getaway for a couple. The location is ideal on the edge of the old city adjacent to the beach. My one gripe was that I wanted a swimming pool and it was listed on Agoda as such. In fact, it only has a hammam.
---
Traveler impressions of Essaouira
---
Essaouira's best hotels with breakfast
---
Explore more travel vacation rentals
More about Essaouira
From opulent luxury hotels to kitschy boutique hotels, you can book your hotel room in Essaouira at the lowest rate guaranteed on Agoda.com. Whether traveling for business or leisure, Essaouira is an outstanding city to visit with over 422 hotels to choose from. Popular areas are Essaouira City Center, Essaouira, Other where visitors can enjoy the quintessential experiences of Essaouira. Essaouira has many attractions to explore with its fascinating past, intriguing present and exciting future. There are so many things to do, you may want to stay an extra week or so to experience them all. You can depend on Agoda.com to help you find the best bargains on Essaouira hotels.