4-star hotels in Guatemala City
---
Stayed here for two nights in February and will not forget the cold rooms (16-17 degrees Celsius). All attempts to heat up the room with the aircon failed. When I called them, they said the heater doesn't work and that they don't have heating in Guatemala (although the aircon unit had a heating function). So I had to work with my jacket and shoes on. Not acceptable for...
---
Guatemala City has some good and some not so good neighborhoods; this hotel is located on a a good one, where you can feel safe walking around. The hotel room was superb, staff was courteous, hotel facilities are world-class, for a very reasonable pricing. Walking distance to a mall also makes things easier. If this hotel is sold up for the needed dates, try getting ...
---
i was there to catch a flight from guatemala from la antigua, so i decided to stay over for a night. the hotel is located nicely in town, where it is near the airport, in which the hotel provides a free shuttle to the airport. also there is a huge supermarket 5 mins walk away and several fast food joints.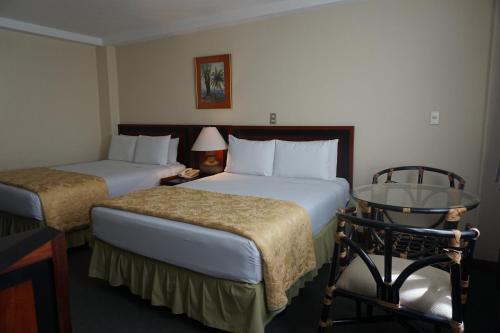 ---
Got a great price through Agoda, hotel is in one of the safer districts of Guatemala City. I was unaware of the free shuttle service from Airport so hadnt used. However they allowed me to use it to go and collect my Friend from the airport which I thought was very good of them. Even has small gym that I was unaware of. Best thing was the guy behind front desk who was e...
---
Pros- location, new modern hotel; rooms are spacious and tastefully designed; great gym facility; friendly and professional staff. Cons - None
---
5-star hotels in Guatemala City
---
pricey food at the restaurant. when i asked for mosquito spray during the dinner, the response is there is none at the restaurant and you have to buy yourself a spray for almost USD10. not impressed.
---
Pleasantly surprised but this hotel, clean, reasonably priced and the staff efficient. Only down side is the ground floor bar is way too loud to be able to have a decent conversation
---
More about Guatemala City
Agoda.com offers a great choice of accommodation in Guatemala City to suit every budget. Whether traveling for business or leisure, Guatemala City is an outstanding city to visit with over 339 hotels to choose from. Visitors have no trouble associating La Aurora International Airport, Centro Cultural Metropolitano with Guatemala City. The city is served by 1 airports which means it is accessible from almost every major city in the world. There are so many things to do, you may want to stay an extra week or so to experience them all. Save time and money with our customer-friendly booking engine that guarantees you the lowest price on hotels.