11 best hotels in Hermanus
Our top picks
Lowest price first
Nearest to
Best reviewed
Fast facts about Hermanus, South Africa
| | |
| --- | --- |
| Accommodations | 518 properties |
| Popular hotel | The Marine-Hermanus Hotel |
| Popular area | Hermanus |
| Nightly rates from | R196 |
Discover the neighborhoods of Hermanus
---
5-star hotels in Hermanus
---
A Grand old Lady and an icomic Hermanus Hotel. The location is stunnig as you can watch the...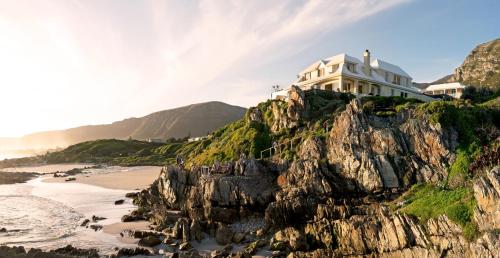 ---
Gorgeous hotel , impeccable service , utterly friendly staff and management , nice food, al...
---
Our stay was very pleasant. the hotel manager was beyond helpful and friendly. The breakfas...
---
I adored this small, chic and discrete boutique hotel. The room was exceptional (big and ta...
---
Best place we've ever stayed at in South Africa!!! You can definitely see the whales from t...
---
Lovely welcome from hosts. Easy to find along the main costal road. Parking safe and secure...
---
This is a wonderfully run B&B offering excellent accommodation & 5 star cuisine. A small n...
---
Traveler impressions of Hermanus
GET AWAY FROM THE STRESS OF CITIES AND ENJOY THE TRANQUIL ENVIRONMENT OF HERAMANUS. HAS BEAUTIFUL BEACHES AND EXCELLENT MARINE DRIVE.
RISHICHAND SOOKAI
, South Africa
A lovely place with spectacular coastline. With the prospect of Whale watching during the breeding season.
Hermanus is beautifully positioned between the mountain and the sea. Lots to do, from wine farms, restaurants, shopping, shark diving, hang gliding, wind surfing, paragliding, cycling, walking etc.
Hermanus is about 1.5 hours from Cape Town. It is a great place to visit during Sept-Nov as there is a very good chance of seeing whales.
---
Hermanus's best hotels with breakfast
---
Frequently asked questions
What's the typical price of a hotel in Hermanus?
The average price for a 3-star hotel in Hermanus is USD 65. The average price for a 4-star property in Hermanus is USD 105. The typical price for a 5-star resort in Hermanus is USD 189.
What's the typical price of a hotel in Hermanus this evening?
The average price for a 3-star hotel in Hermanus this evening is USD 65. The typical price for a 4-star resort in Hermanus tonight is USD 97. The average price for a 5-star property in Hermanus this evening is USD 164.
What are the very best accommodations found in Hermanus for individual travelers?
Hotels found in Hermanus which are exceptionally rated by single travelers are Harbour House Hotel, Whale Coast Ocean Villa and House on Westcliff.
What are the best resorts located in Hermanus for business visitors?
Resorts around Hermanus that are very highly rated by business visitors are Harbour House Hotel, Whale Coast Ocean Villa and House on Westcliff.
What resorts around Hermanus are exceptionally rated with regards to hygiene?
Accommodationsin Hermanus that is well rated for cleanliness include Hermanus Beachfront Lodge - De Chatillion Collection, 7 on Marine and Mulligans Guest Lodge.
What hotels around Hermanus are exceptionally rated with respect to facilities?
Accommodationsfound in Hermanus which is highly rated regarding amenities include Oude Schuur Boutique Guesthouse, Apartment Dolphin House and Penguino Guesthouse.
What accommodations found in Hermanus are exceptionally rated with respect to service?
Propertiesfound in Hermanus which is well rated with regards to service include Hermanus Beachfront Lodge - De Chatillion Collection, One Marine Drive Boutique Hotel and Hermanus Manor.
What are the top hotels in Hermanus that has complimentary parking?
Accommodations which has complimentary parking around Hermanus which are well rated include C'estCa Cottage Modern Luxurious Sounds of the Sea and Swallows Rest 2.
What are some upcoming holidays in Hermanus?
Upcoming holidays in city_name consist of Human Rights Day on 3/21/2023, Good Friday on 4/7/2023, and Family Day / Easter Monday on 4/10/2023.
Are international tourists allowed into Hermanus?
Foreign visitors are allowed into Hermanus, according to our most up-to-date information. Due to evolving restrictions, we strongly recommend that you browse here for further information.
Is quarantine required for unvaccinated visitors to enter Hermanus?
Quarantine is not required for unvaccinated tourists to enter Hermanus from outside the country. For up-to-date and detailed information on travel restrictons, please pay a visit to the official websites of the travel authority or government of the country you wish to visit, or go to here.
What vaccines are accepted in Hermanus?
All vaccination types are currently acknowledged and accepted by the national health authority of the country that includes Hermanus.
Explore more travel vacation rentals
More about Hermanus
The seaside town of Hermanus is found on the south coast of South Africa. It is one of several popular stops along the Garden Route. The city offers a wide mix of adventure and nature activities that draw many travelers each year.
Cape Town International Airport
is the popular gateway to the area, followed by a scenic drive to Hermanus.
Travelers attracted to the ocean and its bounty of marine life and water sports will find great pleasure in Hermanus, where much revolves around the coast, especially
whale watching
. These mighty creatures can be enjoyed during their mating season from boat tours, land-based tours, 3-seater flights, and even kayaking. Outside the whale watching season, there are plenty of penguins, seals, birds, and even the African safari to be enjoyed. Laidback tourists can spend their days enjoying wine tours, while the more adventurous can take part in the likes of paragliding, sea fishing, and mountain biking.
Accommodation in Hermanus is never too far from the coast, unless you choose one of the more inland options centered between a number of national parks. But the main mass of hotels, guesthouses, and bed and breakfasts can be found along the R43 Highway, between Hoek-van-die-berg Private Nature Reserve and Klein River Lagoon. Be sure to check out the interactive map of Hermanus for information on hotel locations, attractions, and must-see destinations.