11 best hotels in Langebaan
Our top picks
Lowest price first
Nearest to
Best reviewed
Fast facts about Langebaan, South Africa
| | |
| --- | --- |
| Accommodations | 426 properties |
| Popular hotel | The Farmhouse Hotel |
| Popular area | Beachfront |
| Nightly rates from | R451 |
4-star hotels in Langebaan
---
During my visit there construction is in the way with a new area. Place was noisy with the ...
---
Excellent if you are kite surfing in Langebaan or Sharks Bay. Beautiful spot, clean rooms, ...
Corrina
, Hong Kong SAR, China
---
We had a wonderful time At the Rocks. Fantastic breakfast and the rooms were superb. It was...
---
We return to Crystal Lagoon Lodge on an annual basis as it really is an incredible place to...
---
We've been to langebaan a few times & this was our second time at farmhouse. We quite like ...
---
Web site as well as staff said that there were stoves in the rooms, being self catering you...
---
very nice staff, and the plave even has a great beach view.
---
Langebaan's best hotels with breakfast
---
Everything was above my expectation well done club mykonos
---
It is a lovely place, not far from the beach with a lovely view.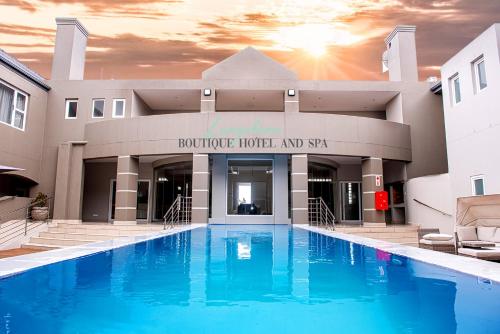 ---
We were very happy with Makrios even though we were there for only 1 night.
---
Frequently asked questions
What's the typical price of a property in Langebaan this Friday and Saturday?
The average price for a 3-star resort in Langebaan this Friday and Saturday is USD 49. The typical price for a 4-star property in Langebaan this weekend is USD 66. The typical price for a 5-star resort in Langebaan this Friday and Saturday is USD 94.
What are the most popular places to stay in Langebaan?
A handful of of our most popular properties in Langebaan are Club Mykonos, Alabaster Box B&B and Crystal Lagoon Lodge.
What resorts located in Langebaan are highly rated with regards to value for money?
Resortslocated in Langebaan which is highly rated regarding value for money include Le Mahi Guest House, Sunset Heights and Beach Style Cottage.
What accommodations in Langebaan are very highly rated with regards to room comfort and quality?
Accommodationsfound in Langebaan that is very highly rated for room comfort and quality include Sandra's Guest House, Club Mykonos and Makarios Bed and Breakfast.
What are some of the prime getaway rentals in Langebaan?
Getaway rentals in Langebaan that is highly rated with respect to service include WestBed and Westerlig.
What are the best hotels in Langebaan that have restaurants?
Resorts which have restaurants located Langebaan that are highly rated include The Windmill, 679 Morsvalla Way Langebaan Golf Estate and 679 Morsvalla Way Langebaan Golf Estate.
What are the preferred accommodations around Langebaan with a private beach?
Hotels with a private beach in Langebaan that are highly rated include Malindila Apartment & House, Malindila Apartment & House and Malindila Apartment & House.
What are the best hotels in Langebaan with fitness center?
Hotels which have fitness center around Langebaan that are well rated include 679 Morsvalla Way Langebaan Golf Estate, 679 Morsvalla Way Langebaan Golf Estate and 679 Morsvalla Way Langebaan Golf Estate.
What's the best rated resort in Langebaan close to a amusement park?
Highly reviewed properties in Langebaan next to amusement park consist of WestBed, Flower Route House and 2 bedroom apartment in Langebaan.
What are some upcoming holidays in Langebaan?
The aproaching holidays in city_name consist of Day of Reconciliation on 12/16/2022, Christmas Day on 12/25/2022, and Day of Goodwill on 12/26/2022.
When should I make a trip to Langebaan?
Last year, Langebaan gained its most visitors during the month of January. Nevertheless, you may want to consider other months during which there are less tourists, as the most popular destinations will be less packed.
Is pre-departure covid test necessary for unvaccinated tourists to enter Langebaan?
Proof of negative pre-departure COVID-19 test results is not required is currently mandatory to enter Langebaan. For updated and in depth information on travel restrictons, remember to stop by the official websites of the travel authority or government of the country you wish to visit, or go to here.
Explore more travel vacation rentals
More about Langebaan
Bordering the scenic West Coast National Park is the town of Langebaan and a paradise that is internationally acclaimed for its wetlands. A drive north along the coast from Cape Town takes about 90 minutes to reach Langebaan. This coastal town on Saldanha Bay attracts the nature lover who enjoys a bit of the modern city life.
A highlight for visitors to the area is an experience in kitesurfing. The area is popular for the sport and there are even several schools that teach kitesurfing. Another unique experience Langebaan provides is the
West Coast Fossil Park
which showcases the ancient Big Five, or go for checking out the Slow Five which includes the tortoise, whale, and dune mole.
West Coast National Park
and Langebaan Lagoon are a certain must to visit with their thousands of migratory birds, a range of African flora and fauna, an even the oldest known footprint of a modern human. More modern ways of enjoying the area include golf at the country club or trying your luck at Club Mykonos casino.
Holiday homes and guest houses are aplenty within the Langebaan area and make for a true home-away-from-home stay. Conveniently set within town or along the coasts, budget travelers and seekers of luxury are sure to find the most accommodating stay. Find the most suitable accommodation for you by clicking on our interactive map and exploring Langebaan for hotels and must-see destinations.