4-star hotels in Limassol
---
We stayed at the hotel on the 15th of August which is the peak holidays season in Cyprus and that's why hotels increase their prices a lot. The price of € 160 per night was cheaper than other hotels in its own class in Limassol but still not cheap enough to justify some of its irregularities. First of all, the rooms should have been cleaner and more modern just how roo...
---
We have stayed before and it's s nice hotel we were rather disappointed however that the indoor pool was closed for renovations and we were not informed prior to arrival. We had a room on the 4th floor and the noise from these works was constant drilling it was really not acceptable considering the cost of the hotel and we had visited for 2 nights to participate in the...
---
we live in cyprus and always have xmas dinner at a hotel and stay over for the evening entertainment.we have done this for the last five years, and we wear so impressed last year we decided to stay this year as well and we wear not disappointed.
---
Poseidonia is a very good hotel. Rooms are huge with excellent views and good facilities. The staff was great. Hotel is perfectly located at the seafront, but a bit far from center of Limassol (15-20min by car). The restaurant is inexpensive, but closes early (9:30pm). The only shortcoming I must stress was the poor sound isolation. Many rooms are interconnected and o...
---
5-star hotels in Limassol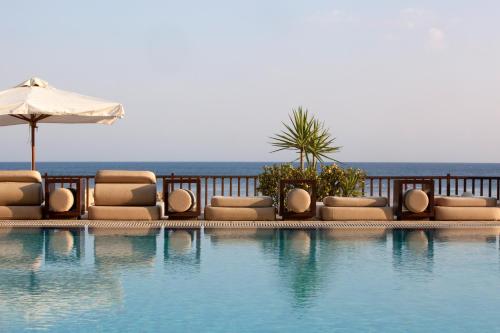 ---
I enjoyed it here so much that I brought myself another 2 nights for this week. The service is amazing, such friendly staff ! The buffet breakfast is also delicious , many options available for all . The rooms are cosy,tidy, modern and quirky which I absolutely love . Highly recommended
---
The hotel itself is very nice, the lobby, lounge bar and swimming pool are 5 stars and breakfast is very good. Room was basic but clean with a nice balcony, the bed was uncomfortable. We found the service at times very good and other times not professional enough. For example, it was the first time i ever had to carry all my suitcases by myself to the room, no one offe...
---
Traveler impressions of Limassol
---
Discover the neighborhoods of Limassol
---
More about Limassol
Finding the cheapest price for top hotels in Limassol, Cyprus is easy with Agoda.com. With over 899 different establishments, there is a great variety to choose from. Limassol Suburbs, Other, Agia Fyla and all other popular areas have a vast choice of hotels to offer. Limassol has many attractions to explore with its fascinating past, intriguing present and exciting future. If you wish to pray or contemplate amazing architecture, 27 places of worship await you. You can depend on Agoda.com to help you find the best bargains on Limassol hotels.