4-star hotels in Motueka
---
My brother and I stayed here during our month long exploration of NZ by motorcycle in April 2018. Good location up on a hillside overlooking the beach which is a nice fifteen minute walk through the rain forest. Indoor pool and hot tub as well as outdoor hot tubs and a pool. The property doubles as a day spa but this is not a problem and is in fact a benefit as I was a...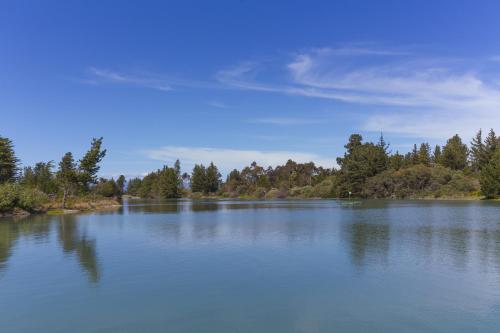 ---
Plan at least two nights in this place. This place is located on a island, which can only be reached by boat. After we booked our location we have received a friendly call from Gail who explained us all the points we need to prepare to get to their location, don't forget to buy food as well. The only connection to main land is a boat :-) We were really amazed by the fe...
---
This property was one of the highlights of our trip. Such a beautiful location, friendly hosts and comfortable room with a wonderful view. We would definitely stay again if we have the opportunity to visit New Zealand again.
---
This was the last stop on our New Zealand tour and we were pleasantly surprised by how spacious the accommodation was and how well equipped. We stayed for 4 nights and found Motueka to be a good base for exploring Abel Tasman.
---
Although the weather is bad when we were there but we are glad we book this homestay. It is so comfortable and cozy that you can stay in for whole day. The kitchen equipment is very complete and you can easily prepare a nice meal. Owner provide bicycle too. Besides, we love the kunekune pig in the backyard. Its name is Georgia. We took alot of picture with it :) not to...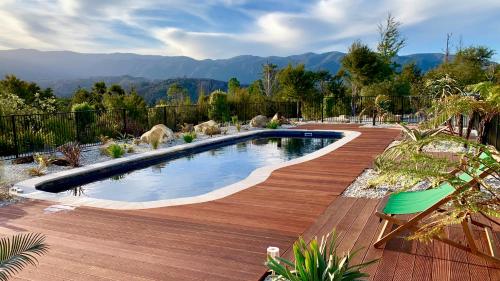 ---
This place is amazing. A credit to the owners. Hospitality well done, always there but never seen. Tasteful decor. Comfortable and very homely. Wonderful breakfast. Not to be missed if you are in this area. Only 10 mins from Split Apple Rock Beach.
---
5-star hotels in Motueka
---
My brother and I had a remarkably wonderful time at The Resurgence. A beautiful spot: one could do fine just to stay on the grounds. The bush chalet was immaculate, attractive, efficient, had an excellent kitchen, and sported a view of which one never tired. The Resurgence is conveniently close to Kahurangi National Park and Abel Tasman National Park. Dinner at the L...
---
The room was spacious with extra sleeping beds available. We had a sofa and TV with kitchenette and basic bathroom, but with everything we needed. The units are opposite the pool, but as we were out during the day, we didn't notice any noise. It was quiet at night. The staff were very helpful when we wanted to book some Abel Tasman adventures.
---
Traveler impressions of Motueka
Well serviced city with plenty to do. Good eating. Good shopping. Good movie theatre. Good church services.
---
Discover the neighborhoods of Motueka
---
More about Motueka
Agoda.com offers a selection of the very best hotels in Motueka, New Zealand to ensure your visit fits your expectations. With over 59 different establishments, there is a great variety to choose from. Many areas, each with a distinctive atmosphere, are just waiting to be discovered across the city. Motueka has many attractions to explore with its fascinating past, intriguing present and exciting future. There are so many things to do, you may want to stay an extra week or so to experience them all. Book your next trip to Motueka with Agoda, backed by our low price guarantee.