Hotels and more in Nakhonratchasima
Our top picks
Lowest price first
Nearest to
Best reviewed
Fast facts about Nakhonratchasima, Thailand
| | |
| --- | --- |
| Accommodations | 620 properties |
| Popular hotel | Sabai Hotel Korat |
| Popular area | Nakhonratchasima City Center |
| Nightly rates from | R87 |
| Airport | Nakhonratchasima Airport |
4-star hotels in Nakhonratchasima
---
This Hotel is very acceptable. The staff are friendly and speak adequate English. The rooms are well presented though very similar in design and style as many Hotels in the price range. It is a shame that information in the room is lacking in everything except a detailed explanation of every possible item in the room and how much it will cost you if damaged or missing ...
---
Last minute booking and very lucky to have chosen this hotel. Staff are professional, helpful and make your stay a happy experience. Rooms are good, clean and have the addition of a kitchenette which could be useful for a family. Breakfast is provided and is satisfactory it can get very busy before 0830 with the business men needing to eat and go earlier. Best rest...
---
the purpose of my trip was to attend a running event. I booked this hotel as it was nearby the venue. The services provided were outstanding - the staff were friendly and helpful, transportation was provided for all runners to and from the hotel and breakfast hours was also extended to accommodate for us afterwards. Overall one of the best hotels I've been to and highl...
---
The nearby Dusit Princess was full, but found this hotel for a good price and booked. Good choice. Adjacent to new shopping complex with plenty of restaurants. Hotel is nice design, industrial but with plenty of fresh air. Large modern rooms. A few small issues but nothing serious and staff were very helpful. Breakfast was OK, small choice but not many guests stay...
---
I would recommend staying in this hotel only if you are looking for the best customer service in ALL of Asia. I could leave countless examples of my amazing experiences at this establishment, but no one wants to read an essay, so I will simply say Sineenat (Khun Up), the manager, will make your stay legendary. If I every have a reason to stay in this area again I WIL...
---
Good location, great staff. Comfortable and inexpensive boutique hotel. I've stayed there 5 different times, from a few days to a week and a half. Every time I think of trying somewhere else, I search, search, search, and then pick Urban Bamboo again. Book early to get best room selection (some rooms smaller than others, some have refrigerators, some don't). Also,...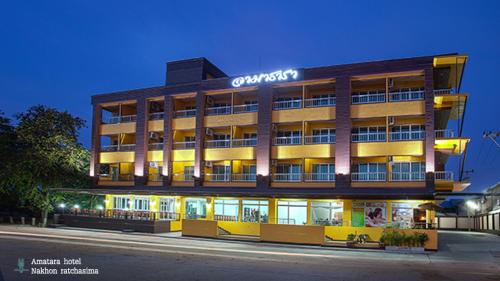 ---
This is my favourite hotel in Phimai for a number of reasons .Firstly the location on the edge of town . A new basic value for money hotel , friendly management and staff . Spacious clean rooms and cheap Thai food available. A short stroll to the historical park . Secure car parking . This is without doubt the best hotel for the money in the area .
---
As a regular user of this hotel (the best in the area) I can see that improvements are made constantly. This time they replaced the internet system and it is much improved!!! Also they are building an new area for the family bungalow's and as I understand well this will be ready in September. For me only one thing should be done to be, (for me), a 5 star hotel. please ...
---
No, you don't but overall the Asianaa nice place to stay. Its a little tucked away but not really a problem. If I'm being picky - I didn't like the 'trendy' window from the bathroom to the bedroom which means you have to pull the curtains if there are other people staying with you. I would also prefer a wardrobe rather than a couple of coat hangers attached to the wal...
---
5-star hotels in Nakhonratchasima
---
I had a business trip to Nakhonratchasima for 4 days so I had been staying at Dusit Princess Korat Hotel for all 3 nights. During my stay at the hotel, though the hotel decoration might not be at the best but it was very comforting and relaxing for the stay over. All the staffs were very kind and supportive with smiles. Moreover, there're many selections of breakfast l...
---
While this is a nice hotel to spend a night or two, it has no wow factor and isn't really of 5-star quality. Our room was spacious and very clean, however, and the hotel's location is great if you're staying in Nakhonratchasima. Moreover, the hotel is good value for money.
---
One of the best memorable trip for my family. We have 5 adults and reserved three Winter room. The room is big and nice design. Bed is huge and comfy which can fit for 4-5 person. A lot of window in the room that you can enjoy the natural view. Nice bathroom with the big bath tub. We stay here for golf course which is the great experience, nice golf course with fresh a...
---
Traveler impressions of Nakhonratchasima
Ancient Khmer ruins are an interesting hour by bus. Uncrowded. Nakhonratchasima is busy urban center
Great place for a stop over for a night or two. The city has long glory history and religious center for local nationals and foreign visitors to learn.
Be careful of traffic at the weekend,it can easily take you two hours to park in the shopping mall,we ended up parking in tesco and catching a taxi across to the mall and even this took time.
Only stayed there while visiting its Honda BigWing dealership, which was not able to to help. Didn't stay long enough to form an impression.
This is one of the larger cities in Thailand and is bursting at the seams in growth. This city will become one of the feature mainstays of the country.
Well-developed city w/lots of shopping center and eating places but still offers taste & atmosphere of old-days' Thai life; people were also very friendly !!
Not much to say really. If you have specific reason to visit, fine. Otherwise, stay in the Koh Yai district of the province.
The city is nothing special and very difficult transportation.Just good for stop over if tired from a long trip.
---
Nakhonratchasima's best hotels with breakfast
---
Explore more travel holiday rentals
More about Nakhonratchasima
Nakhonratchasima is one of the largest cities in Thailand's Isaan region. The city is accessed by car, bus, or even train from Bangkok's Mochit bus station. Once in the city, getting around Nakhoratchasima is easily done either by car, bus, motorcycle taxis, or even tuk-tuks.
There are many hotels near Nakhonratchasima's central bus station, so those arriving into the city late or leaving early morning will have no problem getting to their accommodations easily.
There's a great deal to see and do in this old and historic city, and those traveling through this region shouldn't miss some the sights. The very famous temple of
Phra Naraj Maharaj Temple
is located as an island within a lake, said to house a statue of a Hindu god, and offering amazing opportunities for sightseeing and photography while visiting this area.
One of the biggest zoos in Thailand is located in this city, and definitely serves as a great destination for those visiting this city, especially when traveling with animal enthusiasts or children. The
Nakhonratchasima Zoo
features an amusement and park, and the chance to hand-feed many of the animals. The animals at the zoo are mostly roaming around freely around the huge property, although caution is always recommended even if the animals seem tamed.
Find out where even more of the hotels, attractions, and must-see destinations of Nakhonratchasima are located by exploring the interactive map on this page.