Fast facts about Reunion, Reunion Island
| | |
| --- | --- |
| Accommodations | 1,711 properties |
| Popular hotel | Les Aigrettes Hotel |
| Popular area | Saint Gilles Les Bains |
| Nightly rates from | R278 |
| Airport | Roland Garros Airport |
4-star hotels in Reunion
---
We had stayed at this hotel during a mandatory stopover from Sydney to Mauritius and the airline had organised this accommodation. We enjoyed our stay but the room was average - old, musty, but spacious and had a huge bed. We booked this on our return as we decided to stay in Reunion for a few days before we went home. We ended up in what must have been an "exe...
---
Room and balcony with jacuzzi are unique and lovely Breakfast area beautiful - decent breakfast Cons: day 1 spa closed, day 2 pool closed, no happy hour to attract people to come to the bar - that opens at 6 pm, and when we arrived at 6.10, it wasn't open yet, there's no atmosphere, empty- why not propose sundowners..., very limited menu, so we ate out (Suzie Q recom...
---
If you have to stay in one place in reunion, let that be the one. Absolutely beautiful hotel.
---
Hotel le Boucan was our first hotal in Reunion island and we were blown away by how beautiful Saint Gilles Les Bains beach is! The hotel is just in front of the beach and their alresco restaurant offers fantastic local food - by far the best restaurant in Reunion we have tired. The hotel isnt new but kept well and the staffs are friendly.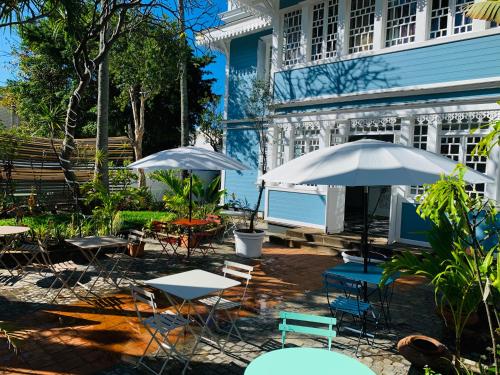 ---
We stayed at Villa Angelique for a couple of days as our base to go on two hikes in La Reunion. The villa is quaint, within 20 mins walking distance to La Barachois and the main bus stops. The street is a quiet and safe street, the villa amenities meeting our needs. The staff are friendly and better versed in French than English, but we managed to communicate alright. ...
---
Very good and before our trek very comfortable. We spent 3 days in Mercure and we recommend this hotel to any one who want to be far for the noise of The city, but you need a car.
---
The hotel, the restaurant and the staff were very good...except for one waitress/bar lady who spoiled it for us. She was arrogant, rude and aggressive and in my opinion, should not have any contact with customers. The manager, David, tried to soothe matters but she ignored him and carried on her tirade. The restaurant is worth a visit for dinner and the breakfast is a ...
---
The villa comes together with a swimming pool, fitness centre and jacuzzi. Rooms are spacious, modern, super clean, with walk-in shower. The homemade dinner was delicious and the hosts really do their best to share a moment with their guests.
---
5-star hotels in Reunion
---
We spent 7 nights and really enjoyed it. Very pleasant relaxing environment with friendly helpful staff. You are shown the facilities on arrival. There are different themed rooms so you have the option to choose depending on availability. Preferably do a request before arrival. Beach is across.the road and also restaurants on the beach. Best to have a car to get around...
---
Location on a beautiful cliff, amazing sea visits (you can spot whales right from the hotel)! Lovely pool area included it even has a jacuzzi with cliff/sea view in the open area. Breakfast is very good. Food at the hotel is generally very good but as it is a 5 star hotel quite expensive though totally worth it. Only downside: for the price the rooms are a little s...
---
Lovely hotel. Peaceful. Fantastic food. Excellent staff. Great views from the comfortable room and swimming pool.
---
We stayed in the standard room, which was perfectly good for us. Spacious, nice bed and good bathroom. The hotel personel was friendly and service was very good. The restaurants are supposed to be very good however, during our stay most of them were closed due to the fact that according to local standards it was winter(still lots of sun and warm temperatures though...
---
Traveler impressions of Reunion
Friendly place and great escapes. Must see/do will be: 1. La Fournaise volcano 2. Point du Maido 3. Salazie cliffs exploration and look for the famous "gratin chouchou" for lunch 4.
Its a very small island with lots of natural views of mountains,valleys n sea but the beaches are not that much beautiful rest all of the things are nice attractive
It's a French colony and uses Euro, a good staging place for a break to and from Europe. The beaches are good and plenty to do, food is nice and enough variety.
---
Reunion's best hotels with breakfast
---
Explore more travel vacation rentals
More about Reunion
Enchantment takes the form of a tiny little island situated east of Madagascar in what is called Reunion. The city is a French overseas island, and it is the land itself that draws most of the visitors.
Roland Garros Airport
serves the area and is located in Sainte-Marie, seven kilometers from the capital city of Saint-Denis.
Nature and culture abound in Reunion. Hikers can't help but fall in love with the area and its hiking routes - one that stretches 130km and takes a week to complete. The volcanic landscape really sets the scene for trekkers and those simply there to take in the views. Plant lovers can find fun in the Botanical Gardens of Mascarin as well as the
Gardens of Perfumes and Spices
.
Reunion Aquarium
offers an indoor option for natural exploration.
Lovers of culture will find themselves in the city of Saint-Denis, where there is the Rue de Paris and the Avenue de la Victoire. Museums provide an established insight into the culture of the area, and a trip to the sugar plant or rum distillery gives a more authentic approach.
As one might expect of an island destination, hotels in Reunion are commonly found along the coast. Lodges and mountain cabins can be found further inland amongst the national parks. Budget accommodation can be found, including a handful of youth hostels.