4-star hotels in Vlora
---
the hotel staff are nice but the hotel is on the main drive through vlora and it's noisy and full of benzene, which is legal in albania. this is okay from evening onwards, since the a/c comes on in the rooms at that time (it's not controllable from inside the rooms) and you can close the balcony door. but earlier in the day it gets hot and you have to open the doors to...
---
The staff were very polite & we want to give a special thanks to the front desk person - I believe her name was Joradi.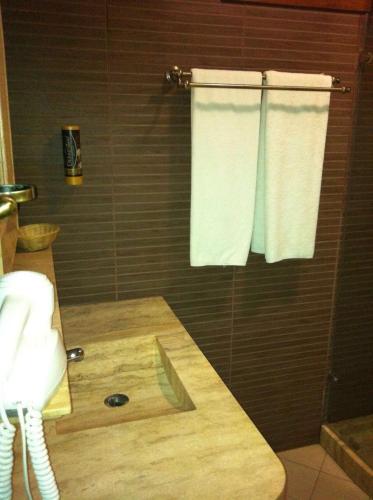 ---
The owner was lovely who we met on the second day of our one night trip. I explained to her that whilst it said we would have a "sea view" from the balcony we had paid for, the new construction works under way meant we could hardly see the sea. She said they needed to put new photos up when it was all done. Whilst we were there, there was construction throughout the...
---
Beautiful view very nice hotel .Relax excellent food .Very friendly people I love to go back
---
I arrived to Vlore pretty late 01:30am and it was a bit hard to find a taxi to take to the Hotel. A bit scary dark road to walk down in the middle of the night, but I guess the road is changing to the better. Waking up in the morning and opening up my balcony window I was surprised of how close it was to the beach. The hotel was practically on the beach. It also had a ...
---
This charming and all around perfect hotel was one of the highlights of my trips. The staff was so kind and thoughtful and the fresh food was the best I had on the coast and the presentation of the food, the location on the water, everything made me feel like a queen. Loved my terrace, my view and everything about this place!
---
Everything is fantastic and the staffs are very friendly ...strongly recommend
---
Traveler impressions of Vlora
Vlora has some nice beaches along the coast surrounded by beautiful mountains. Many italians come here for holiday.
---
Discover the neighborhoods of Vlora
---
More about Vlora
Agoda.com offers a great choice of accommodation in Vlora to suit every budget. Guests find many of the 1291 hotels in Vlora an attraction in themselves. Many areas, each with a distinctive atmosphere, are just waiting to be discovered across the city. Vlora has many attractions to explore with its fascinating past, intriguing present and exciting future. There are so many things to do, you may want to stay an extra week or so to experience them all. You can depend on Agoda.com to help you find the best bargains on Vlora hotels.