Fast facts about Reunion Island
| | |
| --- | --- |
| Accommodations | 1,711 properties |
| Popular City | Reunion |
| Nightly rates from | R280 |
Discover the regions of Reunion Island
---
4-star hotels in Reunion Island
---
We had stayed at this hotel during a mandatory stopover from Sydney to Mauritius and the airline had organised this accommodation. We enjoyed our stay but the room was average - old, musty, but spacious and had a huge bed. We booked this on our return as we decided to stay in Reunion for a few days before we went home. We ended up in what must have been an "exe...
---
Room and balcony with jacuzzi are unique and lovely Breakfast area beautiful - decent breakfast Cons: day 1 spa closed, day 2 pool closed, no happy hour to attract people to come to the bar - that opens at 6 pm, and when we arrived at 6.10, it wasn't open yet, there's no atmosphere, empty- why not propose sundowners..., very limited menu, so we ate out (Suzie Q recom...
---
If you have to stay in one place in reunion, let that be the one. Absolutely beautiful hotel.
---
Hotel le Boucan was our first hotal in Reunion island and we were blown away by how beautiful Saint Gilles Les Bains beach is! The hotel is just in front of the beach and their alresco restaurant offers fantastic local food - by far the best restaurant in Reunion we have tired. The hotel isnt new but kept well and the staffs are friendly.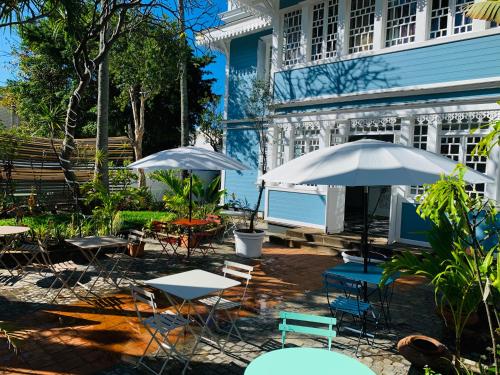 ---
We stayed at Villa Angelique for a couple of days as our base to go on two hikes in La Reunion. The villa is quaint, within 20 mins walking distance to La Barachois and the main bus stops. The street is a quiet and safe street, the villa amenities meeting our needs. The staff are friendly and better versed in French than English, but we managed to communicate alright. ...
---
Very good and before our trek very comfortable. We spent 3 days in Mercure and we recommend this hotel to any one who want to be far for the noise of The city, but you need a car.
---
The hotel, the restaurant and the staff were very good...except for one waitress/bar lady who spoiled it for us. She was arrogant, rude and aggressive and in my opinion, should not have any contact with customers. The manager, David, tried to soothe matters but she ignored him and carried on her tirade. The restaurant is worth a visit for dinner and the breakfast is a ...
---
The villa comes together with a swimming pool, fitness centre and jacuzzi. Rooms are spacious, modern, super clean, with walk-in shower. The homemade dinner was delicious and the hosts really do their best to share a moment with their guests.
---
5-star hotels in Reunion Island
---
We spent 7 nights and really enjoyed it. Very pleasant relaxing environment with friendly helpful staff. You are shown the facilities on arrival. There are different themed rooms so you have the option to choose depending on availability. Preferably do a request before arrival. Beach is across.the road and also restaurants on the beach. Best to have a car to get around...
---
Location on a beautiful cliff, amazing sea visits (you can spot whales right from the hotel)! Lovely pool area included it even has a jacuzzi with cliff/sea view in the open area. Breakfast is very good. Food at the hotel is generally very good but as it is a 5 star hotel quite expensive though totally worth it. Only downside: for the price the rooms are a little s...
---
Lovely hotel. Peaceful. Fantastic food. Excellent staff. Great views from the comfortable room and swimming pool.
---
Even access to the place is a hectic process, the locals do not even know how to guide you as the Lux means nothing to them... it is the (old) grand lagoon hotel. The beach compared with those in Mauritius is a laugh! Part of the wings has been renewed (thanks God!!) but the room is nothing special (small bathroom and toilet with no space for the opened door, bath tub ...
---
Top cities in Reunion Island
---
More about Reunion Island
Reunion Island has long been on the list of top destinations to visit in Africa. Cheap hotel rates are not always easy to come by, but Agoda.com features the best available rates at more than 315 hotels in Reunion Island. You can be sure to find the most up-to-date information and hotel deals here. We have every main region covered, including Reunion, Saint-Denis, Saint-Paul, with lots of promotions such as early bird offers and last minute deals. You can find the perfect hotel at the lowest rate for stays in cities such as Reunion. Choose your travel dates and let Agoda.com find the perfect hotel in Reunion Island for you. Our Lowest Rate Guarantee means you won't find better rates anywhere.