Discover the neighborhoods of Azuay
---
4-star hotels in Azuay
---
The small hotel is well situated in the historical center. Everything on walking distance. Staff was very friendly and helpful!!! Breakfast was good as well.
Robert
, Sint Maarten (Netherlands)
---
The room was clean and tidy with an exit to the garden terrace. I had a bit of an issue with light: with door closed the room is a bit dark, the ceiling lights aren't very bright either. The check in and out was quick and friendly. Staff did its best. All in all it was a pleasant experience.
---
Very pleased. Bed average comfort, breakfast fine, not special. However, the ambiance is terrific and the staff is excellent. The Italian restaurant Mangiare bene is good.
---
Very comfortable, charming and unique hotel. They have made it very comfortable despite being a 180 year old converted mansion. The breakfast was delicious, best we had in Ecuador. Staff are very friendly and helpful. The doorbell system is a bit annoying but it does provide a high degree of security. Bathroom was nice with modern shower. Bit of street noise at night i...
---
If you are looking for a swimming pool, sauna, or spa, move on. This hotel is NOTfor you. If you are looking for a clean, old world hotel with extremely friendly and helpful staff, a very good breakfast included, and a location in the middle of El Centro, with easy taxi access, then this is the place for you.
---
This hotel is located in a great area for exploring historical sites. Just a block from the main square, it is difficult to locate parking. The hotel alleviates this problem by providing a secured car park right next to the hotel. The rooms are large, but can be loud if facing the street. A bathtub is provided, but no plugs. Lighting is extremely dim, so reading (even ...
---
The hotel is very nice. It has large comfortable rooms. The hotel is centrally located. The staff is friendly and helpful.
---
Great location. Wonderful staff. Comfortable room. Diego and Daniel were extremely helpful and shared many details about the history of Cuenca and the hotel. They both speak English. The condition of the hotel is very good. It is walking distance to most attractions and restaurants. The internet worked well. The water was plenty hot. I would recommend you book this p...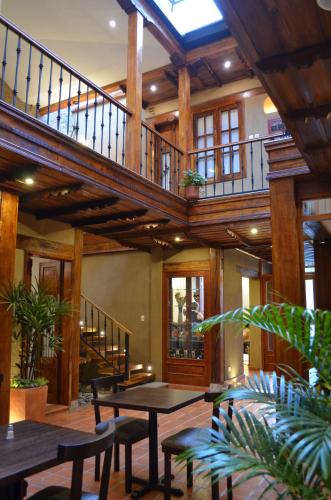 ---
The walls in this hotel are very thin. I could hear the sounds from the families staying around me including snoring at night and crying children. The room I was in had no external window, only a window into the hallway. The staff was very friendly and were willing to hold my bags after checking out before I moved to my next destination.
---
More about Azuay
Whether it's your first visit or your fiftieth, Azuay is a great destination for a vacation. Search for special offers from over 278 hotels on Agoda.com. A visit to Cuenca, Santa Isabel, Capulispamba will make your trip to Azuay worthwhile. Agoda.com offers plenty of ideas to help make a getaway to Azuay easy, fun and exciting. With more than 2 million customer reviews, more travelers are choosing Agoda.com to book hotels in Azuay.