4-star hotels in Maranhao
---
Avoid this hotel.Il staff speak only portughese. If you come to Sao Luis do not come here. the worst hotel in all of Brazil
---
free wifi and low price of mini bar is very helpful to work.... and the beach in front of hotel is beautiful and good for a walk.... I think this hotel is good for family trip because of location and cost.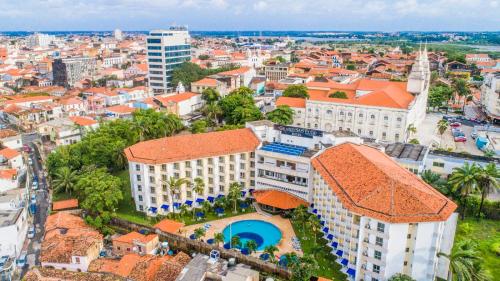 ---
This Hotel is NOT a 5 star or even 4 star, yet it costs as much as one. The gymnasium is very basic and the evelvator was unreliable. I saw 2 cockroaches in the shower on 2 occasions. Breakfast was OK but nothing amazing. very few people at this hotel so business cannot be that good. Location is good though around local fairs were they have live Samba performances an...
---
5-star hotels in Maranhao
---
Breakfast was just Average for this Grade of the hotel. and I expected more English speaking staff than they actually had. The pool was too small but good relaxing and quiet. Other than that is was great they put us on the top floor and the room was good although it was not noise proof enough. The wind and sound from outside can get a bit annoying if you want a good ...
---
More about Maranhao
Can't decide how to spend your time in Brazil? Start with a trip to the Federal State of Maranhao. Agoda.com has a fantastic range of hotels to help you make your trip to this beautiful Federal State a memorable one. A visit to Barreirinhas, Sao Luis, Dom Pedro-Maranhao will make your trip to Maranhao worthwhile. Just as it has hotel options to suit every pocket, Maranhao has activities to suit every interest. Agoda.com is trusted by more than 3,500,000 travelers, booking accommodation in famous regions like Maranhao.